Happy Aromantic Spectrum Awareness Week! Running from February 21st-27th, this week we're celebrating aromantic rep, so check out these titles! (Representation is included/highlighted with each title, where I know it.) As usual, all links are affiliate and earn a percentage of income for the site, so please use them if you can!
Please note this roundup only features titles that were not previously featured [with covers] in other Aro Awareness Week Roundups, so make sure you check these posts for more!
Books to Read Now
(MC is demiromantic)
Flare is power.
With only a drop of flare, one can light the night sky with fireworks . . . or burn a building to the ground — and seventeen-year-old Ingrid Ellis wants her fair share.
Ingrid doesn't have a family fortune, monetary or magical, but at least she has a plan: Rise to the top on the arm of Linden Holt, heir to a hefty political legacy and the largest fortune of flare in all of Candesce. Her only obstacle is Linden's father who refuses to acknowledge her.
So when Senator Holt announces his run for president, Ingrid uses the situation to her advantage. She strikes a deal to spy on the senator's opposition in exchange for his approval and the status she so desperately craves. But the longer Ingrid wears two masks, the more she questions where her true allegiances lie.
Will she stand with the Holts, or will she forge her own path?
Buy it: Bookshop | Amazon | IndieBound
"Life is transformation. You change or you die."
Ashamed of his past and overwhelmed by his future, Ronoah Genoveffa Elizzi-denna Pilanovani feels too small for his own name. After a graceless exit from his homeland in the Acharrioni desert, his anxiety has sabotaged every attempt at redemption. Asides from a fiery devotion to his godling, the one piece of home he brought with him, he has nothing.
That is, until he meets Reilin. Beguiling, bewildering Reilin, who whisks Ronoah up into a cross-continental pilgrimage to the most sacred place on the planet. The people they encounter on the way—children of the sea, a priestess and her band of storytellers, the lonely ghosts of monsters—are grim and whimsical in equal measure. Each has their part to play in rewriting Ronoah's personal narrative.
Buy it: Bookshop | Amazon | IndieBound
This is the third book in the Isandor series.
The Myrian Enclave is in disarray after a Dathirii strike team interrupts Avenazar's dangerous ritual, but Diel Dathirii is in no position to take advantage of it while his home is lost to Allastam's soldiers.
Despite the Myrian trade war's brutal turn, its key battles still happen in the shadows. Resistance inside the Dathirii Tower organizes itself around the family's new steward, Yultes, even though he is as uncertain of his allegiances as everyone else. Outside, Branwen reaches to every spymaster resource she has to strengthen their position and undermine the Myrian-Allastam alliance.
When Master Avenazar recovers from his grievous injury and sets his mind to revenge, the unsteady alliances forged within and without the Dathirii Tower will decide the city's future.
Buy it: Books2Read
Beatrice has always struggled with motion sickness in any form of travel. That's why she made sure that she lived on the island of Maredudd, where she only rarely needs to get anywhere using anything other than her own two feet. However, it doesn't make it easy for her to get anywhere in a hurry.
She gets called away for urgent help healing a friend who got bitten by an unknown creature and gets surprised by an unexpected invitation to a childhood friend's wedding. She's almost positive she won't be able to get there in time, or in good shape enough to be able to attend the wedding.
However, with the help of two unusual friends and a little bit of magic, she's going to try everything in her power to get there, even if it will be an unusual journey
Buy it: Amazon | IndieBound
Books to Preorder
Loveless by Alice Oseman (March 1st)
This is the US edition. The UK edition was published in 2020.
This is the funny, honest, messy, completely relatable story of Georgia, who doesn't understand why she can't crush and kiss and make out like her friends do. She's surrounded by the narrative that dating + sex = love. It's not until she gets to college that she discovers the A range of the LGBTQIA+ spectrum — coming to understand herself as asexual/aromantic. Disrupting the narrative that she's been told since birth isn't easy — there are many mistakes along the way to inviting people into a newly found articulation of an always-known part of your identity. But Georgia's determined to get her life right, with the help of (and despite the major drama of) her friends.
Buy it: Bookshop | Amazon | IndieBound
A Beauty. A Beast. A Curse. This is not the story you know.
Join author Heather Rose Jones on a new and magical journey into the heart of a familiar fairytale. Meet Alys, eldest daughter of a merchant, a merchant who foolishly plucks a rose from a briar as he flees from the home of a terrifying fay Beast and his seemingly icy sister. Now Alys must pay the price to save his life and allow the Beast, the once handsome Philippe, to pay court to her.
But Alys has never fallen in love with anyone; how can she love a Beast? The fairy Peronelle, waiting in the woods to see the culmination of her curse, is sure that she will fail. Yet, if she does, Philippe's sister Grace and her beloved Eglantine, trapped in an enchanted briar in the garden, will pay a terrible price. Unless Alys can find another way…
Buy it: Queen of Swords Press
Kaikeyi by Vaishnavi Patel (April 26th)
(Kaikeyi is aroace.)
"I was born on the full moon under an auspicious constellation, the holiest of positions—much good it did me."
So begins Kaikeyi's story. The only daughter of the kingdom of Kekaya, she is raised on tales of the gods: how they churned the vast ocean to obtain the nectar of immortality, how they vanquish evil and ensure the land of Bharat prospers, and how they offer powerful boons to the devout and the wise. Yet she watches as her father unceremoniously banishes her mother, listens as her own worth is reduced to how great a marriage alliance she can secure. And when she calls upon the gods for help, they never seem to hear.
Desperate for some measure of independence, she turns to the texts she once read with her mother and discovers a magic that is hers alone. With this power, Kaikeyi transforms herself from an overlooked princess into a warrior, diplomat, and most favored queen, determined to carve a better world for herself and the women around her.
But as the evil from her childhood stories threatens the cosmic order, the path she has forged clashes with the destiny the gods have chosen for her family. And Kaikeyi must decide if resistance is worth the destruction it will wreak—and what legacy she intends to leave behind.
Buy it: Bookshop | Amazon | IndieBound
(Yasmine is questioning; Bloom is on the aro spectrum.)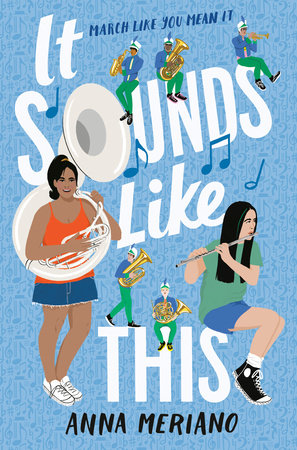 Yasmín Treviño didn't have much of a freshman year thanks to Hurricane Humphrey, but she's ready to take sophomore year by storm. That means mastering the marching side of marching band—fast!—so she can outshine her BFF Sofia as top of the flute section, earn first chair, and impress both her future college admission boards and her comfortably unattainable drum major crush Gilberto Reyes.
But Yasmín steps off on the wrong foot when she reports an anonymous gossip Instagram account harassing new band members and accidentally gets the entire low brass section suspended from extracurriculars. With no low brass section, the band is doomed, so Yasmín decides to take things into her own hands, learn to play the tuba, and lead a gaggle of rowdy freshman boys who are just as green to marching and playing as she is. She'll happily wrestle an ancient school tuba if it means fixing the mess she might have caused.
But when the secret gossip Instagram escalates their campaign of harassment and Yasmín's friendship with Sofia deteriorates, things at school might be too hard to bear. Luckily, the support of Yasmín's new section—especially introverted section leader Bloom, a sweet ace and aro-spectrum boy—might just turn things around.
Buy it: Amazon | IndieBound
(Firuz is aroace.)
Firuz-e Jafari is one of the fortunate ones who have emigrated to the Democratic Free State of Qilwa. Firuz has escaped the slaughter of other traditional Sassanid blood-magic practitioners. They have a good job at a free healing clinic in Qilwa; a kindly new employer, Kofi; and a gifted new student, Afsoneh, a troubled orphan refugee.
But Firuz and Kofi have discovered a terrible new disease which leaves mysterious bruises on its victims. The illness is spreading quickly through Qilwa, and there are dangerous accusations of ineptly-performed blood magic.
In order to survive, Firuz must break a deadly cycle of prejudice while finding a fresh start for their both their blood and found family.
Buy it: Amazon | IndieBound
Funeral Girl by Emma K. Ohland (September 6th)
(Georgia is aroace.)
Sixteen-year-old Georgia Richter feels conflicted about the funeral home her parents run―especially because she has the ability to summon ghosts.
With one touch of any body that passes through Richter Funeral Home, she can awaken the spirit of the departed. With one more touch, she makes the spirit disappear, to a fate that remains mysterious to Georgia. To cope with her deep anxiety about death, she does her best to fulfill the final wishes of the deceased whose ghosts she briefly revives.
Then her classmate Milo's body arrives at Richter―and his spirit wants help with unfinished business, forcing Georgia to reckon with her relationship to grief and mortality.
Buy it: Amazon | IndieBound
Eight years ago, everything changed for Devlin: Her country was attacked. Her father was killed. And her mother became the Royal Spymistress, retreating into her position away from everyone… even her daughter.
Joining the spy ranks herself, Dev sees her mother only when receiving assignments. She wants more, but she understands the peril their country, Aris, is in. The malevolent magic force of The Mists is swallowing Aris's edges, their country is vulnerable to another attack from their wealthier neighbor, and the magic casters who protect them from both are burning out.
Dev has known strength and survival her whole life, but with a dangerous new assignment of infiltrating the royal court of their neighbor country Cerena to steal the magic they need, she learns that not all that glitters is weak. And not all stories are true.
Buy it: Bookshop | Amazon | IndieBound