Chloe Green is so close to winning. After her moms moved her from SoCal to Alabama for high school, she's spent the past four years dodging gossipy classmates and a puritanical administration at Willowgrove Christian Academy. The thing that's kept her going: winning valedictorian. Her only rival: prom queen Shara Wheeler, the principal's perfect progeny.
But a month before graduation, Shara kisses Chloe and vanishes.
On a furious hunt for answers, Chloe discovers she's not the only one Shara kissed. There's also Smith, Shara's longtime quarterback sweetheart, and Rory, Shara's bad boy neighbor with a crush. The three have nothing in common except Shara and the annoyingly cryptic notes she left behind, but together they must untangle Shara's trail of clues and find her. It'll be worth it, if Chloe can drag Shara back before graduation to beat her fair-and-square.
Thrown into an unlikely alliance, chasing a ghost through parties, break-ins, puzzles, and secrets revealed on monogrammed stationery, Chloe starts to suspect there might be more to this small town than she thought. And maybe—probably not, but maybe—more to Shara, too.
Buy it: Bookshop | Amazon | B&N | IndieBound
Harry wants nothing more than to write Hollywood screenplays. He knows the first step toward achieving that goal is winning a screenwriting competition that will seal his admission into the college of his dreams, so he's determined to spend his summer free of distractions—also known as boys—and finish his script. After last year, Harry is certain love only exists in the movies anyway.
But then the cause of his first heartbreak, Grant, returns with a secret that could change everything. To complicate things further, new-in-town Logan is charming and sweet, making Harry question everything he knows about romance. As Harry tries to manage his feelings for Grant and Logan, he realizes life doesn't always follow a script.
Buy it: Bookshop | Amazon | IndieBound
Still reeling from a recent trauma, sixteen-year-old Dell is relieved when her mom suggests a stay at the family cabin. But the much-needed escape quickly turns into a disaster. The lake and woods are awash in trash left by a previous tenant. And worse, Dell's mom has invited her boyfriend's daughter to stay with them. Confident, irreverent Ivy presses all of Dell's buttons–somehow making Dell's shame and self-consciousness feel even more acute. Yet Dell is drawn to Ivy in a way she doesn't fully understand. As Dell uncovers secrets in the wreckage of her family's past–secrets hinted at through troubling dreams and strange apparitions–Ivy leads her toward thrilling, if confusing, revelations about her sexuality and identity.
Set during a humid summer in the mid-2000s, The Queen of Junk Island simmers with the intensity of a teenage girl navigating the suffocating expectations of everyone around her.
Buy it: Bookshop | Amazon | IndieBound
For over a year, the Bronx has been plagued by sudden disappearances that no one can explain. Sixteen-year-old Raquel does her best to ignore it. After all, the police only look for the white kids. But when her crush Charlize's cousin goes missing, Raquel starts to pay attention—especially when her own mom comes down with a mysterious illness that seems linked to the disappearances.
Raquel and Charlize team up to investigate, but they soon discover that everything is tied to a terrifying urban legend called the Echo Game. The game is rumored to trap people in a sinister world underneath the city, and the rules are based on a particularly dark chapter in New York's past. And if the friends want to save their home and everyone they love, they will have to play the game and destroy the evil at its heart—or die trying.
Buy it: Bookshop | Amazon | IndieBound
In the spirit of the author's massively popular Twitter thread, Tucker Shaw's When You Call My Name is a heartrending novel about two gay teens coming of age in New York City in 1990 at the height of the HIV/AIDS epidemic, perfect for fans of Adam Silvera and Mary H. K. Choi.
Film fanatic Adam is seventeen and being asked out on his first date―and the guy is cute. Heart racing, Adam accepts, quickly falling in love with Callum like the movies always promised.
Fashion-obsessed Ben is eighteen and has just left his home upstate after his mother discovers his hidden stash of gay magazines. When he comes to New York City, Ben's sexuality begins to feel less like a secret and more like a badge of honor.
Then Callum disappears, leaving Adam heartbroken, and Ben finds out his new world is more closed-minded than he thought. When Adam finally tracks Callum down, he learns the guy he loves is very ill. And in a chance meeting near the hospital where Callum is being treated, Ben and Adam meet, forever changing each other's lives. As both begin to open their eyes to the possibilities of queer love and life, they realize sometimes the only people who can help you are the people who can really see you―in all your messy glory.
Buy it: Bookshop | Amazon | IndieBound
In this queer contemporary YA mystery, a nonbinary teen with autism realizes they must not only solve a 30-year-old mystery but also face the demons lurking in their past in order to live a satisfying life.
Sam Sylvester's not overly optimistic about their recent move to the small town of Astoria, Oregon after a traumatic experience in their last home in the rural Midwest.
Yet Sam's life seems to be on the upswing after meeting several new friends and a potential love interest in Shep, the pretty neighbor. However, Sam can't seem to let go of what might have been, and is drawn to investigate the death of a teenage boy in 1980s Astoria. Sam's convinced he was murdered–especially since Sam's investigation seems to resurrect some ghosts in the town.
Threatening notes and figures hidden in shadows begin to disrupt Sam's life. Yet Sam continues to search for the truth. When Sam discovers that they may be closer to a killer than previously known, Sam has a difficult decision to make. Would they risk their new life for a half-lived one?
Buy it: Bookshop | Amazon | IndieBound
The Dove in the Belly by Jim Grimsley
At the University of North Carolina, Ronny's made some friends, kept his secrets, survived dorm life, and protected his heart.
Until he can't. Ben is in some ways Ronny's opposite; he's big and solid where Ronny is small and slight. Ben's at UNC on a football scholarship. Confident, with that easy jock swagger, and an explosive temper always simmering. He has a steady stream of girlfriends. Ben's aware of the overwhelming effect he has on Ronny. It's like a sensation of power. So easy to tease Ronny, throw playful insults, but it all feels somehow.loaded.
Meanwhile Ronny's mother has moved to Vegas with her latest husband. And Ben's mother is fighting advanced cancer. A bubble forms around the two, as surprising to Ronny as it is to Ben. Within it their connection ignites physically and emotionally. But what will happen when the tensile strength of a bubble is tested? When the rest of life intervenes?
Buy it: Bookshop | Amazon | IndieBound
Simone Larkspur is a perfectionist pastry expert with a dream job at The Discerning Chef, a venerable cookbook publisher in New York City. All she wants to do is create the perfect loaf of sourdough and develop recipes, but when The Discerning Chef decides to bring their brand into the 21st century by pivoting to video, Simone is thrust into the spotlight and finds herself failing at something for the first time in her life.
To make matters worse, Simone has to deal with Ray Lyton, the new test kitchen manager, whose obnoxious cheer and outgoing personality are like oil to Simone's water. When Ray accidentally becomes a viral YouTube sensation with a series of homebrewing videos, their eccentric editor in chief forces Simone to work alongside the chipper upstart or else risk her beloved job. But the more they work together, the more Simone realizes her heart may be softening like butter for Ray. Things get even more complicated when Ray comes out at work as nonbinary to mixed reactions—and Simone must choose between the career she fought so hard for and the person who just might take the cake (and her heart).
Buy it: Bookshop | Amazon | B&N | IndieBound
At her day job in a Christian bakery and with her conservative family, Amy plays the role of a straight, church-going young woman—exactly what's expected in mid-2010s Tulsa, Oklahoma, the "Buckle of the Bible Belt." But at night, she tends bar at the only place in town that truly feels like home: Ruby Red's, a lovably grungy queer bar with a group of regulars who have become her chosen family. Amy's spent a lifetime learning how to walk this fine line, placing others before herself so effortlessly that she doesn't even realize she's lost touch with her own needs and desires.
Still, everything seems more than fine, especially when Amy falls into a whirlwind romance with Charley, a charming newcomer to Tulsa. But then Amy is suddenly outed and subsequently fired from her bakery job. When a new friend begs her to fill in for one of the bridesmaids at her wedding—and offers to pay Amy more than she makes in a single night at Ruby Red's—she can't afford to turn it down. As her relationship with Charley heats up, this one-off opportunity turns into a full-time business, thanks to Amy's baking talents, crafting skills, and expert ability to become whatever other people need her to be.
Between weddings, bachelorette parties, bridal showers, and dress fittings, Amy's in her element, her years of watching rom-coms and Say Yes to the Dress finally paying off. But at what cost? Gay marriage is not legal, yet she's playing the role of a straight girl, working hard to facilitate strangers' special days even while she's secretly dreaming of her own potential wedding day with Charley. When Amy's precarious balancing act strains her relationships to a breaking point, she must decide what it looks like to be true to herself—and if she has the courage to try.
Buy it: Bookshop | Amazon | IndieBound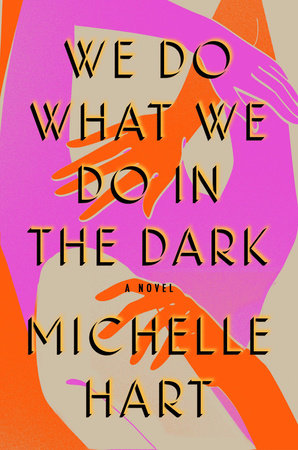 Mallory is a freshman in college, reeling from her mother's recent death, when she encounters the woman. She sees her for the first time at the university's gym, immediately entranced. Soon, they meet, drawn by an electric tension and shared past wounds; before long, they begin sleeping together in secret. Self-possessed, successful, brilliant, and aloof—the woman is everything Mallory wants…and wants to be. Desiring not only the woman but also the idea of who she is when they're together, Mallory retreats from the rest of the world, solidifying a sense of aloneness that has both haunted and soothed her since childhood and will continue to do so for years even after the affair ends. As an adult, Mallory must decide whether to stay safely in isolation or step fully into the world, to confront what the woman meant to her and how their relationship shaped her, for better or worse.
Mallory's life is transformed by loss and by love and by discovering who she is while enduring both. In this enthralling debut novel, the complexities of influence, obsession, and admiration reveal how desire and its consequences can alter the trajectory of someone's life.
Buy it: Bookshop | Amazon | IndieBound
Dear (never-been-quite-over-you) Crush,
It's been a few years since we were together,
but I can't stop thinking about the time we almost…
Wren Roland has never been kissed, but he wants that movie-perfect ending more than anything. Feeling nostalgic on the eve of his birthday, he sends emails to all the boys he (ahem) loved before he came out. Morning brings the inevitable Oh God What Did I Do?, but he brushes that panic aside. Why stress about it? None of his could-have-beens are actually going to read the emails, much less respond. Right?
Enter Derick Haverford, Wren's #1 pre-coming-out-crush and his drive-in theater's new social media intern. Everyone claims he's coasting on cinematic good looks and his father's connections, but Wren has always known there's much more to Derick than meets the eye. Too bad he doesn't feel the same way about the infamous almost-kiss that once rocked Wren's world.
Whatever. Wren's no longer a closeted teenager; he can survive this. But as their hazy summer becomes consumed with a special project that may just save the struggling drive-in for good, Wren and Derick are drawn ever-closer…and maybe, finally, Wren's dream of a perfect-kiss-before-the-credits is within reach.
Buy it: Bookshop | Amazon | IndieBound
If sex is a truth-teller, Eve—a young, queer woman in Brooklyn—is looking for answers. On an evening when she is feeling particularly impulsive, she posts some nude photos of herself online. This is how Eve meets Olivia, and through Olivia, the charismatic Nathan—and soon the three begin a relationship that disturbs Eve as much as it delights her. As each act of the affair unfolds, Eve is left to ask: to whom is she responsible? And to what extent do our desires determine who we are?
Buy it: Bookshop | Amazon | IndieBound
When your new boss is hot as hell, what hope is there for a poor lovestruck office worker? A light-hearted, age-gap lesbian office romance with sexual tension leading the polls.
After high-powered politician Bridget O'Keefe sweeps into the uninspiring life of Australian electorate officer Emma Ives, nothing is the same again.
Hapless, hopeless Emma is smacked with an instant crush on the polished woman who's her new boss…her hot, untouchable, straight boss. Yes, she knows she's an idiot because unrequited lust at work is a terrible idea. Even so, she can dream.
One long night changes everything. A political scandal leads to a fall from grace and Emma suddenly finds herself the one Bridget turns to for comfort. There's a lot for Emma to wrap her mind around, even as her body loves wrapping itself around Bridget's curves.
Is it just a meaningless night of passion, nothing more? Because there's absolutely no way ambitious, beautiful Bridget wants anything more from Emma. Is there?
Buy it: Ylva
Gay Club by Simon James Green (5th)
Barney's a shoo-in for his school's LGBTQ+ Society President at the club's next election. But when the vote is opened up to the entire student body, the whole school starts paying attention. How low will the candidates go to win? Buckle up for some serious shade, scandals and sleazy shenanigans. It isn't long before it's National Coming Out Day – for everyone's secrets!
But when the group faces an expected threat – and a big opportunity – can the club members put politics aside and stand united?
Buy it: Book Depository | Waterstones