Bookstore Romance Day is a delightful annual tradition founded in 2019 (you can read about the team behind it here), and as an avid romance fan and an appreciator that it is always queer-inclusive, here are some great ways to celebrate the people making it special for 2023!
First off, here's the all-important link to the Love is Queer event, which takes place on August 20th at 6 pm EDT: https://www.eventbrite.com/e/love-is-queer-tickets-680645016567?aff=ebdsoporgprofile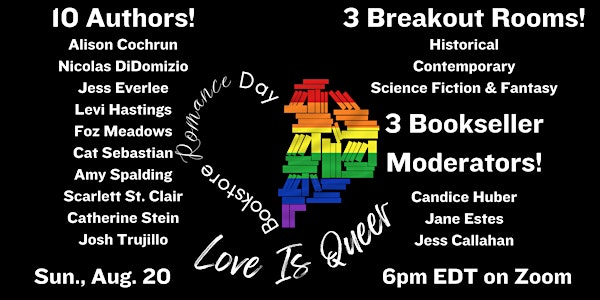 Next up, here are some of the books by panel speakers, with links to the stores sponsoring or moderating their panels:
It's been two years since Maya dumped her cheating ex-boyfriend Jordy, and she still can't escape him: his sister married the crown prince of a minor European country, and in the lead up to the wedding he captured hearts globally as the eligible younger brother. So, when Maya receives an invitation to be a contestant on Second Chance Romance, a new reality show in which the now-famous Jordy will re-date his ex-girlfriends in an effort to find "the one that got away," she isn't interested…that is, until she realizes she can use this opportunity to exact her revenge. If she can make it to the finale, she can reject Jordy and publicly break his heart. As far as Maya's concerned, it's payback with interest: just what a guy like Jordy deserves.
But when she gets to the set, she's confronted with the one person she hasn't accounted for: Skye, the beautiful, charismatic girl Jordy cheated on Maya with. How is she supposed to live with this girl for six weeks? Sharing bunkbeds, for crying out loud?
Except, of course, there's more to Skye than she lets most people see. Skye has her own reasons for being careful with her heart, and might be more willing to take Maya's side than it initially seems. If they can sustain their reluctant alliance—and keep their unexpected chemistry from interfering—they might just have a chance to take Jordy down.
Buy it: The Poisoned Pen
This is not how soccer-star Zack Martin thought his summer would go. When the captain's prank means trouble for the whole squad, Zack's left with no choice but to take one for the team and cover for him.
Now he's trading parties and beach days for community service at a seaside conservation center—fair enough. But thanks to his new reputation, the cute intern, Chip, won't even give him a shot. Still, Zack finds himself falling for Chip between dolphin encounters and shark costume disasters, which means he suddenly has way more on the line than he ever expected.
Zack may be good at winning on the field, but can he keep up the lie without losing himself?
Buy it: The Poisoned Pen
Xavier Reynolds is doing less than stellar. He just got dumped, was passed over for a prestigious fellowship, and to top it all off he's right back home in Harper's Cove, Maine (population: 9,000). The last thing he wants to do is to work as a prep chef in the kitchen of the hip new restaurant in town, The Wharf. Especially since the hot, single-father chef who owns it can't delegate to save his life.
Logan O'Hare doesn't understand Xavier or why every word out of his mouth is dipped in sarcasm. Unfortunately, he has no choice but to hire him—he needs more help in the kitchen and his tween daughter, Anne, can only mince so many onions. It might be a recipe for disaster, but Logan doesn't have many options besides Xavier.
Stuck between a stove and a hot place, Logan and Xavier discover an unexpected connection. But when the heat between them threatens to top the Scoville scale, they'll have to decide if they can make their relationship work or if life has seasoned them too differently.
Buy it: Second Flight Books
When Luna O'Shea is unceremoniously fired from her frustrating office job, she tries to count her blessings: she's a proud trans woman who has plenty of friends, a wonderful roommate, and a good life in New York City. But blessings don't pay the bills.
Enter Jean-Pierre, a laissez-faire trans man and the heir to a huge culinary empire—which he'll only inherit if he can jump through all the hoops his celebrity chef grandfather has placed in his path. First hoop: he needs a girlfriend, a role that Luna is happy to play…for the right price. She's got rent to pay, after all! Second hoop: they both need to learn how to cook a series of elaborate, world-renowned family recipes to prove that Jean-Pierre is a worthy heir. Admittedly, Luna doesn't even know how to crack an egg, but she's not going to let that—or any pesky feelings for Jean-Pierre—stop her.
Buy it: Second Flight Books
Show Queen by Renee Dahlia
They're real life enemies, but online they're besties. . .
Stubborn disabled dance club owner meets demisexual property tycoon in this ff enemies to lovers romance.
Seraph's Burlesque Club owner Beth Zendeli takes no nonsense. She hustled to keep her club afloat through lean years and a pandemic, and she doesn't let her disability define her. But her perfect location has been sold, and the club is being evicted. The new owner is unreasonable, immovable, and irritating. In desperation, she turns to the online friends she talks about plants with. . .
Property investor Liz Whitten has plans for the old building she's just purchased, and she's used to getting her way. But when she meets the leaseholder in real life, a chance statement reveals Beth to be Liz's online friend QueenB. Can she really evict a friend? Especially a friend who is so unexpected and fascinating in real life.
Buy it: Brain Lair Books
And finally, here are a couple of other participating stores, along with event info and/or links to queer books they're currently highlighting:
Tubby & Coo's, LA
Parnassus Books, TN
Queen Anne Book Company, WA