Books are Rosie Taft's life. And ever since she took over her mother's beloved Manhattan bookstore, they've become her home too. The only thing missing is her own real-life romance like the ones she loves to read about, and Rosie has an idea of who she might like to sweep her off her feet. She's struck up a flirty online friendship with lesbian romance author Brie, and what could be more romantic than falling in love with her favorite author?
Jane Breslin works hard to keep her professional and personal lives neatly separated. By day, she works for the family property development business. By night, she puts her steamier side on paper under her pen name: Brie. Jane hasn't had much luck with her own love life, but her online connection with a loyal reader makes Jane wonder if she could be the one.
When Rosie learns that her bookstore's lease has been terminated by Jane's company, romance moves to the back burner. Even though they're at odds, there's no denying the sparks that fly every time they're together. When their online identities are revealed, will Jane be able to write her way to a happy ending, or is Rosie's heart a closed book?
Buy it: Bookshop | Amazon | IndieBound
Dark Tourist by

Hasanthika Sirisena

(3rd)
Dark tourism—visiting sites of war, violence, and other traumas experienced by others—takes different forms in Hasanthika Sirisena's stunning excavation of the unexpected places (and ways) in which personal identity and the riptides of history meet. The 1961 plane crash that left a nuclear warhead buried near her North Carolina hometown, juxtaposed with reflections on her father's stroke. A visit to Jaffna in Sri Lanka—the country of her birth, yet where she is unmistakably a foreigner—to view sites from the recent civil war, already layered over with the narratives of the victors. A fraught memory of her time as a young art student in Chicago that is uneasily foundational to her bisexual, queer identity today. The ways that life-changing impairments following a severe eye injury have shaped her thinking about disability and self-worth.
Deftly blending reportage, cultural criticism, and memoir, Sirisena pieces together facets of her own sometimes-fractured self to find wider resonances with the human universals of love, sex, family, and art—and with language's ability to both fail and save us. Dark Tourist becomes then about finding a home, if not in the world, at least within the limitless expanse of the page.
Buy it: Bookshop | Amazon | IndieBound
If This Gets Out by Cale Dietrich and Sophie Gonzales (7th)
Eighteen-year-olds Ruben Montez and Zach Knight are two members of the boy-band Saturday, one of the biggest acts in America. Along with their bandmates, Angel Phan and Jon Braxton, the four are teen heartbreakers in front of the cameras and best friends backstage. But privately, cracks are starting to form: their once-easy rapport is straining under the pressures of fame, and Ruben confides in Zach that he's feeling smothered by management's pressure to stay in the closet.
On a whirlwind tour through Europe, with both an unrelenting schedule and minimal supervision, Ruben and Zach come to rely on each other more and more, and their already close friendship evolves into a romance. But when they decide they're ready to tell their fans and live freely, Zach and Ruben start to truly realize that they will never have the support of their management. How can they hold tight to each other when the whole world seems to want to come between them?
Buy it: Bookshop | Amazon | IndieBound
Elise Beaumont is cursed. With every touch, she experiences exactly how her loved ones will die. And after her brother's death—a death she predicted but was unable to prevent—Elise is desperate to get rid of her terrible gift, no matter the cost.
Claire Montgomery also has a unique relationship with death, mostly because she's already dead. Technically, anyway. Claire is a vampire, and she's been assigned by the Veil to help Elise master her rare Death Oracle powers.
At first, Elise is reluctant to work with a vampire, but when she predicts a teacher's imminent murder, she's determined to stop the violent death, even if it means sacrificing her own future to secure Claire's help.
The trouble is, Claire and Elise aren't the only paranormals in town—a killer is stalking the streets, and Claire can't seem to shake the pull she feels toward Elise, a romance that could upend the Veil's mission. But as Elise and Claire grow closer, Elise begins to wonder—can she really trust someone tasked with securing her loyalty? Someone who could so easily kill her? Someone who might hold the key to unraveling her brother's mysterious death?
Buy it: Bookshop | Amazon | IndieBound
Renu Amin always seemed perfect: doting husband, beautiful house, healthy sons. But as the one-year anniversary of her husband's death approaches, Renu is binge-watching soap operas and simmering with old resentments. She can't stop wondering if, thirty-five years ago, she chose the wrong life. In Los Angeles, her son, Akash, has everything he ever wanted, but as he tries to kickstart his songwriting career and commit to his boyfriend, he is haunted by the painful memories he fled a decade ago. When his mother tells him she is selling the family home, Akash returns to Illinois, hoping to finally say goodbye and move on.
Together, Renu and Akash pack up the house, retreating further into the secrets that stand between them. Renu sends an innocent Facebook message to the man she almost married, sparking an emotional affair that calls into question everything she thought she knew about herself. Akash slips back into bad habits as he confronts his darkest secrets―including what really happened between him and the first boy who broke his heart. When their pasts catch up to them, Renu and Akash must decide between the lives they left behind and the ones they've since created, between making each other happy and setting themselves free.
By turns irreverent and tender, filled with the beats of '90s R&B, Tell Me How to Be is about our earliest betrayals and the cost of reconciliation. But most of all, it is the love story of a mother and son each trying to figure out how to be in the world.
Buy it: Bookshop | Amazon | IndieBound
Fools in Love ed. by Ashley Herring Blake and Rebecca Podos (7th)
Join fifteen bestselling, award-winning, and up-and-coming authors as they reimagine some of the most popular tropes in the romance genre. 
Fake relationships. Enemies to lovers. Love triangles and best friends, mistaken identities and missed connections. This collection of genre-bending and original stories celebrates how love always finds a way, featuring powerful flora, a superhero and his nemesis, a fantastical sled race through snow-capped mountains, a golf tournament, the wrong ride-share, and even the end of the world. With stories written by Rebecca Barrow, Ashley Herring Blake, Gloria Chao, Mason Deaver, Sara Farizan, Claire Kann, Malinda Lo, Hannah Moskowitz, Natasha Ngan, Rebecca Podos, Lilliam Rivera, Laura Silverman, Amy Spalding, Rebecca Kim Wells, and Julian Winters this collection is sure to sweep you off your feet.
Buy it: Bookshop | Amazon | IndieBound
Read a guest post by the author here.
Tair has never known what it means to belong. Abandoned at a young age and raised in the all-Elven valley of Mirte, the young Human defines herself by isolation, confined to her small, seemingly trustworthy family.
Abruptly, that family uproots her from Mirte and leads her on an inevitable but treacherous journey to Doman: the previous site of unspeakable Human atrocities and the current home of Dwarvenkind. Though Doman offers Tair new definitions of family and love, it also reveals to her that her very existence is founded in lies. Now, tasked with an awful responsibility to the Humans of Sossoa, Tair must decide where her loyalties lie and, in the process, discover who she wants to be… And who she has always been.
In their debut fantasy novel Where the Rain Cannot Reach, Adesina Brown constructs a world rich with new languages and nuanced considerations of gender and race, ultimately contemplating how, in freeing ourselves from power, we may find true belonging.
This is the second book in the Pentecost and Parker mysteries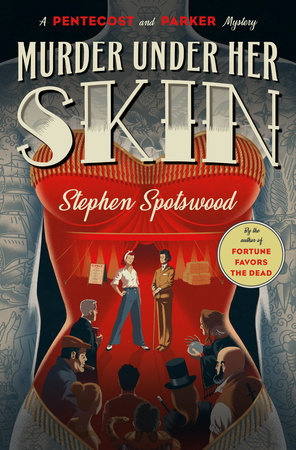 New York, 1946: The last time Will Parker let a case get personal, she walked away with a broken face, a bruised ego, and the solemn promise never again to let her heart get in the way of her job. But she called Hart and Halloway's Travelling Circus and Sideshow home for five years, and Ruby Donner, the circus's tattooed ingenue, was her friend. To make matters worse the prime suspect is Valentin Kalishenko, the man who taught Will everything she knows about putting a knife where it needs to go.
To uncover the real killer and keep Kalishenko from a date with the electric chair, Will and Ms. Pentecost join the circus in sleepy Stoppard, Virginia, where the locals like their cocktails mild, the past buried, and big-city detectives not at all. The two swiftly find themselves lost in a funhouse of lies as Will begins to realize that her former circus compatriots aren't playing it straight, and that her murdered friend might have been hiding a lot of secrets beneath all that ink.Dodging fistfights, firebombs, and flying lead, Will puts a lot more than her heart on the line in the search of the truth. Can she find it before someone stops her ticker for good?
Buy it: Bookshop | Amazon | IndieBound
No straight women. No parents of students. Nobody under thirty-five. Vanessa Martini makes no apologies for her dating checklist. She's been up close to enough messy breakups to know what havoc they wreak in life. Just because people see her as fun and happy, and just because she loves her life in general, that doesn't mean she can't be careful. Or discerning. Or, okay, fine, super picky.
Grace Chapman is tired of being judged by her boss, by the husband she's divorcing, by her parents. All she cares about now is her six-year-old son, Oliver. The divorce is making him act out in school, and she just needs to find a way to help him so they can start again. What she does not need is the silent judgment she gets from his teacher. His wildly attractive, super sexy, annoyingly gorgeous teacher.
Grace ticks all Vanessa's Do Not Date boxes. Vanessa is yet one more person who disapproves of Grace. Of course, they're never going to fall in love.
Buy it: Amazon | The Ripped Bodice
It's Karnawa season in the snow-cloaked Kingdom of Lechia, and from now until midnight when the church bells ring an end to Devil's Tuesday time will be marked with wintry balls and glittery disguises, cavalcades of nightly torch-lit "kuligi" sleigh-parties.
Unbeknownst to the oblivious merrymakers, two monsters join the fun. Newfound friends and polar opposites, Zosia and Marynka seem destined to have a friendship that's stronger even than magic. But that's put to the test when they realize they both have their sights set on Lechia's pure-hearted prince. If a monster consumes a pure heart she'll gain immeasurable power and Marynka plans to bring the prince's back to her grandmother in order to prove herself. While Zosia is determined to take his heart and its power for her own.
When neither will sacrifice their ambitions for the other, the festivities spiral into a magical contest with both girls vying to keep the hapless prince out of the other's wicked grasp. But this isn't some remote forest village, where a stray enchantment or two might go unnoticed, Warszów is the icy capital of a kingdom that enjoys watching monsters burn, and if Zosia and Marynka's innocent disguises continue to slip, their escalating rivalry might cost them not just the love they might have for each other, but both their lives.
Buy it: Bookshop | Amazon | IndieBound
As executive chef at one of the hottest restaurants in DC, DeShawn Franklin has almost everything he's ever wanted. He's well-known, his restaurant is Michelin starred and he can write his own ticket anywhere he wants. Until his grandmother calls him home and drops two bombshells:
1) She has cancer and she's not seeking treatment.
2) She's willing half her estate to DeShawn's ex-husband, Malik.
Make that three bombshells. 
3) That whole divorce thing? It didn't quite go through. DeShawn and Malik are still married.
And when DeShawn's shady uncle contests Grandma's will, there's only one path back to justice: play it like he and Malik have reconciled. They need to act like a married couple just long enough to dispense with the lawsuit.
Once DeShawn is back in Malik's orbit, it's not hard to remember why they parted. All the reasons he walked away remain—but so do all the reasons he fell in love in the first place.
Buy it: Bookshop | Amazon | IndieBound
Here's to Us by Becky Albertalli and Adam Silvera (28th)
This is the sequel to What if it's Us?
Ben has spent his first year of college working on his fantasy manuscript with his writing partner Mario, who is a great Spanish tutor, and an even better kisser. So why can't he stop thinking about the fact that Arthur's back in town two years after they called it quits?
Arthur is in New York for a dream internship on Broadway, with a boyfriend back at home that he couldn't be happier with. But when he comes upon Ben cuddled up with a mystery boy, he starts to wonder if his feelings for Ben ever truly went away.
Even as the boys try to focus on their futures, they can't seem to help running into each other in the present. Is the universe forcing them to question if they're actually meant to be?
Possibly not. After all, things didn't work the first time around.
Possibly yes. After all, the sparks are still flying.
Sometimes you just have to take a leap of faith and raise a glass.
Here's to celebrating old friends!
Here's to embracing new beginnings!
Here's to believing in second chances!
Buy it: Bookshop | Amazon | IndieBound