Love love, at least in bookish form? Here's a list to keep you in brand-new queer romance novels all year long…
Bradley Graeme is pretty much perfect. He's a star football player, manages his OCD well (enough), and comes out on top in all his classes . . . except the ones he shares with his ex-best friend, Celine.
Celine Bangura is conspiracy-theory-obsessed. Social media followers eat up her takes on everything from UFOs to holiday overconsumption–yet, she's still not cool enough for the popular kids' table. Which is why Brad abandoned her for the in-crowd years ago. (At least, that's how Celine sees it.)
These days, there's nothing between them other than petty insults and academic rivalry. So when Celine signs up for a survival course in the woods, she's surprised to find Brad right beside her.
Forced to work as a team for the chance to win a grand prize, these two teens must trudge through not just mud and dirt but their messy past. And as this adventure brings them closer together, they begin to remember the good bits of their history. But has too much time passed . . . or just enough to spark a whole new kind of relationship?
Buy it: Bookshop | Amazon | IndieBound
Even though she won't deny her love for pretty (and pricey) things, Nineve Blackmoore is almost painfully down-to-earth and sensible by Blackmoore standards. But after a year of nursing a broken heart inflicted by the fiancée who all but ditched her at the altar, the powerful witch is sick of feeling low and is ready to try something drastically different: a dating app.
At her best friend's urging, Nina goes on a date with Morty Gutierrez, the nonbinary, offbeat soul of spontaneity and co-owner of the Shamrock Cauldron. Their date goes about as well as can be expected of most online dates—awkward and terrible. To make matters worse, once Morty discovers Nina's last name, he's far from a fan; it turns out that the Blackmoores have been bullishly trying to buy the Shamrock out from under Morty and his family.
But when Morty begins developing magical powers—something that usually only happens to committed romantic partners once they officially join a founding family—at the same time that Nina's own magic surges beyond her control, Nina must manage Morty's rude awakening to the hidden magical world, uncover its cause, and face the intensity of their own burgeoning connection. But what happens when that connection is tied to Nina's power surge, a power she's finding nearly as addictive as Morty's presence in her life?
Buy it: Bookshop | Amazon | IndieBound
Mahalia Harris wants.
She wants a big Sweet Sixteen like her best friend, Naomi.
She wants the super-cute new girl Siobhan to like her back.
She wants a break from worrying—about money, snide remarks from white classmates, pitying looks from church ladies . . . all of it.
Then inspiration strikes: It's too late for a Sweet Sixteen, but what if she had a coming-out party? A singing, dancing, rainbow-cake-eating celebration of queerness on her own terms.
The idea lights a fire beneath her, and soon Mahalia is scrimping and saving, taking on extra hours at her afterschool job, trying on dresses, and awkwardly flirting with Siobhan, all in preparation for the coming out of her dreams. But it's not long before she's buried in a mountain of bills, unfinished schoolwork, and enough drama to make her English lit teacher blush. With all the responsibility on her shoulders, will Mahalia's party be over before it's even begun?
A novel about finding yourself, falling in love, and celebrating what makes you you.
Buy it: Bookshop | Amazon | IndieBound
Bonnie James has built her life around her passions—cats, coffee, and community. She rejected her family's narrow visions of success and instead chose the non-lucrative, fur-filled life of a cat café owner. So what if her decision means she works way too much to have time for true love? She has plenty of friends and cats to keep her company.
Wedding planner Taryn Ritter has a knack for making impossible dreams come true. She might not understand the appeal of getting married in a cat café, but if that's what her clients want, then she'll make it happen. She's not about to let the reluctant café owner stand in her way, so she makes Bonnie an offer she can't refuse—give her the venue for one day and she'll find a way to get more cats adopted into happy homes.
When Bonnie and Taryn join forces to help a bunch of shelter cats find their forever homes, they just might discover forever for themselves as well.
Buy it: Bookshop | Amazon | IndieBound
Seventeen-year-old Theo Wright has it all figured out. His plan (well, more like his dad's plan) is a foolproof strategy that involves exceling at his magnet school, getting scouted by college recruiters, and going to Duke on athletic scholarship. But for now, all Theo wants is a perfect prom night. After his best friend Jay dares Theo to prompose to his crush at Chloe Campbell's party, Theo's ready to throw caution to the wind and take his chances.
But when the promposal goes epically wrong, Theo seeks refuge in an empty bedroom while the party rages on downstairs. Having an existential crisis about who he really is with and without his so-called best friend wasn't on tonight's agenda. Though, as the night goes on, Theo finds he's not as alone as he thinks when, one by one, new classmates join him to avoid who they're supposed be outside the bedroom door. Among them, a familiar acquaintance, a quiet outsider, an old friend, and a new flame . . .
Buy it: Bookshop | Amazon | IndieBound
Penny and Tate have always clashed. Unfortunately, their mothers are lifelong best friends, so the girls' bickering has carried them through playdates, tragedy, and more than one rom-com marathon with the Moms. When Penny's mother decides to become a living donor to Tate's mom, ending her wait for a liver transplant, things go from clashing to cataclysmic. Because in order to help their families recover physically, emotionally, and financially, the Moms combine their households the summer before senior year.
So Penny and Tate make a pact: They'll play nice. Be the drama-free daughters their mothers need through this scary and hopeful time. There's only one little hitch in their plan: Penny and Tate keep almost kissing.
It's just this confusing thing that keeps happening. You know, from time to time. For basically their entire teenaged existence.
They've never talked about it. They've always ignored it in the aftermath. But now they're living across the hall from each other. And some things—like their kisses—can't be almosts forever.
Buy it: Bookshop | Amazon | IndieBound
Sorry, Bro by Taleen Voskuni (January 31st)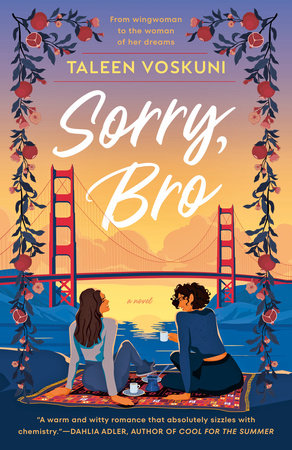 When Nar's non-Armenian boyfriend gets down on one knee and proposes to her in front of a room full of drunk San Francisco tech boys, she realizes it's time to find someone who shares her idea of romance.
Enter her mother: armed with plenty of mom-guilt and a spreadsheet of Facebook-stalked Armenian men, she convinces Nar to attend Explore Armenia, a month-long series of events in the city. But it's not the mom-approved playboy doctor or wealthy engineer who catches her eye—it's Erebuni, a woman as equally immersed in the witchy arts as she is in preserving Armenian identity. Suddenly, with Erebuni as her wingwoman, the events feel like far less of a chore, and much more of an adventure. Who knew cooking up kuftes together could be so . . . sexy?
Erebuni helps Nar see the beauty of their shared culture and makes her feel understood in a way she never has before. But there's one teeny problem: Nar's not exactly out as bisexual. The clock is ticking on Nar's double life, though—the closing event banquet is coming up, and her entire extended family will be there, along with Erebuni. Her worlds will inevitably collide, but Nar is determined to be brave, determined to claim her happiness: proudly Armenian, proudly bisexual, and proudly herself for the first time in her life.
Buy it: Bookshop | Amazon | IndieBound
Behind the Scenes by Karelia Stetz-Waters (January 31st)
Business consultant Rose Josten might not have officially reached "pug lady" middle age, but she's already got the pugs—along with their little Gucci coats and trash-lovin' appetites. Still, life is good, with her work, her sisters, and a secret hobby creating incredibly tactile (if surprisingly sexy) mindfulness videos. So why does it feel like it's not quite enough? Which is exactly when Ash Stewart enters camera left, and Rose's world suddenly goes full technicolor . . .
Ash never looks at anyone. Not since her ex ripped her heart from her chest in Spielberg-esque style, crushing Ash's reputation, dreams, and career in one brutal blow. But Rose is altogether different. She's curvy, beautiful, and just so damn put together. And her business expertise might be Ash's best bet for getting her last film—and her last chance—financed. Now if they can just keep their attraction under wraps, Ash's lost dream could finally come true. But are they creating the perfect pitch . . . or setting the stage for disaster?
Buy it: Bookshop | Amazon | IndieBound
The Long Run by James Acker (February 7th)
Sebastian Villeda is over it. Over his rep. Over his bros. Over being "Bash the Flash," fastest sprinter in South Jersey. His dad is gone, his mom is dead, and his stepfather is clueless. Bash has no idea what he wants out of life. Until he meets Sandro.
Sandro Miceli is too nice for his own good. The middle child in an always-growing, always-screaming Italian family, Sandro walks around on a broken foot to not bother his busy parents. All he wants is to get out and never look back.
When fate—in the form of a party that gets busted—brings these two very different boys together, neither of them could've predicted finding a love that they'd risk everything for…
Buy it: Bookshop | Amazon | IndieBound
One Last Shot by Jacqueline Ramsden and Lily Seabrooke (February 13th)
A two-month tour impersonating her pop-sensation twin sister Eva—or Nova on stage—sounds like Ava Blakely's worst nightmare. For one thing, she can't sing, and being on a stage is her idea of torture.
But it might be the only way to save Eva's pregnancy.
Tour photographer Freja Callister just wanted a vacation and some pizza, but a last-minute request to shoot the Nova tour pulls her in—especially when the popstar seems a little different than she remembers. And much too interested in Freja now.
For Ava, falling for her photographer while hiding her real identity is a catastrophe in the making. But hey, what do they have to lose?
One Last Shot is a 100,000-word twin-swap popstar romance, and Lily Seabrooke's and Jacqueline Ramsden's first collaborative book, featuring a dysfunctional band that learns to work together, a secret identity, and a tour fling that turns a little too serious. Content warnings for open-door sex scenes, a creepy older director who wants to get young pop idols naked, Cecilia opening doors, and Mister Pippins definitely, absolutely having thoughts and feelings.
Buy it: Amazon
Always the Almost by Edward Underhill (February 14th)
Sixteen-year-old trans boy Miles Jacobson has two New Year's resolutions: 1) win back his ex-boyfriend (and star of the football team) Shane McIntyre, and 2) finally beat his slimy arch-nemesis at the Midwest's biggest classical piano competition. But that's not going to be so easy. For one thing, Shane broke up with Miles two weeks after Miles came out as trans, and now Shane's stubbornly ignoring him, even when they literally bump into each other. Plus, Miles' new, slightly terrifying piano teacher keeps telling him that he's playing like he "doesn't know who he is"—whatever that means.
Then Miles meets the new boy in town, Eric Mendez, a proudly queer cartoonist from Seattle who asks his pronouns, cares about art as much as he does—and makes his stomach flutter. Not what he needs to be focusing on right now. But after Eric and Miles pretend to date so they can score an invite to a couples-only Valentine's party, the ruse turns real with a kiss…which is also definitely not in the plan. Why does Eric like him so much, anyway? It's not like he's cool or confident or comfortable in his own skin. He's not even good enough at piano to get his fellow competitors to respect him…especially now, as Miles. Nothing's ever been as easy for him as for other people—other boys. He's only ever been almost enough.
So why, when he's with Eric, does it feel like the only person he's ever really not been enough for…is himself?
Buy it: Bookshop | Amazon | IndieBound
​
Felicity Becker loves watching an event come together. Whether it's prom, graduation, or just the annual Arbor Day school dance, there's something magical about crafting an experience that people will remember. So when her mom gets engaged, Felicity sees the wedding as the perfect opportunity to show off her skills.
​After Felicity's long-distance friend Nancy offers up her family's apple orchard as a venue, wedding planning gets even better. But the more time Felicity and Nancy spend together dress shopping and hunting for just-right mismatched china, the more it starts to seem like there might be something besides friendship between them. Felicity isn't sure how she feels. As someone on the asexuality spectrum, what would dating even look like for her? And would Nancy be open to dating when Felicity doesn't even know what she wants from a relationship?
​Suddenly the summer is a lot more complicated. Especially when Felicity finds out that one of the wedding guests is an event planner with a prestigious internship available. Can Felicity wrangle her irresponsible mom, juggle her judgmental grandmother, figure out her feelings for Nancy, and plan the perfect wedding? Or will all of her plans come crashing down around her?
Buy it: Bookshop | Amazon | IndieBound
Surprised by Her by Chelsea M. Cameron (February 14th)
When my boss at Bluebird Pottery, Sydney, left me in charge while she went on vacation with her girlfriend, I wasn't looking forward to it. During my first few hours, a tall, stunning stranger walked in, and I could barely breathe. Of course I ruined everything by spilling coffee all over her. What I didn't expect was for her to push me up against the sink and kiss the hell out of me when I tried to help her clean up in the bathroom.
I never thought I'd see her again, and then she showed up to my book club and introduced herself as Ryan Jewel, the heiress to a candle company fortune and is so far out of my league, we're not even on the same planet. Still, I keep running into her in Arrowbridge, and it doesn't feel like a coincidence.
At first, I'm happy to be sucked into Ryan's glittering orbit. Everything is first class all the way, and it's nice to have a little luxury in my life. Even beyond the money, I'm dazzled by her. Underneath her chilly exterior is someone who's secretly kind, and funny, and who cares fiercely for those she loves.
It doesn't take long for me to completely fall for her, but could this incredible creature ever want a small-town life with someone like me?
Buy it: Amazon
Since a crushing breakup three years ago, Nina Rice has written romance, friends, her dreams of scriptwriting for TV, and even L.A. proper out of her life. Instead, she's safely out in the suburbs in her aunt's condo working her talent agency job from home, managing celebrity email accounts, and certain that's plenty of writing–and plot–for her life. But a surprise meeting called by Ari Fox, a young actress on everyone's radar, stirs up all kinds of feelings Nina thought she'd deleted for good…
Ari is sexy, out and proud, and a serious control freak, according to Nina's boss. She has her own ideas about how Nina should handle her emails–and about getting to know her ghostwriter. When she tells Nina she should be writing again, Nina suddenly finds it less scary to revisit her abandoned life than seriously consider that Ari is flirting with her. Between reconnecting with her old crew and working on a new script, a relationship with a movie star seems like something she'll definitely mess up–but what could be more worth the risk?
Buy it: Bookshop | Amazon | IndieBound
Pack of Her Own by Elena Abbott (March 1st)
Natalie Donovan jumps at a friend's offer to stay in the family cabin for a month—she desperately needs the chance to get away from, and get over, her messy breakup. She doesn't count on the owner of the local diner making her heart pound and her body desperate to be touched.
Wren Carne is a lone wolf. As an Alpha shifter, she has no pack and maintains her territory without causing drama, just the way she likes it. When she checks on the girl staying in a local cabin, she's not expecting her wolf to identify the human as her One True Mate.
As fallout from their pasts encroaches upon the sleepy town of Terabend, Wren must decide if she wants a pack of her own, while Natalie worries that her secret—she's transgender—might be too much for Wren.
Buy it: Bookshop | Amazon | IndieBound
Abandoned by his father, Gareth Inglis grew up lonely, prickly, and well-used to disappointment. Still, he longs for a connection. When he meets a charming man in a London molly house, he falls head over heels—until everything goes wrong and he's left alone again. Then Gareth's father dies, turning the shabby London clerk into Sir Gareth, with a grand house on the remote Romney Marsh and a family he doesn't know.
The Marsh is another world, a strange, empty place notorious for its ruthless gangs of smugglers. And one of them is dangerously familiar…
Joss Doomsday has run the Doomsday smuggling clan since he was a boy. When the new baronet—his old lover—agrees to testify against Joss's sister, Joss acts fast to stop him. Their reunion is anything but happy, yet after the dust settles, neither can stay away. Soon, all Joss and Gareth want is the chance to be together. But the bleak, bare Marsh holds deadly secrets. And when Gareth finds himself threatened from every side, the gentleman and the smuggler must trust one another not just with their hearts, but with their lives.
Buy it: Bookshop | Amazon | IndieBound
When Alexei Lebedev finally comes out to his conservative community, it does not go well. That's how he ended up on the rugged Pacific Crest Trail, hoping he can figure out a new life plan in the thousands of miles it'll take to walk the famed hike. He's prepared for rattlesnakes, blisters, and months of solitude. What he's not prepared for is the ray of sunshine named Ben Caravalho.
Charismatic and outgoing, Ben's personality and infectious laughter is a stark opposite to Alexei's quiet, reserved demeanor. But no matter how determined Alexei is to hike the trail alone, it seems he and Ben can't avoid being drawn to each other. Through snow crossings and close calls with coyotes, Alexei inches closer to letting Ben in. As Alexei learns of Ben's loving family and supportive friends, he begins to get a taste of what found family and belonging could truly feel like. But just as Alexei starts to let down his defenses, a sudden change in plans reawakens his fears—and he must discover if he has the courage to face something even scarier than the trail less traveled: letting himself fall.
Buy it: Bookshop | Amazon | IndieBound
At fourteen, Penny Winters fell out of the closet and in love with her best friend, Misa Ito. But before they truly understood their feelings, Misa and her family were gone. Over a decade later, when Penny secures a job at a top New York advertising agency, she has a second chance at first love when she's introduced to the lead account executive, Misa.
But the road to happiness is riddled with potholes. Misa is still impossibly beautiful, but super cold. And Misa shows no recollection of Penny—the girl who once showed her how to skateboard, make daisy chain crowns, and shared every secret with. On top of that, there's the huge engagement ring and photo of a handsome man on Misa's desk. The butterflies Penny feels don't seem one-sided, and she wants answers.
Penny has no idea that she's begging for the impossible. Getting Misa to admit anything means asking her to do the impossible: put aside her career and her father's expectations to give into her heart. Which has always belonged to Penny.
Buy it: Amazon
High-school senior and notorious wallflower Hawkins finally works up the courage to remove her mascot mask and ask out her longtime crush: Regina Moreno, head cheerleader, academic overachiever, and all-around popular girl. There's only one teensy little problem: Regina is already dating Chloe Kitagawa, athletic all-star…and middling English student. Regina sees a perfectly self-serving opportunity here, and asks the smitten Hawkins to tutor Chloe free of charge, knowing Hawkins will do anything to get closer to her.
And while Regina's plan works at first, she doesn't realize that Hawkins and Chloe knew each other as kids, when Hawkins went by Belle and wore princess dresses to school every single day. Before long, romance does start to blossom…but not between who you might expect. With Belle of the Ball, cartoonist Mariana Costa has reinvigorated satisfying, reliable tropes into your new favorite teen romantic comedy.
Buy it: Bookshop | Amazon | IndieBound
Spell Bound by F.T. Lukens (April 4th)
Edison Rooker isn't sure what to expect when he enters the office of Antonia Hex, the powerful sorceress who runs a call center for magical emergencies. He doesn't have much experience with hexes or curses. Heck, he doesn't even have magic. But he does have a plan—to regain the access to the magical world he lost when his grandmother passed.
Antonia is…intimidating, but she gives him a job and a new name—Rook—both of which he's happy to accept. Now all Rook has to do is keep his Spell Binder, an illegal magical detection device, hidden from the Magical Consortium. And contend with Sun, the grumpy and annoyingly cute apprentice to Antonia's rival colleague, Fable. But dealing with competition isn't so bad; as Sun seems to pop up more and more, and Rook minds less and less.
But when the Consortium gets wind of Rook's Spell Binder, they come for Antonia. All alone, Rook runs to the only other magical person he knows: Sun. Except Fable has also been attacked, and now Rook and Sun have no choice but to work together to get their mentors back…or face losing their magic forever.
Buy it: Bookshop | Amazon | IndieBound
Finding home. Falling in love. Fighting to belong.
The Santos Vista neighborhood of San Antonio, Texas, is all Ander Lopez has ever known. The smell of pan dulce. The mixture of Spanish and English filling the streets. And, especially their job at their family's taquería. It's the place that has inspired Ander as a muralist, and, as they get ready to leave for art school, it's all of these things that give them hesitancy. That give them the thought, are they ready to leave it all behind?
To keep Ander from becoming complacent during their gap year, their family "fires" them so they can transition from restaurant life to focusing on their murals and prepare for college. That is, until they meet Santiago Garcia, the hot new waiter. Falling for each other becomes as natural as breathing. Through Santi's eyes, Ander starts to understand who they are and want to be as an artist, and Ander becomes Santi's first steps toward making Santos Vista and the United States feel like home.
Until ICE agents come for Santi, and Ander realizes how fragile that sense of home is. How love can only hold on so long when the whole world is against them. And when, eventually, the world starts to win.
Buy it: Bookshop | Amazon | IndieBound
Diamond Ring by KD Casey (April 11th)
Jake Fischer has been here before: pitching for the Oakland Elephants, hiding his worries behind a smile, hoping to win it all. Ten years ago, it didn't turn out the way he wanted. Nothing in his life did. But now he's back—and so is the one teammate tied inexorably to his past.
It doesn't matter how many times catcher Alex Angelides replays that moment during the Fall Classic over in his mind, the outcome never changes. He's not sure what happened to make that pitch glance off his glove, or what happened with his relationship with Jake—and he's not going to be the one to ask.
A whole lot may have changed in the last decade, but some things have stayed the same. Jake and Alex still can't stay out of each other's faces on the field, or out of each other's beds off of it. They've got a second chance to win it all…but only if they realize what they lost.
Buy it: Amazon
Peggy Delancey's not at all ready to move on from her former flame, Arabella Tarleton. But Belle has her own plans for a love match, and she needs Peggy's help to make those plans a reality. Still hung up on her feelings and unable to deny Belle what she wants, Peggy reluctantly agrees to help her woo the famous and flamboyant opera singer Orfeo.
She certainly doesn't expect to find common ground with a celebrated soprano, but when Peggy and Orfeo meet, a whole new flame is ignited that she can't ignore. Peggy finds an immediate kinship with Orfeo, a castrato who's just as nonconforming as she is—and just as affected by their instant connection.
They've never been able to find their place in the world, but as the pair walks the line between friendship, flirtation, and something more, they may just find their place with each other.
Buy it: Bookshop | Amazon | IndieBound
For some reason, Clark has woken up and relived the same monotonous Monday 309 times. Until Day 310 turns out to be…different. Suddenly, his usual torturous math class is interrupted by an anomaly—a boy he's never seen before in all his previous Mondays.
When shy, reserved Clark decides to throw caution to the wind and join effusive and effervescent Beau on a series of "errands" across the Windy City, he never imagines that anything will really change, because nothing has in such a long time. And he definitely doesn't expect to fall this hard or this fast for someone in just one day.
There's just one problem: how do you build a future with someone if you can never get to tomorrow?
Buy it: Bookshop | Amazon | IndieBound
The Fiancee Farce by Alexandria Bellefleur (April 18th)
Tansy Adams' greatest love is her family's bookstore, passed down from her late father. But when it comes to actual romance… Tansy can't get past the first chapter. Tired of her stepfamily's questions about her love life, Tansy invents Gemma, a fake girlfriend inspired by the stunning cover model on a bestselling book. They'll never actually meet, so what's the harm in a little fib? Yet when real-life Gemma crosses Tansy's path, her white lie nearly implodes.
Gemma van Dalen is a wild child, the outcast of her wealthy family, and now the latest heir to Van Dalen Publishing. But the title comes with one tiny condition: she must be married in order to inherit. When Gemma discovers a beautiful stranger has been pretending to date her for months, she decides to take the charade one step further—and announces their engagement.
Gemma needs a wife to meet the terms of her grandfather's will and Tansy needs money to save her struggling bookstore. A marriage could be mutually beneficial, if they can fool everyone into thinking it's a love match. Unexpected sparks fly as Tansy and Gemma play the role of affectionate fiancées, and suddenly the line between convenient arrangement and real feelings begins to blur. But the scheming Van Dalen family won't give up the company without a fight, and Gemma and Tansy's newfound happiness might get caught in the fallout…
Buy it: Bookshop | Amazon | IndieBound
Sizzle Reel by Carlyn Greenwald (April 18th)
For aspiring cinematographer Luna Roth, coming out as bisexual at twenty-four is proving more difficult than she anticipated. Sure, her best friend and fellow queer Romy is thrilled for her—but she has no interest in coming out to her backwards parents, she wouldn't know how to flirt with a girl if one fell at her feet, and she has no sexual history to build off. Not to mention she really needs to focus her energy on escaping her emotionally-abusive-but-that's-Hollywood talent manager boss and actually get working under a real director of photography anyway.
When she meets twenty-eight-year-old A-list actress Valeria Sullivan around the office, Luna thinks she's found her solution. She'll use Valeria's interest in her cinematography to get a PA job on the set of Valeria's directorial debut—and if Valeria is as gay as Luna suspects, and she happens to be Luna's route to losing her virginity, too . . . well, that's just an added bonus. Enlisting Romy's help, Luna starts the juggling act of her life—impress Valeria's DP to get another job after this one, get as close to Valeria as possible, and help Romy with her own career moves.
But when Valeria begins to reciprocate romantic interest in Luna, the act begins to crumble—straining her relationship with Romy and leaving her job prospects precarious. Now Luna has to figure out if she can she fulfill her dreams as a filmmaker, keep her best friend, and get the girl. . . or if she's destined to end up on the cutting room floor.
Buy it: Bookshop | Amazon | IndieBound
No Boy Summer by Amy Spalding (April 25th)
Lydia Jones and her younger sister Penny have had it with boy drama. Last year was marred by relationship disasters for both of them, threatening Lydia's standing with her school's theater tech club and Penny's perfect GPA. Penny has, naturally, diagnosed the problem and prescribed a drastic solution: a summer off from boys.
Lydia and Penny decide to stay with their Aunt Grace and her boyfriend Oscar in Los Angeles while their parents are off on a European cruise. Penny follows her future-business-school dreams with an internship at Oscar's office, and Lydia gets a part-time job at Grace's neighborhood coffeeshop, Grounds Control.
Even when they spent hours, days, weeks dissecting their various boy drama, Lydia's never felt this connected to her sister before, and it makes her wonder what else in her life could be different. She finds herself drawn to a group of friends she meets through her Grounds Control coworker, Margaret, as well as an intriguing customer, Fran, an aspiring filmmaker and—while not the first girl Lydia finds herself attracted to—the first girl who has mutual feelings for her. But she's not breaking her pledge to Penny, right? That was just about boys. Even though in her heart Lydia knows she's bending the rules, she hasn't had a connection with anyone as strong as her connection with Fran, so she thinks it can't be wrong. And Penny won't mind as long as she's happy . . . Right?
Buy it: Bookshop | Amazon | IndieBound
Margo Zimmerman is gay, but she didn't know until now. An overachiever at heart, Margo is determined to ace her newly discovered gayness. All she needs is the right tutor.
Abbie Sokoloff has her own gayness down to a science. But a flunking grade in US History is threatening her acceptance to her dream school. All she needs is the right tutor.
Margo agrees to help Abbie get her history grade up in exchange for "Queer 101" lessons. But as they spend more and more time together, Margo realizes she doesn't want just any girl—she wants the girl.
Buy it: Bookshop | Amazon | IndieBound
Imogen Scott may be hopelessly heterosexual, but she's got the World's Greatest Ally title locked down.
She's never missed a Pride Alliance meeting. She knows more about queer media discourse than her very queer little sister. She even has two queer best friends. There's Gretchen, a fellow high school senior, who helps keep Imogen's biases in check. And then there's Lili—newly out and newly thriving with a cool new squad of queer college friends.
Imogen's thrilled for Lili. Any ally would be. And now that she's finally visiting Lili on campus, she's bringing her ally A game. Any support Lili needs, Imogen's all in.
Even if that means bending the truth, just a little.
Like when Lili drops a tiny queer bombshell: she's told all her college friends that Imogen and Lili used to date. And none of them know that Imogen is a raging hetero—not even Lili's best friend, Tessa.
Of course, the more time Imogen spends with chaotic, freckle-faced Tessa, the more she starts to wonder if her truth was ever all that straight to begin with. . .
Buy it: Bookshop | Amazon | IndieBound
Best Men by Sidney Karger (May 2nd)

Max Moody thought he had everything figured out. He's trying to live his best life in New York City and has the best friend a gay guy could ask for: Paige. She and Max grew up next door to each other in the suburbs of Chicago. She can light up any party. She finishes his sentences. She's always a reliable splunch (they don't like to use the word brunch) partner. But then Max's whole world is turned upside down when Paige suddenly announces some huge news: she's engaged and wants Max to be her man of honor. Max was always the romantic one who imagined he would get married before the unpredictable Paige and is shocked to hear she's ready to settle down. But it turns out there's not just one new man in Paige's life–there are two.
There's the groom, Austin, who's a perfectly nice guy. Then there's his charming, fun and ridiculously handsome gay younger brother, Chasten, who is Austin's best man. As Paige's wedding draws closer, Max, the introverted Midwesterner, and Chasten, the social butterfly East Coaster, realize they're like oil and water. Yet they still have to figure out how to coexist in Paige's life while not making her wedding festivities all about them. But can the tiny romantic spark between these two very different guys transform their best man supporting roles into the leading best men in each other's lives?
Buy it: Bookshop | Amazon | IndieBound
Eden Sands has been a star for twenty years, but it's lonely at the top. Her mediocre marriage just ended, and her inner circle is smaller than ever. The stage is the only place she's ever felt like she truly belonged, and yet, her last album flopped, and her upcoming tour hasn't sold out. Eden's desperate for her star to shine bright again, but when her team suggests a collaboration with an up-and-coming young star to give her a boost, she balks.
Anna Moss is pop music's rising star. She's idolized Eden Sands for most of her life―so it's a dream come true when she's invited to perform with her at the Grammys. Anna's tired of being defined by her bubbly persona. She wants to be taken seriously as an artist, and a duet with Eden could be just what she needs.
As Anna and Eden rehearse, they soon realize they have more in common than their musical talents. Now they just have to decide if what is between them is a one-hit wonder or the making of a romance worthy of one of the greatest love songs of all time.
Buy it: Bookshop | Amazon | IndieBound
THE BSE (Best Summer Ever) LIST!
1. Blueberries
2. Art show in ShoeHorn
3. Lizzo concert
4. Thrift shop pop-up
5. Skinny Dipping at the lake house
6. Amusement Park Day!
7. Drew Barrymarathon
8. Paintball day
Oh, and ….
9. Fall out of love with Hailee
Andrea Williams has got this. The Best Summer Ever. Two summers ago, she spent all her time in bed, recovering from the latest surgery for her cerebral palsy. She's waited too long for adventure and thrills to enter her life. Together with her crew of ride-or-die friends, and the best parents anyone could ask for (just don't tell them that), she's going to live it up.
There's just one thing that could ruin it: Her best friend, Hailee, finding out Andrea's true feelings. So Andrea WILL fall out of love with Hailee – even if it means dating the cute boy George who keeps showing up everywhere with a smile.
Do we want Andrea to succeed? No! Does she? We're not telling!
Buy it: Bookshop | Amazon | IndieBound
There are plenty of words Jonah Collins could use to describe Dylan Ramírez. "Arrogant," "spoiled," and "golden boy" to name a few. Likewise, Dylan thinks he has Jonah accurately labeled as an attention-seeking asshat who never shuts his filthy mouth. Their friends are convinced Jonah's and Dylan's disdain for one another is just thinly veiled lust—a rumor that surges like wildfire when the two wake up in one bed after homecoming. Mutually horrified, Dylan and Jonah agree to use the faux pas to their advantage by fake dating. If they can stay convincing long enough to end their "relationship" in a massive staged fight, they can prove their incompatibility to their friends once and for all. But the more time they spend together, the more their plan begins to fall apart—and the closer they come to seeing each other clearly for the first time.
Buy it: Bookshop | Amazon | IndieBound
Valentina "Vale" Castillo-Green's life revolves around soccer. Her friends, her future, and her father's intense expectations are all wrapped up in the beautiful game. But after she incites a fight during playoffs with her long-time rival, Leticia Ortiz, everything she's been working toward seems to disappear.
Embarrassed and desperate to be anywhere but home, Vale escapes to her beloved childhood soccer camp for a summer of relaxation and redemption…only to find out that she and the endlessly aggravating Leticia will be co-captaining a team that could play in front of college scouts. But the competition might be stiffer than expected, so unless they can get their rookie team's act together, this second chance―and any hope of playing college soccer―will slip through Vale's fingers. When the growing pressure, friendship friction, and her overbearing father push Vale to turn to Leticia for help, what starts off as a shaky alliance of necessity begins to blossom into something more through a shared love of soccer…and maybe each other.
Buy it: Bookshop | Amazon | IndieBound
Eli Peterson is a self-taught, up-and-coming makeup artist in the cosplay scene who is barely making ends meet. While they might be slaying it with their breathtaking looks, they're also trying to save enough money for top surgery and convince their parents that their artistic dream is worthwhile. During a convention, Eli hears about Makeup Wars, a competition that could change everything . . .
The grand prize? A scholarship to Beyond, the best SFX school on the West Coast. The problem? Going head-to-head with the most talented up-and-coming makeup artists in the scene—including rival influencer Zachary Miller, their ex-boyfriend. Eli will have to juggle their makeup brushes, their rekindled feelings for Zach, and their self-doubt in order to win everything they've ever wanted: a chance to chase their dream and a second chance at love.
Buy it: Bookshop | B&N | Amazon | Indigo | IndieBound
When style is everything, will Ethan learn that true beauty is on the inside?
Chase Myles can throw together a swinging dinner party or redecorate an entire townhouse with jaw-dropping elegance. Followers scroll his Insta and see effortless workouts, exotic travel, and an adoring boyfriend. The world believes Chase is a style icon. The world is mistaken.
Ethan Wells is actually the one who knows what to wear, what to eat and how to do it but he's happy staying behind the scenes producing their hit LGBTQ show Myles of Style. When Chase walks off set just before the Pride live TV show that will make or break Ethan's career, Ethan thinks it's just another tantrum… until Chase's Instagram shows him partying hard in Abu Dhabi.
Out of options, Ethan drives up to rural New York to convince Chase's estranged twin, Beau, to pass him off as Chase for a week, but Ethan finds a hairy, rugged mountain man who couldn't be more different from his social butterfly, influencer brother.
Can Ethan transform Beau into the star of the show and fool his bosses and Chase's followers? And when Beau turns out to be kind, romantic and everything that Chase is not, does he really want Chase back, anyway?
Buy it: Amazon
Dylan Tang wants to win a Mid-Autumn Festival mooncake-making competition for teen chefs—in memory of his mom, and to bring much-needed publicity to his aunt's struggling Chinese takeout in Brooklyn.
Enter Theo Somers: charming, wealthy, with a smile that makes Dylan's stomach do backflips. AKA a distraction. Their worlds are sun-and-moon apart, but Theo keeps showing up. He even convinces Dylan to be his fake date at a family wedding in the Hamptons.
In Theo's glittering world of pomp, privilege, and crazy rich drama, their romance is supposed to be just pretend . . . but Dylan finds himself falling for Theo. For real. Then Theo's relatives reveal their true colors—but with the mooncake contest looming, Dylan can't risk being sidetracked by rich-people problems.
Can Dylan save his family's business and follow his heart—or will he fail to do both?
Buy it: Amazon | IndieBound
Miss Grace Linfield has resigned herself to life as a lady's companion as the only path to respectable security. At least it allows her to visit the beautiful seaside town of Inverley with her charge, Lady Edith. Passions flare when botanist Miss Thea Martin whirls into town —and into Grace's bed for a scandalous night of passion.
Disaster looms when Lady Edith elopes with Thea's brother. Prim-and-proper Grace and wildly outrageous Thea each wish it was anyone else by their side as they race after them to Gretna Green. In the midst of attempting to stop a wedding that will incur the wrath of both their families, they discover their passion for each other is too strong to resist.
A chance at a real relationship was the last thing either of them expected. When Grace and Thea return from Scotland, will the honeymoon be over? Or will love finally be in full bloom?
Buy it: Bookshop | Amazon | IndieBound
Roux for Two by Aurora Rey (May 16th)
When her celebrity chef boss is taken down in a sexual harassment scandal, Chelsea Boudreaux's dream of getting her own cooking show comes true. Her hometown of Duchesne, Louisiana, provides the perfect backdrop for her modern takes on traditional Cajun fare. Vindicating herself to the mother who never believed in her is icing on the cake.
Bryce Cormier never left Duchesne and has no regrets, except that falling in love as a trans guy in a tiny town is easier said than done. When Chelsea comes home after more than a decade away, Bryce thinks he may have found the perfect woman. At least until Chelsea's burgeoning celebrity spills over and turns his world upside down.
It turns out love is like a good gumbo—what seems simple is complex, and the best results require a bit of courage. And like all the recipes say… First, you make a roux.
Buy it: Bookshop | Amazon | IndieBound
Michael Sato is used to fighting.
An undersized defenseman, Mike had to be tough, clawing his way up from the minors by taking down one ferocious player at a time. No way is he going to lose his spot on the league roster, especially not by giving in to his attraction to a hot, infuriating rival.
Daniel Garcia is used to fighting, too.
Enforcer Danny is the biggest, meanest player on the ice. A target for anyone trying to make a name for themselves, he doesn't show weakness, nor is he going to risk his last seasons for a sexy rookie who nearly knocked him on his ass.
When their intense physical connection explodes outside of the rink, Mike and Danny learn they just might be able to build something real, but only if they can let down their guard—and their fists—long enough.
Buy it: Amazon
Femme, gay teen podcaster Riley Weaver has made it to junior year, which means he can finally apply for membership into the Gaybutante Society, the LGBTQ+ organization that has launched dozens of queer teens' careers in pop culture, arts, and activism. The process to get into the Society is a marathon of charity events, parties, and general gay chaos, culminating in the annual Gaybutante Ball. The one requirement for the ball? A date.
Then Riley overhears a cis gay classmate, Skylar, say that gay guys just aren't interested in femme guys or else they wouldn't be gay. Riley confronts Skylar and makes a bet to prove him wrong: Riley must find a masc date by the time of the ball, or he'll drop out of the Society entirely. Riley decides to document the trials and tribulations of dating when you're gay and femme in a brand new podcast. Can Riley find a fella to fall for in time? Or will this be one massive—and publicly broadcast—femme failure?
This new novel from Jason June explores how labels can limit and liberate us, and shows just what can happen when you bet on yourself.
Buy it: Bookshop | Amazon | IndieBound
This summer, Elsie is finally going to confess her feelings to her longtime—and long-distance—crush. Ada's fanfics are to die for, and she just gets Elsie like no one else. That is, until Joan, Elsie's childhood best friend, literally walks back into her life and slots in like she had never moved away to Hong Kong and never ignored Elsie's dozens of emails and letters.
Then Ada mentions her grandmother's own long-lost pen pal (and maybe love?), a woman who once lived only a train ride away from Elsie's Oxford home, and Elsie gets the idea for the perfect grand gesture. But as her plan to reunite the two older women ignites a summer of repairing broken bonds, Elsie starts to wonder if she, too, can recover the things she's lost…
Buy it: Bookshop | Amazon | IndieBound
The gym is Lizzie's life—it's her passion, her job, and the only place that's ever felt like home. Unfortunately, her bosses consider her a glorified check-in girl at best, and the gym punching bag at worst.
When their son, Lizzie's best friend James, begs her to be his plus one at his perfect sister Cara's wedding, things go wrong immediately, culminating in Lizzie giving a drunken pep talk to a hot stranger in the women's bathroom—except that stranger is actually the bride-to-be, and Lizzie has accidentally convinced her to ditch her groom.
Now, newly directionless Cara is on a quest to find herself, and Lizzie—desperate to make sure her bosses never find out her role in this disaster—gets strong-armed by James into "entertaining" her. Cara doesn't have to know it's a setup; it'll just be a quick fling before she sobers up and goes back to her real life. After all, how could someone like Cara fall for someone like Lizzie, with no career and no future?
But the more Lizzie gets to know Cara, the more she likes her, and the more is on the line if any of her rapidly multiplying secrets get out. Because now it's not just Lizzie's job and entire future on the line, but also the girl of her dreams.
Buy it: Bookshop | Amazon | IndieBound
Wild Things by Laura Kay (May 23rd)
El is in a rut. She's been hiding in the photocopier room at the same dead-end job for longer than she cares to remember, she's sharing a flat with a girl who leaves passive-aggressive smiley face notes on the fridge about milk consumption and, worst of all, she's been in unrequited love with her best friend, effortlessly cool lesbian Ray, for years. So when a plan is hatched for El, Ray, and their two other closest friends–newly heartbroken Will and karaoke-and-Twilight-superfan Jamie–to ditch the big city and move out to a ramshackle house on the edge of an English country village, it feels like just the escape she needs.
Despite being the DIY challenge of a lifetime, the newly named Lavender House has all the makings of becoming the queer commune of the friends' dreams. (Will has been given a pass as the gang's Token Straight.) But as they start plotting their bright new future and making preparations for a grand housewarming party to thank the surprisingly but wonderfully welcoming community, El is forced to confront her feelings for Ray–the feelings that she's been desperately trying to keep buried. Is it worth ruining a perfectly good friendship for a chance at love?
Buy it: Bookshop | Amazon | IndieBound
Film club nerd Cleo Ferrara's senior year was like a storyboard waiting to be filmed. She knew the scenes, the players, and the eventual happy ending. Attend film school with her boyfriend, Daniel Sheridan. Become a film-making power couple. Take Hollywood by storm. Cut. Print. Fade to black.?
But in a plot twist Cleo never saw coming, Daniel dumps her for Kiki Pearson, the head cheerleader. This would be the point in the movie where the Sad Girl Music plays while the protagonist looks longingly out her window, but when Cleo looks out hers, she sees Marianne Lacerda, her former best friend…and a new storyboard unfolds.
Marianne is also nursing a heartache. When Daniel was dumping Cleo for Kiki, Kiki was dumping Marianne for Daniel. So instead of watching their exes parade around school, Cleo and Marianne start fake dating each other to ignite a little chaos in this bizarre love square. But any movie buff knows that when you introduce fake dating in Act I, it's going to get real by Act III. With friendship, the future, and love on the line, can Cleo script a happy ending for herself—or will she get her heart broken again?
Buy it: Bookshop | Amazon | IndieBound
It's summertime and 17-year-old Coley has found herself alone, again. Forced to move to rural Oregon after just losing her mother, she is in no position to risk her already fragile heart. But when she meets Sonya, the attraction is immediate.
Coley worries she isn't worthy of love. Up until now, everyone she's loved has left her. And Sonya's never been with a girl before. What if she's too afraid to show up for Coley? What if by opening her heart, Coley's risking it all?
They both realize that when things are pushed down, and feelings are forced to shrivel away, Coley and Sonya will be the ones to shrink. It's not until they accept the love they fear and deserve most, that suddenly the song makes sense.
Buy it: Bookshop | Amazon | B&N | IndieBound
Time Out by Sean Hayes and Todd Milliner with Carlyn Greenwald (May 30th)
In his small Georgia town, Barclay Elliot is basically a legend. Here basketball is all that matters, and no one has a bigger spotlight than Barclay. Until he decides to use the biggest pep rally in the town's history to come out to his school. And things change. Quickly.
Barclay is faced with hostility he never expected. Suddenly he is at odds with his own team, and he doesn't even have his grandfather to turn to the way he used to. But who is Barclay if he doesn't have basketball?
His best friend, Amy, thinks she knows. She drags him to her voting rights group, believing Barclay can find a bigger purpose. And he does, but he also finds Christopher. Aggravating, fearless, undeniably handsome Christopher. He and Barclay have never been each other's biggest fans, but as Barclay starts to explore parts of himself he's been hiding away, they find they might have much more in common than they originally thought.
As sparks turn into something more, though, Barclay has to decide if he's ready to confront the privilege and popularity that have shielded him his entire life. Can he take a real shot at the love he was fighting for in the first place?
Buy it: Bookshop | Amazon | IndieBound
Garland Moore used to believe in magic, the power of optimism, and signs from the universe. Then her husband surprised her with divorce papers over Valentine's Day dinner. Now Garland isn't sure what to believe anymore, except that she's clearly never meant to love again. When new friends invite her to spend a week at their reopened sleepaway camp, she and her sister decide it's an opportunity to enjoy the kind of summer getaway they never had as kids. If Garland still believed in signs, this would sure seem like one. Summer camp is a chance to let go of her past and start fresh.
Nestled into the picturesque Blue Ridge Mountains, Camp Carl Cove provides the exact escape Garland always dreamed of, until she runs into Mason—the man she had a premonition about after one brief meeting years ago. No matter how she tries to run, the universe appears determined to bring love back into Garland's life. She even ends up rooming with Mason's sister Stevie, a vibrant former park ranger who is as charming as she is competitive. The more time Garland spends with Stevie, the more the signs confuse her. The stars are aligning in a way Garland never could have predicted.
Amid camp tournaments and moonlit dances, Garland continues to be pulled toward the beautiful blonde outdoorswoman who makes her laugh and swoon. Summer camp doesn't last forever, but if Garland can learn to trust her heart, the love she finds there just might.
Buy it: Bookshop | Amazon | IndieBound
Chef's Choice by TJ Alexander (May 30th)
When Luna O'Shea is unceremoniously fired from her frustrating office job, she tries to count her blessings: she's a proud trans woman who has plenty of friends, a wonderful roommate, and a good life in New York City. But blessings don't pay the bills.
Enter Jean-Pierre, a laissez-faire trans man and the heir to a huge culinary empire—which he'll only inherit if he can jump through all the hoops his celebrity chef grandfather has placed in his path. First hoop: he needs a girlfriend, a role that Luna is happy to play…for the right price. She's got rent to pay, after all! Second hoop: they both need to learn how to cook a series of elaborate, world-renowned family recipes to prove that Jean-Pierre is a worthy heir. Admittedly, Luna doesn't even know how to crack an egg, but she's not going to let that—or any pesky feelings for Jean-Pierre—stop her.
Buy it: The Ripped Bodice | Amazon | IndieBound
Less than a year away from graduation, seventeen-year-old Joy is too busy overachieving to be worried about relationships. She's determined to be Caldwell Prep's first disabled valedictorian. And she only has one person to beat, her academic rival Nathaniel.
But it's senior year and everyone seems to be obsessed with pairing up. One of her best friends may be developing feelings for her and the other uses Caldwell's anonymous love-letter writer to snag the girl of her dreams. Joy starts to wonder if she has missed out on a quintessential high school experience. She is asexual, but that's no reason she can't experience first love, right?
She writes to Caldwell Cupid to help her sort out these new feelings and, over time, finds herself falling for the mysterious voice behind the letters. But falling in love might mean risking what she wants most, especially when the letter-writer turns out to be the last person she would ever expect.
Buy it: Bookshop | Amazon | IndieBound
Darkhearts by James L. Sutter (June 6th)
When David quit his band, he missed his shot at fame. For the past two years, he's been trapped in an ordinary Seattle high school life, working summers for his dad's construction business while his former best friends Chance and Eli became the hottest teen pop act in America.
Then Eli dies. Suddenly David and Chance are thrown back into contact, forcing David to rediscover all the little things that once made the two of them so close, even as he continues to despise the singer's posturing and attention-hogging. As old wounds break open, an unexpected kiss leads the boys to trade frenemy status for a confusing, tentative romance―one Chance is desperate to keep out of the spotlight. Though hurt by Chance's refusal to acknowledge him publicly, David decides their new relationship presents a perfect opportunity for him to rejoin the band and claim the celebrity he's been denied. But Chance is all too familiar with people trying to use him.
As the mixture of business and pleasure becomes a powder keg, David will have to choose: Is this his second chance at glory? Or his second chance at Chance?
Buy it: Bookshop | Amazon | IndieBound
Ten years ago, the Scar Squad promised each other nothing would tear them apart. They stuck together through thick and thin, late-night surf sessions and after school spodies. Even when Casey Jones Caruso lost her twin brother Sammy to an overdose, and their foursome became a threesome, the squad picked each other up. But when Casey's feeling for the remaining members—Francesca and Benjamin—develop into romantic attraction, she worries the truth will dissolve them and vows to ignore her heart.
Then Ben kisses Casey at a summer party, and Frankie kisses another girl. Now Casey must confront all the complicated feelings she's buried—for her friends and for her brother who she's totally pissed at for dying. Since Sammy's death, Casey has spilled all the things she can no longer say to him in journals, and now more than ever, she wishes he were here to help her decide whether she should guard her heart or bet it on love, before someone else makes the decision for her.
Buy it: Bookshop | Amazon | IndieBound
"Welcome to the first ever Junior Irish Baking Show!"
Shireen Malik is still reeling from the breakup with her ex-girlfriend, Chris, when she receives news that she's been accepted as a contestant on a new televised baking competition show. This is Shireen's dream come true! Because winning will not only mean prize money, but it will also bring some much-needed attention to You Drive Me Glazy, her parents' beloved donut shop.
Things get complicated, though, because Chris is also a contestant on the show. Then there's the very outgoing Niamh, a fellow contestant who is becoming fast friends with Shireen. Things are heating up between them, and not just in the kitchen.
Buy it: Bookshop | Amazon | IndieBound
Northranger by Ray Terciero (text) and Bre Indigo (art) (June 6th)
Cade has always loved to escape into the world of a good horror movie. After all, horror movies are scary—but to Cade, a closeted queer Latino teen growing up in rural Texas—real life can be way scarier.
When Cade is sent to spend the summer working as a ranch hand to help earn extra money for his family, he is horrified. Cade hates everything about the ranch, from the early mornings to the mountains of horse poop he has to clean up. The only silver lining is the company of the two teens who live there—in particular, the ruggedly handsome and enigmatic Henry.
But as unexpected sparks begin to fly between Cade and Henry, things get…complicated. Henry is reluctant to share the details of his mother's death, and Cade begins to wonder what else he might be hiding. Inspired by the gothic romance of Jane Austen's Northanger Abbey and perfect for fans of Heartstopper and Bloom comes a modern love story so romantic it's scary.
Buy it: Bookshop | Amazon
Domenic Marino has become an expert at code-switching between the hypermasculine and ultrafeminine worlds of his two soon-to-be-wed best friends. But this summer—reeling from his own failed engagement and tasked with attending their bachelor and bachelorette parties—he's anxious over having to play both sides.
The pressure is on. The bride wants Dom to keep things clean. The groom wants Dom to "let loose" with the guys. And Dom just wants to get out of this whole mess with his friendships intact.
But once the rowdy groomsmen show up at the beach house—including a surprise visit from the groom's old frat brother, handsome and charming PGA star Bucky Graham—chaos (and unexpected romance) quickly ensues. By the time Dom returns for the bachelorette party, he's accumulated a laundry list of secrets that threaten to destroy everything—from the wedding, to Bucky's career, to the one thing Dom hasn't been paying nearly enough attention to lately: his own life.
Buy it: Bookshop | Amazon | IndieBound
Nick Russo has worked his way from a rough Brooklyn neighborhood to a reporting job at one of the city's biggest newspapers. But the late 1950s are a hostile time for gay men, and Nick knows that he can't let anyone into his life. He just never counted on meeting someone as impossible to say no to as Andy.
Andy Fleming's newspaper-tycoon father wants him to take over the family business. Andy, though, has no intention of running the paper. He's barely able to run his life–he's never paid a bill on time, routinely gets lost on the way to work, and would rather gouge out his own eyes than deal with office politics. Andy agrees to work for a year in the newsroom, knowing he'll make an ass of himself and hate every second of it.
Except, Nick Russo keeps rescuing Andy: showing him the ropes, tracking down his keys, freeing his tie when it gets stuck in the ancient filing cabinets. Their unlikely friendship soon sharpens into feelings they can't deny. But what feels possible in secret–this fragile, tender thing between them–seems doomed in the light of day. Now Nick and Andy have to decide if, for the first time, they're willing to fight.
Buy it: Bookshop | Amazon | IndieBound
Mortal Follies by Alexis Hall (June 6th)
It is the year 1814, and life for a young lady of good breeding has many difficulties. There are balls to attend, fashions to follow, marriages to consider, and, of course, the tiny complication of existing in a world swarming with fairy spirits, interfering deities, and actual straight-up sorcerers.
Miss Maelys Mitchelmore finds her entry into high society hindered by an irritating curse. It begins innocuously enough with her dress slowly unmaking itself over the course of an evening at a high-profile ball, a scandal she narrowly manages to escape.
However, as the curse progresses to more fatal proportions, Miss Mitchelmore must seek out aid, even if that means mixing with undesirable company. And there are few less desirable than Lady Georgiana Landrake—a brooding, alluring young woman sardonically nicknamed "the Duke of Annadale"—who may or may not have murdered her own father and brothers to inherit their fortune. If one is to believe the gossip, she might be some kind of malign enchantress. Then again, a malign enchantress might be exactly what Miss Mitchelmore needs.
With the Duke's help, Miss Mitchelmore delves into a world of angry gods and vindictive magic, keen to unmask the perpetrator of these otherworldly attacks. But Miss Mitchelmore's reputation is not the only thing at risk in spending time with her new ally. For the reputed witch has her own secrets that may prove dangerous to Miss Mitchelmore's heart—not to mention her life.
Quito Cruz might be a genius piano player and composer in New York City now but it doesn't mean that he's any closer to his Broadway dream. Although Quito knows what the problem is. Or rather who. Because ever since that night in college—with pretty-boy jock Emmett Aoki—his inspiration has been completely MIA . .  .
Now Quito's dad wants him to put on a charity performance in his hometown. And there's one hella big string attached: convince Emmett—now one of Hollywood's hottest celebrities—to perform.
It's all shaping up to be the biggest musical fiasco of Quito's life. Especially when Emmett agrees to attend, and Quito realizes that undeniable vibe between them is stronger than ever. Because there's nothing simple about falling for a movie star . . . even when he's pitch-perfect.
Natalya Fox has twenty-hours to make the biggest choice of her life: stay home in NYC for the summer with her dad (and finally screw up the courage to talk to the girl she's been crushing on), or spend it with her basically estranged mom in LA (knowing this is the best chance she has to fix their relationship, if she even wants to.) (Does she want to?)
How's a girl supposed to choose?
She can't, and so both summers play out in alternating timelines – one in which Natalya explores the city, tries to repair things with her mom, works on figuring out her future, and goes for the girl she's always wanted. And one in which Natalya explores the city, tries to repair things with her mom, works on figuring out her future, and goes for the guy she never saw coming.
Buy it: Bookshop | Amazon | IndieBound
Vintage and Vogue by Kelly & Tana Fireside (June 13th)
Wealthy tech whiz Sena Abrigo has deep roots in the Arizona-Mexico borderlands. But when she marches into Owen Station on red-soled stilettos like she just walked off the cover of Vogue, she plans to pull this little town into the future. And she is used to getting exactly what she wants. First, she has to get past Hazel Butler.
The proud granddaughter of Irish immigrant miners, Hazel loves her job at the library, her spooky cat, her opinionated friends, vintage Mary Janes, and the little house she inherited. And she is determined to protect the historic legacy of her town.
In spite of their differences and because of them, sparks fly and love isn't far behind. But Sena's arrival doesn't just turn Hazel's life upside down in the most wonderful of ways. It sets off an explosive series of events exposing an ugly truth lying just beneath the town's surface, threatening their chance at love…and their lives.
Buy it: Bookshop | Amazon | IndieBound
It's a few months before senior year and Claire Kemp, a closeted bisexual, is finally starting to admit she might be falling in love with her best friend, Sophia, who she's known since they were four.
Trying to pay off the fine from the crash that totals Lars, her beloved car, Claire takes a job at the local nursing home up the street from her house. There she meets Lena, an eighty-eight-year-old lesbian woman who tells her stories about what it was like growing up gay in the 1950s and '60s.
As Claire spends more time with Lena and grows more confident of her identity, another girl, Pen, comes into the picture, and Claire is caught between two loves–one familiar and well-worn, the other new and untested.
Buy it: Bookshop | Amazon | IndieBound
Peaches Monroe and Jamie Hunt are core members of their Texas friend squad and have so much in common. They're successful at their careers in personal care. They take Austin's "Keep It Weird" vibe to heart, each leaning into their own unique talents and sense of style. And they're both ready to go on to even bigger things. Is pushing past the boundaries of friendship into something deeper one of them? The red-hot fantasy is there…but so is real life.
Jamie's college dreams will take her far from her hometown. She's already road-tripping to possibilities from San Antonio to Houston. And Peaches has obligations of her own. Not only is she planning to expand her business, but she's taking care of her family after her mother's passing, leaving her overwhelmed and under pressure.
No matter how perfect Jamie and Peaches are for each other, is this the right time for romance? Finding their true selves comes first. Only then can they hope to pursue a future of lasting love—together.
Buy it: Bookshop | Amazon | IndieBound
Sammy Espinoza's life is a raging dumpster fire. Her desperate attempt to win back her singer ex-girlfriend has landed her in hot water at work, and she has one last chance before her editor cuts her column. Luckily, Sammy has a plan to redeem herself, but it won't be easy.
Rumor has it that Max Ryan, the former rock god, is secretly recording his first-ever solo album years after he dramatically quit performing. And it just so happens that he and Sammy have history: Right before Max got his big break, he and Sammy spent an unforgettable night together.
Exclusive access to Max's new music would guarantee Sammy's professional comeback and, even better, give her the opportunity to serve some long-awaited revenge for his traumatic ghosting.
But Max lives in Ridley Falls, Washington, and Sammy has history there as well: a family that never wanted her and a million unanswered questions. Going back would mean confronting it all–but what else does she have to lose?
Buy it: Bookshop | Amazon
Ben has been baking his grandma's cinnamon rolls at the family café for years. He's been quietly in love with Adam Reed, his musician-slash-mechanic neighbor, for just as long. But Ben's done waiting behind the pastry case. He's entered a make-or-break competition to show off his own recipes. He's going to buy his overprotective family out of the business. And he's going to ask Adam out. TONIGHT.
Except his big plans get punched down before they even half-rise. Soon Ben is dashing down the coast to his grandma's 80th birthday party on the beach, hiding his broken heart in Maywell Bay, California. Sun, sea, and fresh breezes should blow in something new—except they don't. They blow in Adam Reed, grinning like a pirate and stealing the show as the musical entertainment hired by Grandma for her big bash. Grandma's signature Heartbreak Tea is the only remedy, and Grandma's tea could take the paint off a fence.
But there's a burn of truth along with the booze in his bottle, and Ben has a decision to make. Can he take the sweetness in front of him, and brave the bitterness that comes after? Or is a little sea salt just what this cinnamon roll needs?
Salty cinnamon rolls? Ew. Ben would never.
Buy it: Bookshop | Amazon | B&N | B-A-M | IndieBound | Hudson
Lauren Fox is the bookkeeper for Cold World, a tourist destination that's always a winter wonderland despite being located in humid Orlando, Florida. Sure, it's ranked way below any of the trademarked amusement parks and maybe foot traffic could be better. But it's a fun place to work, even if "fun" isn't exactly Lauren's middle name.
Her coworker Asa Williamson, on the other hand, is all about finding ways to enliven his days at Cold World–whether that means organizing the Secret Santa or teasing Lauren. When the owner asks Lauren and Asa to propose something (anything, really) to raise more revenue, their rivalry heats up as they compete to come up with the best idea. But the situation is more dire than they thought, and it might take these polar opposites working together to save the day. If Asa thought Lauren didn't know how to enjoy herself, he's surprised by how much he enjoys spending time together. And if Lauren thought Asa wasn't serious about anything, she's surprised by how seriously he seems to take her.
As Lauren and Asa work to save their beloved wintery spot, they realize the real attraction might be the heat generating between them.
Buy it: Bookshop | Amazon | B&N Exclusive
New Adult by Timothy Janovsky (August 15th)
Twenty-three-year-old Nolan Baker wants it all by the time he's thirty. Too bad he's single, barely able to cover his own expenses, and still paying his dues at a prominent NYC comedy club. When faced with his perfect sister's wedding, Nolan takes it as a wakeup call. It's time to quit comedy and make good on his practical dreams—most importantly, asking Drew Techler, his best friend, to be his date.
But right as Nolan is about to give it all up, he's asked to fill a last-minute spot for a famous comedian. Score! He crushes his set, but stands Drew up, misses his sister's big day, and disappoints his entire family. After major blowouts with everyone he loves, Nolan desperately wishes on a set of gift "magical healing crystals" to skip to the good part of life. When he wakes the next morning, it's seven years later, he's a successful comedian, and he has everything he always thought he wanted. Everything, that is, except his friends and family, none of whom are taking his future self's calls.
With nowhere else to turn, Nolan sets out to find the only person he trusts to help. Except Drew is all grown up now, too. He's hot, successful…and hates Nolan's guts. As Nolan works to get back to his younger self—and the life he so carelessly threw away—he'll have to prove he's not the man everyone thinks they know in order to regain Drew's trust, friendship, and maybe, ultimately, his heart.
Buy it: Bookshop | Amazon
As a kid, Adley Purcell dreamed of owning Get the Scoop ice cream shop, and now that she does, she's worried it could go under. She's trying to focus on her love of ice cream, but she's edgy and stressed. And how the hell she'll survive national dessert chain Sweet Heaven opening a store less than two blocks away, she has no idea. Life is a rocky road right now, and there's only one cherry on top: the sexy business suit-clad blonde at happy hour.
Sabrina James doesn't stay still. Sweet Heaven takes her all over the country, opening new stores, then moving on to the next city. Smooth and simple. Until the gorgeous woman she meets at a bar who leaves her craving more turns out to own the small-town ice cream shop barely two blocks from the new Sweet Heaven location. Could life get any more complicated?
Have Adley and Sabrina bitten off more than they can chew, or will they swirl the salty with the sweet? In love and ice cream there's only one rule: When life gives you heavenly hash, eat dessert first.
In Charm's Way by Lana Harper (August 22nd)
Seven months after having been hit by an accidental power surge that nearly obliterated her memory, Delilah Harlow is still picking up the pieces. Her once diamond-sharp mind has become shaky and unreliable, and bristly, self-sufficient Delilah is forced to rely on friends, family, and her raven familiar for help. In an effort to reclaim her wits and former independence, she casts a forbidden blood spell meant to harness power with healing capacities.
While the spell does restore clarity, it also unexpectedly turns Delilah into an irresistible beacon for the kind of malevolent supernatural creatures that have never ventured into Thistle Grove before. One night—just as things are about to go terribly sideways with a rogue succubus—a mysterious stranger appears in the nick of time to save Delilah's soul.
Gorgeous, sultry, and as dangerous as the knives she carries, Catriona Quinn is a hunter of monsters—and half-human half-creature herself, the kind of sly and morally gray fae Delilah would normally find horrifying. Though Delilah balks at the idea of a partnership, she has no choice but to roll the dice on their collaboration. As the two delve deeper into the power that underlies Thistle Grove, they uncover not only the town's hidden history but also a risky attraction that could upend Delilah's entire life.
Fly With Me by Andie Burke (September 5th)
A one-way ticket to love or a bumpy ride ahead?
Flying-phobic ER nurse Olive Murphy is still gripping the armrest from her first-ever take-off when the pilot announces an in-flight medical emergency. Olive leaps into action and saves a life, but ends up getting stuck in the airport hours away from the marathon she's running in honor of her brother. Luckily for her, Stella Soriano, the stunning type A copilot, offers to give her a ride.
After the two spend a magical day together, Stella makes a surprising request: Will Olive be her fake girlfriend?
A video of Olive saving a life has gone viral and started generating big sales for Stella's airline. Stella sees their union as the perfect opportunity to get to the boys' club executives at her company who keep overlooking her for a long-deserved promotion. Realizing this arrangement could help her too, Olive dives into memorizing Stella's comically comprehensive three-ring-binder guide to fake dating. As the two grow closer, what's supposed to be a ruse feels more and more real. Could this be the romantic ride of their lives, or an epic crash and burn?
Buy it: Bookshop | Amazon
Elisheva Cohen has just returned to Brooklyn after almost a decade. The wounds of abandoning the Orthodox community that raised her, then shunned her because of her substance abuse, are still painful. But when she gets an amazing opportunity to study photography with art legend Wyatt Cole, Ely is willing to take the leap.
On her first night back in town, Ely goes out to the infamous queer club Revel for a celebratory night of dancing. Ely is swept off her feet and into bed by a gorgeous man who looks like James Dean, but with a thick Carolina accent. The next morning, Ely wakes up alone and rushes off to attend her first photography class, reminiscing on the best one-night stand of her life. She doesn't even know his name. That is, until Wyatt Cole shows up for class—and Ely realizes that the man she just spent an intimate and steamy night with is her teacher.
Everyone in the art world is obsessed with Wyatt Cole. He's immensely talented and his notoriously reclusive personal life makes him all the more compelling. But there's a reason why his past is hard for him to publicize. After coming out as transgender, Wyatt was dishonorably discharged from the military and disowned by his family. From then on he committed to sobriety and channeled his pain into his flourishing art career. While Ely and Wyatt's relationship started out on a physical level, their similar struggles spark a much deeper connection. The chemistry is undeniable, but their new relationship as teacher and student means desperately wanting what they can't have.
Buy it: Bookshop | Amazon
Potion maker and self-proclaimed "messy witch" Morgan Greenwood is sure she was hexed at birth. Not only did she drunkenly offer to fake date the woman of her dreams during the biennial New England Witches' festival, but Rory Sandler, spellcasting champion and brilliant elemental witch–for reasons known only to the Goddess–accepted. It's like every good luck spell Morgan ever cast came through at once, and it doesn't take a crystal ball to predict this charade will end with a broken heart.
Or is the magic between them real? As Morgan and Rory prepare to fool everyone at the festival, their relationship starts to feel a whole lot less fake–right until Morgan realizes she might have screwed up the common relaxation potion she made for Rory and given her a love potion instead, breaking one of the most sacred Witch Council Laws.
To fulfill her promise to Rory, Morgan must somehow keep playing pretend while under the watchful eyes of Rory's family and legion of fans. But to break the love potion, she'll also have to prove how incompatible she and Rory really are. For a screwup like her, ruining their relationship should be easy–except every day, Morgan is becoming more bewitched by Rory herself.
Cleat Cute by Meryl Wilsner (September 19th)
Grace Henderson has been a star of the US Women's National Team for ten years, even though she's only 26. But when she's sidelined with an injury, a bold new upstart, Phoebe Matthews, takes her spot. Phoebe is everything Grace isn't―a gregarious jokester who plays with a joy that Grace lost somewhere along the way. The last thing Grace expects is to become friends with benefits with this class clown she sees as her rival.
Phoebe Matthews has always admired Grace's skill and was star struck to be training alongside her idol. But she quickly finds herself looking at Grace as more than a mere teammate. After one daring kiss, she's hooked. Grace is everything she has been waiting to find.
As the World Cup approaches, and Grace works her way back from injury, the women decide to find a way they can play together instead of vying for the same position. Except, when they are off the field, Grace is worried she's catching feelings while Phoebe thinks they are dating. As the tension between them grows, will both players realize they care more about their relationship than making the roster?
Stars in Your Eyes by Kacen Callender (October 10th)
Logan Gray is the stereotypical bad boy of Hollywood—a talented but troubled actor who the public loves to hate. Mattie Cole is an up‑and‑coming golden boy, adored by all but plagued by insecurities.
When Mattie is cast as the love interest in Logan's newest film, the two are persuaded into a fake‑dating scheme to bring positive publicity to the project. But as the two actors get to know their new characters, real feelings start to develop. And while both need the movie to be a success for their own reasons, neither thought opposites would really attract.
But as the public scrutiny intensifies and old wounds resurface, will they have the courage to chase their own happily ever after?
Buy it: Bookshop | Amazon
If You'll Have Me by Eunnie (October 17th)
Momo Gardner is the kind of friend who's always ready to lend a helping hand. She's introverted, sensitive, and maybe a little too trusting, but she likes to believe the best in people. PG, on the other hand, is a bit of a lone wolf, despite her reputation for being a flirt and a player. Underneath all that cool mystery, she's actually quick to smile, and when she falls for someone, she falls hard. An unexpected meet-cute brings the two together, kicking off the beginning of an awkward yet endearing courtship—but with their drastically different personalities, Momo's overprotective friend, and PG's past coming back to haunt her, Momo and PG's romance is put to the test.
Buy it: Bookshop | Amazon
Sam Becker loves―or, okay, likes―his job. Sure, managing a bed and bath retailer isn't exactly glamorous, but it's good work and he gets on well with the band of misfits who keep the store running. He could see himself being content here for the long haul. Too bad, then, that the owner is an infuriating git.
Jonathan Forest should never have hired Sam. It was a sentimental decision, and Jonathan didn't get where he is by following his heart. Determined to set things right, Jonathan orders Sam down to London for a difficult talk…only for a panicking Sam to trip, bump his head, and maybe accidentally imply he doesn't remember anything?
Faking amnesia seemed like a good idea when Sam was afraid he was getting sacked, but now he has to deal with the reality of Jonathan's guilt―as well as the unsettling fact that his surly boss might have a softer side to him. There's an unexpected freedom in getting a second shot at a first impression…but as Sam and Jonathan grow closer, can Sam really bring himself to tell the truth, or will their future be built entirely on one impulsive lie?
Everyone around Iris Kelly is in love. Her best friends are all coupled up, her siblings have partners that are perfect for them, and her parents are still blissfully married. And she's happy for all of them, truly. Iris doesn't want any of that—dating, love, romance. She'll stick to her commitment-free hookups, thanks very much, except no one in her life will just let her be. Everyone wants to see her settled down, but she holds firmly to her no dating rule. There's only one problem—Iris is a romance author facing an imminent deadline for her second book, and she's completely out of ideas.
Perfectly happy to ignore her problems as per usual, Iris goes to a bar in Portland and meets a sexy stranger, Stefania, and a night of dancing and making out turns into the worst one-night stand Iris has had in her life. To get her mind off everything, Iris tries out for the lead role in a local play, a queer retelling of Much Ado About Nothing, but comes face-to-face with Stefania, whose real name turns out to be Stevie. Desperate to save face in front of her friends, Stevie asks Iris to play along as her girlfriend. Iris is shocked, but when she realizes the arrangement might provide her with some much-needed romantic content for her book, she agrees. As the two women play the part of a happy couple, lines start to blur, and they're left wondering who will make the real first move….
Buy it: Bookshop | Amazon
Emmett by L.C. Rosen (November 7th)
Emmett Woodhouse, handsome, clever and rich, with a comfortable home and happy disposition seemed to unite some of the best blessings of existence and had lived nearly eighteen years in the world with very little to distress or vex him.
Emmett knows he's blessed. And because of that, he tries to give back: from charity work to letting the often irritating Georgia sit at his table at lunch, he knows it's important to be nice. And recently, he's found a new way of giving back: matchmaking. He set up his best friend Taylor with her new boyfriend and it's gone perfectly. So when his occasional friend-with-benefits Harrison starts saying he wants a boyfriend (something Emmett definitely does NOT want to be), he decides to try and find Harrison the perfect man at Highbury Academy, the candy-colored private school they attend just outside Los Angeles.
Emmett's childhood friend, Miles, thinks finding a boyfriend for a guy you sleep with is a bad idea. But Miles is straight, and Emmett says this is gay life – your friends, your lovers, your boyfriends – they all come from the same very small pool. That's why Emmett doesn't date – to keep things clean. He knows the human brain isn't done developing until twenty-five, so any relationship he enters into before then would inevitably end in a breakup, in loss. And he's seen what loss can do. His mother died four years ago and his Dad hasn't been the same since.
But the lines Emmett tries to draw are more porous than he thinks, and as he tries to find Harrison the perfect match, he learns that gifted as he may be, maybe he has no idea what he's doing when it comes to love.
Buy it: Bookshop | Amazon
Now that Wren Martin is student council president (on a technicality, but hey, it counts) he's going to fix Rapture High. His first order of business: abolish the school's annual Valentine's Day Dance, a drain on the school's resources and general social nightmare—especially when you're asexual.
His greatest opponent: Leo Reyes, vice president and all-around annoyingly perfect student, who has a solution to Wren's budget problem. A sponsorship from Buddy, the anonymous "not a dating" app that's swept the nation. The theme: 21st Century Masquerade. Suddenly, Wren's plan for a dance-less senior year has turned into heading the biggest dance Rapture High has ever seen. He's even secretly signed up for the app, determined to make good on his promises to improve the school, even if that means going into the belly of the beast.
When Wren accidentally starts up a conversation with one of his matches, he realizes things might be getting out of control. He never meant to like his anonymous match, and he certainly didn't mean to develop a crush on him. Wren decided a long time ago that dating while asexual wasn't worth the hassle. With the Valentine's Day Dance rapidly approaching, Wren isn't sure what will kill him first: the dance, his relationship drama, or the growing realization that Leo's perfect life might not be so perfect after all.
Buy it: Bookshop | Amazon
It's been hundreds of years since King Arthur's reign. His descendant, Arthur, a future Lord and general gadabout, has been betrothed to Gwendoline, the quick-witted, short-tempered princess of England, since birth. The only thing they can agree on is that they despise each other.
They're forced to spend the summer together at Camelot in the run up to their nuptials, and within 24 hours, Gwen has discovered Arthur kissing a boy and Arthur has gone digging for Gwen's childhood diary and found confessions about her crush on the kingdom's only lady knight, Bridget Leclair.
Realizing they might make better allies than enemies, they make a reluctant pact to cover for each other, and as things heat up at the annual royal tournament, Gwen is swept off her feet by her knight and Arthur takes an interest in Gwen's royal brother.
Buy it: Bookshop | Amazon | IndieBound
Eli Ward hasn't been back to his suffocating hometown of New Port Stephen, Florida, in ages. Post-transition and sober, he's a completely different person from the one who left years ago. But when a scandal threatens his career as a TV writer and comedian, he has no choice but to return home for the holidays. He can only hope he'll survive his boisterous, loving, but often misguided family and hide the fact that his dream of comedy success has become a nightmare.
Just when he thinks this trip couldn't get any worse, Eli bumps into his high school ex, Nick Wu, who's somehow hotter than ever. Divorced and in his forties, Nick's world revolves around his father, his daughter, and his job. But even a busy life can't keep him from being intrigued by the reappearance of Eli.
Against the backdrop of one weird Floridian Christmas, the two must decide whether to leave the past in the past…or move on together.
Buy it: Bookshop | Amazon | IndieBound
Just Like Her by Fiona Zedde (December 23rd)
Delphine's life is made up of secrets. About her job, her sexual identity, and even her past.
She coasts along on a tide of half-truths until a familiar "straight" woman splashes deeper into her world, threatening her tenuous peace of mind.
This woman wants to be everything Delphine has never had before – a confidant, a seductress, a trusted lover. By giving in to this siren, is Delphine setting herself up for heartbreak?
Buy it: Amazon