This post contains titles published by HarperCollins. Please note that the HarperCollins Union has been on strike since 11/10/22 to get a fair contract for their workers, and this site very much supports that effort. Visit the HarperCollins Union linktree to learn how you can support their fight for a fair contract: linktr.ee/hcpunion.
The New Life by Tom Crewe (January 3rd)
In the summer of 1894, John Addington and Henry Ellis begin writing a book arguing that what they call "inversion," or homosexuality, is a natural, harmless variation of human sexuality. Though they have never met, John and Henry both live in London with their wives, Catherine and Edith, and in each marriage there is a third party: John has a lover, a working class man named Frank, and Edith spends almost as much time with her friend Angelica as she does with Henry. John and Catherine have three grown daughters and a long, settled marriage, over the course of which Catherine has tried to accept her husband's sexuality and her own role in life; Henry and Edith's marriage is intended to be a revolution in itself, an intellectual partnership that dismantles the traditional understanding of what matrimony means.
Shortly before the book is to be published, Oscar Wilde is arrested. John and Henry must decide whether to go on, risking social ostracism and imprisonment, or to give up the project for their own safety and the safety of the people they love. Is this the right moment to advance their cause? Is publishing bravery or foolishness? And what price is too high to pay for a new way of living?
Buy it: Bookshop | Amazon | IndieBound
Even though she won't deny her love for pretty (and pricey) things, Nineve Blackmoore is almost painfully down-to-earth and sensible by Blackmoore standards. But after a year of nursing a broken heart inflicted by the fiancée who all but ditched her at the altar, the powerful witch is sick of feeling low and is ready to try something drastically different: a dating app.
At her best friend's urging, Nina goes on a date with Morty Gutierrez, the nonbinary, offbeat soul of spontaneity and co-owner of the Shamrock Cauldron. Their date goes about as well as can be expected of most online dates—awkward and terrible. To make matters worse, once Morty discovers Nina's last name, he's far from a fan; it turns out that the Blackmoores have been bullishly trying to buy the Shamrock out from under Morty and his family.
But when Morty begins developing magical powers—something that usually only happens to committed romantic partners once they officially join a founding family—at the same time that Nina's own magic surges beyond her control, Nina must manage Morty's rude awakening to the hidden magical world, uncover its cause, and face the intensity of their own burgeoning connection. But what happens when that connection is tied to Nina's power surge, a power she's finding nearly as addictive as Morty's presence in her life?
Buy it: Bookshop | Amazon | IndieBound
Bonnie James has built her life around her passions—cats, coffee, and community. She rejected her family's narrow visions of success and instead chose the non-lucrative, fur-filled life of a cat café owner. So what if her decision means she works way too much to have time for true love? She has plenty of friends and cats to keep her company.
Wedding planner Taryn Ritter has a knack for making impossible dreams come true. She might not understand the appeal of getting married in a cat café, but if that's what her clients want, then she'll make it happen. She's not about to let the reluctant café owner stand in her way, so she makes Bonnie an offer she can't refuse—give her the venue for one day and she'll find a way to get more cats adopted into happy homes.
When Bonnie and Taryn join forces to help a bunch of shelter cats find their forever homes, they just might discover forever for themselves as well.
Buy it: Bookshop | Amazon | IndieBound
As a waterweaver, Nehal can move and shape any water to her will, but she's limited by her lack of formal education. She desires nothing more than to attend the newly opened Weaving Academy, take complete control of her powers, and pursue a glorious future on the battlefield with the first all-female military regiment. But her family cannot afford to let her go—crushed under her father's gambling debt, Nehal is forcibly married into a wealthy merchant family. Her new spouse, Nico, is indifferent and distant and in love with another woman, a bookseller named Giorgina.
Giorgina has her own secret, however: she is an earthweaver with dangerously uncontrollable powers. She has no money and no prospects. Her only solace comes from her activities with the Daughters of Izdihar, a radical women's rights group at the forefront of a movement with a simple goal: to attain recognition for women to have a say in their own lives. They live very different lives and come from very different means, yet Nehal and Giorgina have more in common than they think. The cause—and Nico—brings them into each other's orbit, drawn in by the group's enigmatic leader, Malak Mamdouh, and the urge to do what is right.
But their problems may seem small in the broader context of their world, as tensions are rising with a neighboring nation that desires an end to weaving and weavers. As Nehal and Giorgina fight for their rights, the threat of war looms in the background, and the two women find themselves struggling to earn—and keep—a lasting freedom.
Buy it: Bookshop | Amazon | IndieBound
In a United States not so unlike our own, the Department of Balance has adopted a radical new form of law enforcement: rather than incarceration, wrongdoers are given a second (and sometimes, third, fourth, and fifth) shadow as a reminder of their crime—and a warning to those they encounter. Within the Department, corruption and prejudice run rampant, giving rise to an underclass of so-called Shadesters who are disenfranchised, publicly shamed, and deprived of civil rights protections.
Kris is a Shadester and a new mother to a baby born with a second shadow of her own. Grieving the loss of her wife and thoroughly unprepared for the reality of raising a child alone, Kris teeters on the edge of collapse, fumbling in a daze of alcohol, shame, and self-loathing. Yet as the kid grows, Kris finds her footing, raising a child whose irrepressible spark cannot be dampened by the harsh realities of the world. She can't forget her wife, but with time, she can make a new life for herself and the kid, supported by a community of fellow misfits who defy the Department to lift one another up in solidarity and hope.
Buy it: Bookshop | Amazon | IndieBound
The Words That Remain by Stênio Gardel, trans. by Bruna Dantas Lobato (January 17th)
A letter has beckoned to Raimundo since he received it decades ago from his youthful passion, handsome Cicero. But having grown up in an impoverished area of Brazil where the demands of manual labor thwarted his becoming literate, Raimundo has long been unable to read. As young men, he and Cicero fell in love, only to have Raimundo's father brutally beat his son when he discovered their affair. Even after Raimundo succeeds in making a life for himself in the big city, he continues to be haunted by this secret missive full of longing from the distant past. Now, as an elderly man, he at last acquires a true education and the ability to access the letter. Exploring Brazil's little-known hinterland as well its urban haunts, this is a sweeping novel of repression, violence, and shame, along with their flip side: survival, endurance, and the ultimate triumph of an unforgettable figure on society's margins. 
The Words That Remain
 explores the universal power of the written word and language, and how they affect all our relationships.
Buy it: Bookshop | Amazon | IndieBound
After Sappho by Shelby Wynn Schwartz (January 24th)
"The first thing we did was change our names. We were going to be Sappho," so begins this intrepid debut novel, centuries after the Greek poet penned her lyric verse. Ignited by the same muse, a myriad of women break from their small, predetermined lives for seemingly disparate paths: in 1892, Rina Faccio trades her needlepoint for a pen; in 1902, Romaine Brooks sails for Capri with nothing but her clotted paintbrushes; and in 1923, Virginia Woolf writes: "I want to make life fuller and fuller."
Writing in cascading vignettes, Selby Wynn Schwartz spins an invigorating tale of women whose narratives converge and splinter as they forge queer identities and claim the right to their own lives. A luminous meditation on creativity, education, and identity, After Sappho announces a writer as ingenious as the trailblazers of our past.
Buy it: Bookshop | Amazon | IndieBound
In This Unlikely Soil, prize-winning writer Andrea Routley delivers stories of queer women navigating love and life against the lush, isolated backdrop of Canada's West Coast.
A dog that bites, a bear suffering from a hemorrhoid, an aggressive willow tree, berried-up Dungeness crabs and erotic mussels… The dense West-Coast landscape of This Unlikely Soil echoes the fraught search for connection of the rural-dwelling queer characters in this quintet of novellas. Finalist for the Malahat Review Novella Prize, this sophomore collection from Lambda Literary Award-finalist Andrea Routley explores the queer state of wandering, violence, and loss with surprising humour and compassion.
Buy it: Bookshop | Amazon | IndieBound
Sorry, Bro by Taleen Voskuni (January 31st)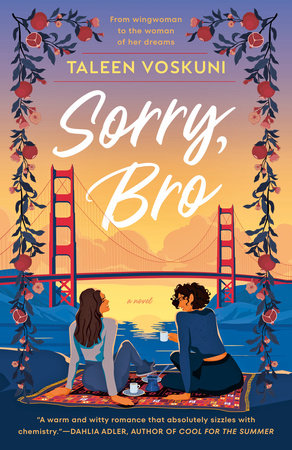 When Nar's non-Armenian boyfriend gets down on one knee and proposes to her in front of a room full of drunk San Francisco tech boys, she realizes it's time to find someone who shares her idea of romance.
Enter her mother: armed with plenty of mom-guilt and a spreadsheet of Facebook-stalked Armenian men, she convinces Nar to attend Explore Armenia, a month-long series of events in the city. But it's not the mom-approved playboy doctor or wealthy engineer who catches her eye—it's Erebuni, a woman as equally immersed in the witchy arts as she is in preserving Armenian identity. Suddenly, with Erebuni as her wingwoman, the events feel like far less of a chore, and much more of an adventure. Who knew cooking up kuftes together could be so . . . sexy?
Erebuni helps Nar see the beauty of their shared culture and makes her feel understood in a way she never has before. But there's one teeny problem: Nar's not exactly out as bisexual. The clock is ticking on Nar's double life, though—the closing event banquet is coming up, and her entire extended family will be there, along with Erebuni. Her worlds will inevitably collide, but Nar is determined to be brave, determined to claim her happiness: proudly Armenian, proudly bisexual, and proudly herself for the first time in her life.
Buy it: Bookshop | Amazon | IndieBound
Behind the Scenes by Karelia Stetz-Waters (January 31st)
Business consultant Rose Josten might not have officially reached "pug lady" middle age, but she's already got the pugs—along with their little Gucci coats and trash-lovin' appetites. Still, life is good, with her work, her sisters, and a secret hobby creating incredibly tactile (if surprisingly sexy) mindfulness videos. So why does it feel like it's not quite enough? Which is exactly when Ash Stewart enters camera left, and Rose's world suddenly goes full technicolor . . .
Ash never looks at anyone. Not since her ex ripped her heart from her chest in Spielberg-esque style, crushing Ash's reputation, dreams, and career in one brutal blow. But Rose is altogether different. She's curvy, beautiful, and just so damn put together. And her business expertise might be Ash's best bet for getting her last film—and her last chance—financed. Now if they can just keep their attraction under wraps, Ash's lost dream could finally come true. But are they creating the perfect pitch . . . or setting the stage for disaster?
Buy it: Bookshop | Amazon | IndieBound
This is the second book in the Pies Before Guys series.
Daisy bakes a little murder into every pie she creates, and she and her dog, Zoe, deliver them to the town's worst cads. Now, Daisy's entered a televised, elimination-style competition and has a shot at $100k in prize money—but she still has a murder pie to deliver between filming.
In a completely unexpected turn of events, she discovers that her intended victim is one of the competition judges, and he turns up dead before the pie even arrives. Now, Daisy has to solve the murder—even if it means working a bit of magic—before someone calls foul play and exposes her murderous secret.
Buy it: Bookshop | Amazon | IndieBound
Endpapers by Jennifer Savran Kelly (February 7th)
It's 2003, and artist Dawn Levit is stuck. A bookbinder who works in conservation at the Met, she spends her free time scouting the city's street art, hoping something might spark inspiration. Instead, everything looks like a dead end. And art isn't the only thing that feels wrong: wherever she turns, her gender identity clashes with the rest of her life. Her relationship, once anchored by shared queerness, is falling apart as her boyfriend Lukas increasingly seems to be attracted to Dawn only when she's at her most masculine. Meanwhile at work, Dawn has to present as female, even on the days when that isn't true. Either way, her difference feels like a liability.
Then, one day at work, Dawn finds something hidden behind the endpaper of an old book: the torn-off cover of a '50s lesbian pulp novel, Turn Her About. On the front is a campy illustration of a woman looking into a handheld mirror and seeing a man's face. And on the back is a love letter.
Dawn latches onto the coincidence, becoming obsessed with tracking down the note's author. Her fixation only increases when her best friend Jae is injured in a hate crime, for which Dawn feels responsible. As Dawn searches for the letter's author, she is also looking for herself. She tries to understand how to live in a world that doesn't see her as she truly is, how to get unstuck in her gender, and how to rediscover her art, and she can't shake the feeling that the note's author might be able to help guide her to the answers.
Buy it: Bookshop | Amazon | IndieBound
"Get it out of me."
It was the last message Holly received from her brother, Dane, before he was found cleaved open in his fiancée's lavish Savannah townhouse. Police ruled his death a suicide sparked by psychosis, but Holly can't shake the idea that something else must have happened… Something involving another message he sent that night, the one that mentioned a "game" his fiancée, Maura, wanted to play…
Determined to discover the truth, Holly begins to stalk Maura—a magnetic, black-eyed florist with a penchant for carnivorous plants. But what begins as an investigation quickly veers into a darker fixation, one that lures Holly into the depths of Maura's world: Savannah high society, eerie black roses, and a whisper of something more sinister. Soon, Holly is feeling a dark attraction to the one woman she shouldn't trust. As Holly falls deeper for Maura and her secrets, she's left with only one choice: find out what happened to Dane… before she meets the same fate.
Buy it: Bookshop | Amazon | IndieBound
Mimosa by Archie Bongiovanni (February 7th)
Best friends and chosen family Chris, Elise, Jo, and Alex work hard to keep themselves afloat. Their regular brunches hold them together even as the rest of their lives threaten to fall apart. In an effort to avoid being the oldest gays at the party, the crew decides to put on a new queer event called Grind–specifically for homos in their dirty thirties.
Grind is a welcome distraction from their real problems: after a messy divorce, Chris adjusts to being a single parent while struggling to reconnect to their queer community. Elise is caught between feelings for her boss and the career of her dreams. Jo tries to navigate the murky boundaries of being a supportive friend and taking care of her own needs. And Alex is guarding a secret that might change his friendships forever.
While navigating exes at work, physical and mental exhaustion, and drinking way, way too much on weekdays, this chosen family proves that being messy doesn't always go away with age.
Buy it: Bookshop | Amazon | IndieBound
Surprised by Her by Chelsea M. Cameron (February 14th)
When my boss at Bluebird Pottery, Sydney, left me in charge while she went on vacation with her girlfriend, I wasn't looking forward to it. During my first few hours, a tall, stunning stranger walked in, and I could barely breathe. Of course I ruined everything by spilling coffee all over her. What I didn't expect was for her to push me up against the sink and kiss the hell out of me when I tried to help her clean up in the bathroom.
I never thought I'd see her again, and then she showed up to my book club and introduced herself as Ryan Jewel, the heiress to a candle company fortune and is so far out of my league, we're not even on the same planet. Still, I keep running into her in Arrowbridge, and it doesn't feel like a coincidence.
At first, I'm happy to be sucked into Ryan's glittering orbit. Everything is first class all the way, and it's nice to have a little luxury in my life. Even beyond the money, I'm dazzled by her. Underneath her chilly exterior is someone who's secretly kind, and funny, and who cares fiercely for those she loves.
It doesn't take long for me to completely fall for her, but could this incredible creature ever want a small-town life with someone like me?
Buy it: Amazon
Becoming Ted by Matt Cain (February 16th)
Ted Ainsworth has always worked at his family's ice-cream business in the quiet Lancashire town of St Luke's-on-Sea.
But the truth is, he's never wanted to work for the family firm – he doesn't even like ice-cream, though he's never told his parents that. When Ted's husband suddenly leaves him, the bottom falls out of his world.
But what if this could be an opportunity to put what he wants first? This could be the chance to finally follow his secret dream: something Ted has never told anyone …
Buy it: Waterstones | Book Depository
Scorched Grace by Margot Douaihy (February 21st)
When Saint Sebastian's School becomes the target of a shocking arson spree, the Sisters of the Sublime Blood and their surrounding community are thrust into chaos. Unsatisfied with the officials' response, sardonic and headstrong Sister Holiday becomes determined to unveil the mysterious attacker herself and return her home and sanctuary to its former peace. Her investigation leads down a twisty path of suspicion and secrets in the sticky, oppressive New Orleans heat, turning her against colleagues, students, and even fellow Sisters along the way. Sister Holiday is more faithful than most, but she's no saint. To piece together the clues of this high-stakes mystery, she must first reckon with the sins of her checkered past-and neither task will be easy. An exciting start to Margot Douaihy's bold series for Gillian Flynn Books that breathes new life into the hard-boiled genre, Scorched Grace is a fast-paced and punchy whodunnit that will keep readers guessing until the very end.
Buy it: Bookshop | Amazon | IndieBound
Berlin 1933. Following the success of her debut novel, American writer Althea James receives an invitation from Joseph Goebbels himself to participate in a culture exchange program in Germany. For a girl from a small town in Maine, 1933 Berlin seems to be sparklingly cosmopolitan, blossoming in the midst of a great change with the charismatic new chancellor at the helm. Then Althea meets a beautiful woman who promises to show her the real Berlin, and soon she's drawn into a group of resisters who make her question everything she knows about her hosts—and herself.
Paris 1936. She may have escaped Berlin for Paris, but Hannah Brecht discovers the City of Light is no refuge from the anti-Semitism and Nazi sympathizers she thought she left behind. Heartbroken and tormented by the role she played in the betrayal that destroyed her family, Hannah throws herself into her work at the German Library of Burned Books. Through the quiet power of books, she believes she can help counter the tide of fascism she sees rising across Europe and atone for her mistakes. But when a dear friend decides actions will speak louder than words, Hannah must decide what stories she is willing to live—or die—for.
New York 1944. Since her husband Edward was killed fighting the Nazis, Vivian Childs has been waging her own war: preventing a powerful senator's attempts to censor the Armed Service Editions, portable paperbacks that are shipped by the millions to soldiers overseas. Viv knows just how much they mean to the men through the letters she receives—including the last one she got from Edward. She also knows the only way to win this battle is to counter the senator's propaganda with a story of her own—at the heart of which lies the reclusive and mysterious woman tending the American Library of Nazi-Banned Books in Brooklyn.
As Viv unknowingly brings her censorship fight crashing into the secrets of the recent past, the fates of these three women will converge, changing all of them forever.
Buy it: Bookshop | Amazon | IndieBound
Since a crushing breakup three years ago, Nina Rice has written romance, friends, her dreams of scriptwriting for TV, and even L.A. proper out of her life. Instead, she's safely out in the suburbs in her aunt's condo working her talent agency job from home, managing celebrity email accounts, and certain that's plenty of writing–and plot–for her life. But a surprise meeting called by Ari Fox, a young actress on everyone's radar, stirs up all kinds of feelings Nina thought she'd deleted for good…
Ari is sexy, out and proud, and a serious control freak, according to Nina's boss. She has her own ideas about how Nina should handle her emails–and about getting to know her ghostwriter. When she tells Nina she should be writing again, Nina suddenly finds it less scary to revisit her abandoned life than seriously consider that Ari is flirting with her. Between reconnecting with her old crew and working on a new script, a relationship with a movie star seems like something she'll definitely mess up–but what could be more worth the risk?
Buy it: Bookshop | Amazon | IndieBound
Damani is tired. Her father just died on the job at a fast-food joint, and now she lives paycheck to paycheck in a basement, caring for her mom and driving for an app that is constantly cutting her take. The city is roiling in protests–everybody's in solidarity with somebody–but while she keeps hearing that they're fighting for change on behalf of people like her, she literally can't afford to pay attention.
Then she gives a ride to Jolene (five stars, obviously). Jolene seems like she could be the perfect girlfriend–attentive, attractive, an ally–and their chemistry is off the charts. Jolene's done the reading, she goes to every protest, and she says all the right things. So maybe Damani can look past the one thing that's holding her back: she's never dated anyone with money before, not to mention a white girl with money. But just as their romance intensifies and Damani finally lets her guard down, Jolene does something unforgivable, setting off an explosive chain of events.
Buy it: Bookshop | Amazon | IndieBound
Liar City by Allie Therin (February 28th)
It's the middle of the night when part-time police consultant and full-time empath Reece gets an anonymous call warning him that his detective sister needs his help. At an out-of-the-way Seattle marina, he discovers that three people have been butchered—including the author of the country's strictest anti-empathy bill, which is just days from being passed into law.
Soon, Reece's caller arrives: a shadowy government agent known as The Dead Man, who is rumored to deal exclusively in cases involving empathy. He immediately takes over the investigation, locking out both local PD and the FBI, but, strangely, keeps Reece by his side.
As the two track an ever-growing trail of violence and destruction across Seattle, Reece must navigate a scared and angry city, an irritating attraction to his mysterious agent companion, and a rising fear that perhaps empaths like him aren't all flight and no fight after all…
Buy it: Bookshop | Amazon | IndieBound
Abandoned by his father, Gareth Inglis grew up lonely, prickly, and well-used to disappointment. Still, he longs for a connection. When he meets a charming man in a London molly house, he falls head over heels—until everything goes wrong and he's left alone again. Then Gareth's father dies, turning the shabby London clerk into Sir Gareth, with a grand house on the remote Romney Marsh and a family he doesn't know.
The Marsh is another world, a strange, empty place notorious for its ruthless gangs of smugglers. And one of them is dangerously familiar…
Joss Doomsday has run the Doomsday smuggling clan since he was a boy. When the new baronet—his old lover—agrees to testify against Joss's sister, Joss acts fast to stop him. Their reunion is anything but happy, yet after the dust settles, neither can stay away. Soon, all Joss and Gareth want is the chance to be together. But the bleak, bare Marsh holds deadly secrets. And when Gareth finds himself threatened from every side, the gentleman and the smuggler must trust one another not just with their hearts, but with their lives.
Buy it: Bookshop | Amazon | IndieBound
This is the sequel to The Unbroken
In the second installment of C.L. Clark's Magic of the Lost trilogy, soldier Touraine and princess Luca must return to Balladaire to reclaim Luca's throne and to face the consequences of dismantling an empire.
The rebels have won, and the empire is withdrawing from Qazal. But undoing the tangled web that binds the two nations will not be easy, and Touraine and Luca will face their greatest challenge yet.
Luca needs to oust her uncle from the Balladairan throne once and for all and take her rightful place as Queen. But he won't let go of power so easily. When he calls for a "Trial of Competence" and Luca's allies start disappearing from her side, she will need to find a way to prove her might. And she knows someone who can help…
Touraine has found a home in the newly free country of Qazal. But she soon realizes that leading a country and leading a revolution are two very different tasks. And, even more importantly, if Luca's uncle doesn't ratify the treaty, the Qazali could end up right back where they started.
Together, the two women will have to come overcome their enemies, their history, and their heartbreak in order to find a way to secure Luca's power and Touraine's freedom.
Buy it: Bookshop | Amazon | IndieBound
In Memoriam by Alice Winn (March 7th)
It's 1914, and World War I is ceaselessly churning through thousands of young men on both sides of the fight. The violence of the front feels far away to Henry Gaunt, Sidney Ellwood and the rest of their classmates, safely ensconced in their idyllic boarding school in the English countryside. News of the heroic deaths of their friends only makes the war more exciting.
Gaunt, half-German, is busy fighting his own private battle–an all-consuming infatuation with his best friend, the glamorous, charming Ellwood–without a clue that Ellwood is pining for him in return. When Gaunt's family asks him to enlist to forestall the anti-German sentiment they face, Gaunt does so immediately, relieved to escape his overwhelming feelings for Ellwood. To Gaunt's horror, Ellwood rushes to join him at the front, and the rest of their classmates soon follow. Now death surrounds them in all its grim reality, often inches away, and no one knows who will be next.
Buy it: Bookshop | Amazon | IndieBound
When Alexei Lebedev finally comes out to his conservative community, it does not go well. That's how he ended up on the rugged Pacific Crest Trail, hoping he can figure out a new life plan in the thousands of miles it'll take to walk the famed hike. He's prepared for rattlesnakes, blisters, and months of solitude. What he's not prepared for is the ray of sunshine named Ben Caravalho.
Charismatic and outgoing, Ben's personality and infectious laughter is a stark opposite to Alexei's quiet, reserved demeanor. But no matter how determined Alexei is to hike the trail alone, it seems he and Ben can't avoid being drawn to each other. Through snow crossings and close calls with coyotes, Alexei inches closer to letting Ben in. As Alexei learns of Ben's loving family and supportive friends, he begins to get a taste of what found family and belonging could truly feel like. But just as Alexei starts to let down his defenses, a sudden change in plans reawakens his fears—and he must discover if he has the courage to face something even scarier than the trail less traveled: letting himself fall.
Buy it: Bookshop | Amazon | IndieBound
Confidence by Rafael Frumkin (March 7th)
Two lifelong friends, occasional lovers and constant conmen find themselves on top of the world after founding a company that promises instant enlightenment to its users in this thrilling, brainy caper about scams, schemes, and the absurdity of the American Dream.
At 17, Ezra Green doesn't have a lot going for him. He is shorter than average, gap-toothed, Internet-addicted and halfway to being legally blind. He's also on his way to Last Chance Camp, the final stop before juvie.
But Ezra's summer at Last Chance turns life-changing when he meets Orson, brilliant and Adonis-like with a mind for hustling. Together, the two embark upon what promises to be a fruitful career of scam artistry. But when they try to pull off their biggest scam yet – NuLife, a corporation which promises its consumers a lifetime of bliss – things start to spin wildly out of control.
Buy it: Amazon | IndieBound
On a remote, gas-wreathed outpost of a human colony on Jupiter, a man goes missing. The enigmatic Investigator Mossa follows his trail to Valdegeld, home to the colony's erudite university—and Mossa's former girlfriend, a scholar of Earth's pre-collapse ecosystems.
Pleiti has dedicated her research and her career to aiding the larger effort towards a possible return to Earth. When Mossa unexpectedly arrives and requests Pleiti's assistance in her latest investigation, the two of them embark on a twisting path in which the future of life on Earth is at stake—and, perhaps, their futures, together.
Buy it: Bookshop | Amazon | IndieBound
Solomon's Crown by Natasha Siegel (March 14th)
A pair of thrones between us, and my heart clutched like a rosary within his hands . . ."
Twelfth-century Europe. Newly-crowned King Philip of France is determined to restore his nation to its former empire and bring glory to his name. But when his greatest enemy, King Henry of England, threatens to end his reign before it can even begin, Philip is forced to make a precarious alliance with Henry's volatile son—risking both his throne, and his heart.
Richard, Duke of Aquitaine, never thought he would be King. But when an unexpected tragedy makes him heir to England, he finally has an opportunity to overthrow the father he despises. At first, Philip is a useful tool in his quest for vengeance . . . until passion and politics collide, and Richard begins to question whether the crown is worth the cost.
When Philip and Richard find themselves staring down an impending war, they must choose between their desire for one another and their grand ambitions. Will their love prevail, if it calls to them from across the battlefield? Teeming with royal intrigue and betrayal, this epic romance reimagines two real-life kings ensnared by an impossible choice: Follow their hearts, or earn their place in history.
Buy it: Bookshop | Amazon | IndieBound
Blue Hunger by Viola di Grado, trans. by Jamie Richards (March 14th)
After her twin's death, a solitary young woman leaves Rome for Shanghai, the city where her brother Ruben had long dreamed of opening a restaurant. Teaching Italian to Chinese students, she meets a mysterious girl named Xu, who is also running from a turbulent past: a violent father, an absent mother, and an extended family who wishes she'd been a boy. Xu's house is dingy and full of rotting food, like a museum of decomposing organic matter. In the gloom of abandoned textile factories and dilapidated slaughterhouses, the two discover an extreme dimension where biting, swallowing, and taking each other in are part of the erotic ritual.
Buy it: Bookshop | Amazon | IndieBound
After years of severed communication, Justin appears on his sister's doorstep needing a place to stay. The home he's made for himself has collapsed, as has everything else in his life. When they were children, Willa played the role of her brother's protector, but now, afraid of the chaos he might bring, she's reluctant to let him in.
Willa lives a carefully ordered life working as a nurse and making ornate dioramas in her spare time. As Justin tries to connect with the people she's closest to—her landlord, her boyfriend, their mother—she begins to feel exposed. Willa and Justin's relationship has always been strained yet loving, frustrating and close. But it hits a new breaking point when Justin spirals out of control, unable to manage his sobriety and the sustained effects of a brain injury.
Years earlier, in high school, desperate to escape his home life and his disapproving, troubled mother, Justin falls into the hands of his first lover, a slightly older boy living on his own who offers Justin some semblance of intimacy and refuge. When Justin's boyfriend commits a terrifying act of violence, the two flee on a doomed road trip, a journey that will damage Justin and change his and his family's lives forever.
Weaving together these two timelines, Brother & Sister Enter the Forest unravels the thread of a young man's trauma and the love waiting for him on the other side.
Buy it: Bookshop | Amazon | IndieBound
In these unconventional and unpredictably connected stories, Erin Slaughter shatters the stereotype of the soft-spoken, sorrowful woman in distress, queering the domestic and honoring the feral in all of us. In each story, grieving women embrace their wildest impulses as they attempt to master their lives: one woman becomes a "gazer" at a fraternity house, another slowly moves into her otherworldly stained-glass art, a couple speaks only their basement's black box, and a thruple must decide what to do when one partner disappears.
The women in Erin Slaughter's stories suffer messy breaks, whisper secrets to the ghosts tangled in the knots of their hair, eat raw meat to commune with their inner wolves, and build deadly MLM schemes along the Gulf Coast.
Set across oft-overlooked towns in the American South, A Manual for How to Love Us spotlights women who are living on the brink and clinging to its precipitous edge. Lyrical and surprisingly humorous, A Manual for How to Love Us is an exciting debut that reveals the sticky complications of living in a body, in all its grotesquerie and glory.
Buy it: Bookshop | Amazon | IndieBound
At fourteen, Penny Winters fell out of the closet and in love with her best friend, Misa Ito. But before they truly understood their feelings, Misa and her family were gone. Over a decade later, when Penny secures a job at a top New York advertising agency, she has a second chance at first love when she's introduced to the lead account executive, Misa.
But the road to happiness is riddled with potholes. Misa is still impossibly beautiful, but super cold. And Misa shows no recollection of Penny—the girl who once showed her how to skateboard, make daisy chain crowns, and shared every secret with. On top of that, there's the huge engagement ring and photo of a handsome man on Misa's desk. The butterflies Penny feels don't seem one-sided, and she wants answers.
Penny has no idea that she's begging for the impossible. Getting Misa to admit anything means asking her to do the impossible: put aside her career and her father's expectations to give into her heart. Which has always belonged to Penny.
Buy it: Amazon
The Fake by Zoe Whittall (March 21st)
After the death of her wife, Shelby is suffering from prolonged grief. She's increasingly isolated, irritated by her family's stoicism and her friends' reliance on the toxic positivity of self-help culture. Then, in a grief support group, she meets Cammie, who gives her permission to express her most hopeless, hideous feelings. Cammie is charismatic and unlike anyone Shelby has ever met. She's also recovering from cancer and going through several other calamities. Shelby puts all her energy into helping Cammie thrive—until her intuition tells her that something isn't right.
Gibson is fresh from divorce, almost forty, and deeply depressed. Then he falls in love with Cammie. Not only is he having the best sex of his life with a woman so attractive he's stunned she even glanced his way, he feels truly known for the first time in his life. But Gibson's friends are wary of Cammie, and eventually he, too, has to admit that all the drama in Cammie's life can feel a bit over the top.
When Gibson and Shelby meet, they realize Cammie's stories don't always add up. In fact, they're far from the truth. But what kind of a person would lie about having cancer? And what does it say about Shelby and Gibson that they fell for it?
Buy it: Bookshop | Amazon | IndieBound
Chlorine by Jade Song (March 28th)
Ren Yu is a swimmer. Her daily life starts and ends with the pool. Her teammates are her only friends. Her coach, her guiding light. If she swims well enough, she will be scouted, get a scholarship, go to a good school. Her parents will love her. Her coach will be kind to her. She will have a good life.
But these are human concerns. These are the concerns of those confined to land, those with legs. Ren grew up on stories of creatures of the deep, of the oceans and the rivers. Ones that called sailors to their doom. Ones that dragged them down and drowned them. Ones that feasted on their flesh. Ones of the creature that she's always longed to become: mermaid.
Ren aches to be in the water. She dreams of the scent of chlorine–the feel of it on her skin. And she will do anything she can to make a life for herself where she can be free. No matter the pain. No matter what anyone else thinks. No matter how much blood she has to spill.
Buy it: Bookshop | Amazon | IndieBound
In a strange little home built into the branches of a grove of trees, live three robots—fatherly inventor android Giovanni Lawson, a pleasantly sadistic nurse machine, and a small vacuum desperate for love and attention. Victor Lawson, a human, lives there too. They're a family, hidden and safe.
The day Vic salvages and repairs an unfamiliar android labelled "HAP," he learns of a shared dark past between Hap and Gio–a past spent hunting humans.
When Hap unwittingly alerts robots from Gio's former life to their whereabouts, the family is no longer hidden and safe. Gio is captured and taken back to his old laboratory in the City of Electric Dreams. So together, the rest of Vic's assembled family must journey across an unforgiving and otherworldly country to rescue Gio from decommission, or worse, reprogramming.
Along the way to save Gio, amid conflicted feelings of betrayal and affection for Hap, Vic must decide for himself: Can he accept love with strings attached?
Buy it: Bookshop | Amazon | IndieBound
While we live, the enemy shall fear us.
All her life Kyr has trained for the day she can avenge the murder of planet Earth. Raised in the bowels of Gaea Station alongside the last scraps of humanity, she readies herself to face the Wisdom, the all-powerful, reality-shaping weapon that gave the Majoda their victory over humanity.
They are what's left. They are what must survive. Kyr is one of the best warriors of her generation, the sword of a dead planet. But when Command assigns her brother to certain death and relegates her to the nursery to bear sons until she dies trying, she knows she must take humanity's revenge into her own hands.
Alongside her brother's brilliant but seditious friend and a lonely, captive alien, she escapes from everything she's ever known into a universe far more complicated than she was taught and far more wondrous than she could have imagined.
Buy it: Bookshop | Amazon | IndieBound
The Way of the Cicadas by Audrey Henley (April 4th)
Ten years after nuclear war devastated the United States, Hayden is used to the meager rations, recycled air, and sterile light of the bunker he's called home since childhood. But when the administration rejects a years-in-the-making plan to emerge as supplies plummet, Hayden itches to leave.
Brita, a mysterious girl with no long-term memory, stumbles upon the bunker, proving to Hayden and the other 200 residents that the outside isn't as hostile as the administrators let on. Hayden, Brita, and a handful of other residents sneak out in the dead of night to scavenge for supplies.
The outside world holds more life, and more danger, than they prepared for. After an outside survivor betrays them, they're imprisoned by a military faction with the key to Brita's identity. For Hayden to save his friends, he must uncover a past Brita would rather never remember—along with secrets the administration has sheltered them from all these years.
Buy it: Bookshop | Amazon | IndieBound
Small Joys by Elvin James Mensah (April 11th)
Could I one day inspire happiness in others, the same way he seemed to do in me?
It's 2005 and Harley has dropped out of college to move home, back to rural England where he works a dead-end job at a movie theater. Estranged from his father and finding every attempt at happiness futile, he is on the verge of making a devastating final decision. Fortunately for him, things don't go according to plan, and his attempt on his own life is interrupted by his new roommate, Muddy.
Muddy is everything Harley is not: white, ostensibly heterosexual, freewheeling, confident in his masculinity. Despite their differences, a deep friendship blossoms between them when Muddy takes Harley under his wing and shows him everything that, in his eyes, makes life worth living: birdwatching, karaoke, rugby, and the band Oasis.
But this newfound friendship is complicated. It has enormous repercussions for the pair's romantically entangled friend group—with Chelsea, an overbearing striver whose generosity they begrudgingly rely on; with Finlay, her raffish and uncouth boyfriend; and with Noria, who despite her simmering confidence is smarting from a series of unreturned affections. And then there's the violent affair with an older man that Harley finds himself slipping back into…
Buy it: Bookshop | Amazon | IndieBound
Diamond Ring by KD Casey (April 11th)
Cover and description to come.
Buy it: Amazon
Pomegranate by Helen Elaine Lee (April 11th)
Ranita Atwater is "getting short."
She is almost done with her four-year sentence for opiate possession at Oak Hills Correctional Center. With three years of sobriety, she is determined to stay clean and regain custody of her two children.
My name is Ranita, and I'm an addict, she has said again and again at recovery meetings. But who else is she? Who might she choose to become? As she claims the story housed within her pomegranate-like heart, she is determined to confront the weight of the past and discover what might lie beyond mere survival.
Ranita is regaining her freedom, but she's leaving behind her lover Maxine, who has inspired her to imagine herself and the world differently. Now she must steer clear of the temptations that have pulled her down, while atoning for her missteps and facing old wounds. With a fierce, smart, and sometimes funny voice, Ranita reveals how rocky and winding the path to wellness is for a Black woman, even as she draws on family, memory, faith, and love in order to choose life.
Buy it: Bookshop | Amazon | IndieBound
Cover and description to come.
Buy it: Bookshop | Amazon | IndieBound
The Fiancee Farce by Alexandria Bellefleur (April 18th)
Tansy Adams' greatest love is her family's bookstore, passed down from her late father. But when it comes to actual romance… Tansy can't get past the first chapter. Tired of her stepfamily's questions about her love life, Tansy invents Gemma, a fake girlfriend inspired by the stunning cover model on a bestselling book. They'll never actually meet, so what's the harm in a little fib? Yet when real-life Gemma crosses Tansy's path, her white lie nearly implodes.
Gemma van Dalen is a wild child, the outcast of her wealthy family, and now the latest heir to Van Dalen Publishing. But the title comes with one tiny condition: she must be married in order to inherit. When Gemma discovers a beautiful stranger has been pretending to date her for months, she decides to take the charade one step further—and announces their engagement.
Gemma needs a wife to meet the terms of her grandfather's will and Tansy needs money to save her struggling bookstore. A marriage could be mutually beneficial, if they can fool everyone into thinking it's a love match. Unexpected sparks fly as Tansy and Gemma play the role of affectionate fiancées, and suddenly the line between convenient arrangement and real feelings begins to blur. But the scheming Van Dalen family won't give up the company without a fight, and Gemma and Tansy's newfound happiness might get caught in the fallout…
Buy it: Bookshop | Amazon | IndieBound
Sizzle Reel by Carlyn Greenwald (April 18th)
For aspiring cinematographer Luna Roth, coming out as bisexual at twenty-four is proving more difficult than she anticipated. Sure, her best friend and fellow queer Romy is thrilled for her—but she has no interest in coming out to her backwards parents, she wouldn't know how to flirt with a girl if one fell at her feet, and she has no sexual history to build off. Not to mention she really needs to focus her energy on escaping her emotionally-abusive-but-that's-Hollywood talent manager boss and actually get working under a real director of photography anyway.
When she meets twenty-eight-year-old A-list actress Valeria Sullivan around the office, Luna thinks she's found her solution. She'll use Valeria's interest in her cinematography to get a PA job on the set of Valeria's directorial debut—and if Valeria is as gay as Luna suspects, and she happens to be Luna's route to losing her virginity, too . . . well, that's just an added bonus. Enlisting Romy's help, Luna starts the juggling act of her life—impress Valeria's DP to get another job after this one, get as close to Valeria as possible, and help Romy with her own career moves.
But when Valeria begins to reciprocate romantic interest in Luna, the act begins to crumble—straining her relationship with Romy and leaving her job prospects precarious. Now Luna has to figure out if she can she fulfill her dreams as a filmmaker, keep her best friend, and get the girl. . . or if she's destined to end up on the cutting room floor.
Buy it: Bookshop | Amazon | IndieBound
In the quaint religious town of Seagate, abstaining from food brings one closer to God.
But Beatrice Bolano is hungry. She craves the forbidden: butter, flambé, marzipan. As Seagate takes increasingly extreme measures to regulate every calorie its citizens consume, Beatrice must make a choice: give up her secret passion for cooking or leave the only community she has known.
Elsewhere, Reiko Rimando has left her modest roots for a college tech scholarship in the big city. A flawless student, she is set up for success…until her school pulls her funding, leaving her to face either a mountain of debt or a humiliating return home. But Reiko is done being at the mercy of the system. She forges a third path—outside of the law.
With the guidance of a mysterious cookbook written by a kitchen maid centuries ago, Beatrice and Reiko each grasp for a life of freedom—something more easily imagined than achieved in a world dominated by catastrophic corporate greed.
A startling fable of the entwined perils of capitalism, body politics, and the stigmas women face for appetites of every kind, Chana Porter's profound new novel explores the reclamation of pleasure as a revolutionary act.
Buy it: Bookshop | Amazon | IndieBound
Just As You Are by Camille Kellogg (April 25th)
Liz Baker and her three roommates work at The Nether Fields, a queer magazine in New York that's on the verge of shutting down—until it's bought at the last minute by two wealthy lesbians. Even though Liz is eager to leave listicles behind for more meaningful writing, she knows that she's lucky to still have a paycheck. But it's hard to feel grateful with minority investor Daria Fitzgerald slashing budgets, cancelling bagel Fridays, and password protecting the color printer to prevent "frivolous use." When Liz overhears Daria scoffing at her articles, she knows that it's only a matter of her time before her impulsive mouth tells Daria off and gets herself fired.
But as Liz and Daria get thrown together more and more, Liz starts to see a softer side to Daria—she's funny, surprisingly helpful, and actually seems to like that Liz's gender presentation varies between butch and femme. Even as the evidence that Liz can't trust Daria piles up, it starts getting harder and harder to keep hating Daria—and harder and harder to resist her.
Buy it: Bookshop | Amazon | IndieBound
In a Pacific Northwest hospital far from the Rummani family's ancestral home in Palestine, the heart of a stillborn baby begins to beat and her skin turns a vibrant, permanent cobalt blue. On the same day, the Rummanis' centuries-old soap factory in Nablus is destroyed in an air strike. The family matriarch and keeper of all Rummani lore, Aunt Nuha, believes that the blue girl embodies their sacred history, harkening to a time when the Rummanis were among the wealthiest soap-makers and their blue soap was a symbol of a legendary love.
Decades later, Betty returns to her Aunt Nuha's gravestone, faced with a difficult decision: Should she stay in the only country she's every known or should she follow her heart for the woman she loves, perpetuating her family's cycle of exile? Betty finds her answer in partially translated notebooks that reveal her aunt's complex life and struggle with her own sexuality, which Nuha hid to help the family emigrate to the U.S. But as Betty soon discovers, her aunt hid much more than that.
Buy it: Bookshop | Amazon | IndieBound
Rosewater by Liv Little (April 25th)
Elsie is a sexy, funny, and fiercely independent woman in south London. But, at just 28, she is also tired. Though she spends her days writing tender poetry in her journal, her nights are spent working long hours for minimum wage at a neighborhood dive bar. Not even sleeping with her alluring coworker, Bea, can quell her existential dread. The difficulty of being estranged from her family, struggle of being continually rejected from jobs, and fear of never making money doing what she loves is too great. But Elsie is determined to keep the faith, for a little longer at least. Things will surely turn around. They have to.
But when Elsie is suddenly evicted from her social housing, her fragile foundations threaten to collapse entirely. With nowhere left to go, Elsie turns to her childhood friend, Juliet, for help.
Among Juliet's mismatched cushions and shelves lined with trinkets, Elsie is able to breathe for the first time in years. But between their reruns of Drag Race and nights smoking on the balcony, something else soon begins to glimmer in Elsie's heart . . . Sometimes what you've been searching for has been there all along. Can Elsie see it in time?
Buy it: Bookshop | Amazon | IndieBound
Best Men by Sidney Karger (May 2nd)

Max Moody thought he had everything figured out. He's trying to live his best life in New York City and has the best friend a gay guy could ask for: Paige. She and Max grew up next door to each other in the suburbs of Chicago. She can light up any party. She finishes his sentences. She's always a reliable splunch (they don't like to use the word brunch) partner. But then Max's whole world is turned upside down when Paige suddenly announces some huge news: she's engaged and wants Max to be her man of honor. Max was always the romantic one who imagined he would get married before the unpredictable Paige and is shocked to hear she's ready to settle down. But it turns out there's not just one new man in Paige's life–there are two.
There's the groom, Austin, who's a perfectly nice guy. Then there's his charming, fun and ridiculously handsome gay younger brother, Chasten, who is Austin's best man. As Paige's wedding draws closer, Max, the introverted Midwesterner, and Chasten, the social butterfly East Coaster, realize they're like oil and water. Yet they still have to figure out how to coexist in Paige's life while not making her wedding festivities all about them. But can the tiny romantic spark between these two very different guys transform their best man supporting roles into the leading best men in each other's lives?
Buy it: Bookshop | Amazon | IndieBound
Homebodies by Tembe Denton-Hurst (May 2nd)
Mickey Hayward dreams of writing stories that matter. She has a flashy media job that makes her feel successful and a devoted girlfriend who takes care of her when she comes home exhausted and demoralized. It's not all A-list parties and steamy romance, but Mickey's on her way, and it's far from the messy life she left behind in Maryland. Despite being overlooked and mistreated at work, it seems like she might finally get the chance to prove herself–until she finds out she's being replaced.
Distraught and enraged, Mickey fires back with a detailed letter outlining the racism and sexism she's endured as a Black woman in media, certain it will change the world for the better. But when her letter is met with overwhelming silence, Mickey is sent into a tailspin of self-doubt. Forced to reckon with just how fragile her life is–including the uncertainty of her relationship–she flees to the last place she ever dreamed she would run to, her hometown, desperate for a break from her troubles.
Back home, Mickey is seduced by the simplicity of her old life–and the flirtation of a former flame–but her life in New York refuses to be forgotten. When a media scandal catapults Mickey's forgotten letter into the public zeitgeist, suddenly everyone wants to hear what Mickey has to say. It's what she's always wanted–isn't it?
Buy it: Amazon | IndieBound
Dragonfall by L.R. Lam (May 2nd)
Long ago, humans betrayed dragons, stealing their magic and banishing them to a dying world. Centuries later, their descendants worship dragons as gods. But the 'gods' remember, and they do not forgive.
Thief Arcady scrapes a living on the streets of Vatra. Desperate, Arcady steals a powerful artifact from the bones of the Plaguebringer, the most hated person in Lumet history. Only Arcady knows the artifact's magic holds the key to a new life among the nobles at court and a chance for revenge.
The spell connects to Everen, the last male dragon foretold to save his kind, dragging him through the Veil. Disguised as a human, Everen soon learns that to regain his true power and form and fulfil his destiny, he only needs to convince one little thief to trust him enough to bond completely–body, mind, and soul–and then kill them.
Yet the closer the two become, the greater the risk both their worlds will shatter.
Buy it: Bookshop | Amazon | IndieBound
The Humble Lover by Edmund White (May 2nd)
Aldwych West, an eighty-year-old modern-day aristocrat living alone in his Manhattan townhouse, is used to having what he wants. And when he sets eyes on August Dumonde, a strong, stunningly beautiful soloist in the New York City Ballet, he decides he must have him. Soon they strike up a closeness that falls between the blurry lines of friendship, sponsorship, and love, and August moves in with Aldwych. But eventually August starts bringing home other men, and a formidable woman in Aldwych's circle named Ernestine also takes a deep interest in the young, enchanting star.
Buy it: Bookshop | Amazon | IndieBound
Cover and description to come!
Buy it: Bookshop | Amazon | IndieBound
Graveyard of Lost Children by Katrina Monroe (May 9th)
At four months old, Olivia Dahl was almost murdered. Driven by haunting visions, her mother became obsessed with the idea that Olivia was a changeling, and that the only way to get her real baby back was to make a trade with the "dead women" living at the bottom of the well. Now Olivia is ready to give birth to a daughter of her own…and for the first time, she hears the women whispering.
Everyone tells Olivia she should be happy. She should be glowing, but the birth of her daughter only fills Olivia with dread. As Olivia's body starts giving out, slowly deteriorating as the baby eats and eats and eats, she begins to fear that the baby isn't her daughter at all and, despite her best efforts, history is repeating itself.
Soon images of a black-haired woman plague Olivia's nightmares, drawing her back to the well that almost claimed her life―tying mother and daughter together in a desperate cycle of fear and violence that must be broken if Olivia has any hope of saving her child…or herself.
Buy it: Bookshop | Amazon | IndieBound
The night after one of their own is tragically taken away from them, a group of seven college friends form a pact: a promise to reunite every few years to throw each other "living funerals," constant reminders that life is worth living, if not for them then for their late friend.
Now, twenty-eight years into the hard-worn lines of adulthood, their "funerals" only remind them of all the opportunities they missed. But when one member of the old gang receives an unexpected diagnosis, the pact takes on new meaning, and each friend is forced to confront old secrets, and weigh their now-middle-age lives against the idealistic dreams of their youth.
Buy it: Bookshop | Amazon | IndieBound
Miss Grace Linfield has resigned herself to life as a lady's companion as the only path to respectable security. At least it allows her to visit the beautiful seaside town of Inverley with her charge, Lady Edith. Passions flare when botanist Miss Thea Martin whirls into town —and into Grace's bed for a scandalous night of passion.
Disaster looms when Lady Edith elopes with Thea's brother. Prim-and-proper Grace and wildly outrageous Thea each wish it was anyone else by their side as they race after them to Gretna Green. In the midst of attempting to stop a wedding that will incur the wrath of both their families, they discover their passion for each other is too strong to resist.
A chance at a real relationship was the last thing either of them expected. When Grace and Thea return from Scotland, will the honeymoon be over? Or will love finally be in full bloom?
Buy it: Bookshop | Amazon | IndieBound
Dykette by Jenny Fran Davis (May 16th)
Sasha and Jesse are professionally creative, erotically adventurous, and passionately dysfunctional twentysomethings making a life together in Brooklyn. When a pair of older, richer lesbians—prominent news host Jules Todd and her psychotherapist partner, Miranda—invites Sasha and Jesse to their country home for the holidays, they're quick to accept. Even if the trip includes a third couple—Jesse's best friend, Lou, and their cool-girl flame, Darcy—whose It-queer clout Sasha ridicules yet desperately wants.
As the late December afternoons blur together in a haze of debaucherous homecooked feasts and sweaty sauna confessions, so too do the guests' secret and shifting motivations. When Jesse and Darcy collaborate an ill-fated livestream performance, a complex web of infatuation and jealousy emerges, sending Sasha down a spiral of destructive rage that threatens each couple's future.
Unfolding over ten heady days, Dykette is an unforgettable love story at the crossroads of queer nonconformity and seductive normativity. With propulsive plotting and sexy, wickedly entertaining prose, Jenny Fran Davis captures the vagaries of desire and the many devastating places in which we seek recognition.
Buy it: Bookshop | Amazon | IndieBound
Roux for Two by Aurora Rey (May 16th)
When her celebrity chef boss is taken down in a sexual harassment scandal, Chelsea Boudreaux's dream of getting her own cooking show comes true. Her hometown of Duchesne, Louisiana, provides the perfect backdrop for her modern takes on traditional Cajun fare. Vindicating herself to the mother who never believed in her is icing on the cake.
Bryce Cormier never left Duchesne and has no regrets, except that falling in love as a trans guy in a tiny town is easier said than done. When Chelsea comes home after more than a decade away, Bryce thinks he may have found the perfect woman. At least until Chelsea's burgeoning celebrity spills over and turns his world upside down.
It turns out love is like a good gumbo—what seems simple is complex, and the best results require a bit of courage. And like all the recipes say… First, you make a roux.
Buy it: Bookshop | Amazon | IndieBound
The Late Americans by Brandon Taylor (May 23rd)
In the shared and private spaces of Iowa City, a loose circle of lovers and friends encounter, confront, and provoke one another in a volatile year of self-discovery. At the group's center are Ivan, a dancer turned aspiring banker who dabbles in amateur pornography; Fatima, whose independence and work ethic complicates her relationships with friends and a trusted mentor; and Noah, who "didn't seek sex out so much as it came up to him like an anxious dog in need of affection." These three are buffeted by a cast of poets, artists, landlords, meat-packing workers, and mathematicians who populate the cafes, classrooms, and food-service kitchens of Iowa City, sometimes to violent and electrifying consequence. Finally, as each prepares for an uncertain future, the group heads to a cabin to bid goodbye to their former lives—a moment of reckoning that leaves each of them irrevocably altered.
Buy it: Bookshop | Amazon | IndieBound
This is the sequel to The Final Strife
Anoor is the first blue-blooded ruler of the Wardens' Empire. But when she is accused of a murder she didn't commit, her reign is thrown into turmoil. She must solve the mystery and clear her name without the support of her beloved, Sylah.
Sylah braves new lands to find a solution for the hurricane that threatens to destroy her home. But in finding answers, she must make a decision, does she sacrifice her old life in order to raise up her sword once more?
Hassa's web of secrets grows ever thicker as she finds herself on a trail of crimes in the city. Her searching uncovers the extent of the atrocities of the empire's past and present. Now, she must guard both her heart and her land.
The three women find their answers, but they're not the answers they wanted. The drumbeat of change thrums throughout the world.
And it sings a song of war.
Ready we will be, when the Ending Fire comes,
When the Child of fire brings the Battle Drum,
The Battle Drum,
The Battle Drum.
Ready we will be, for war will come.
Buy it: Bookshop | Amazon | IndieBound
The gym is Lizzie's life—it's her passion, her job, and the only place that's ever felt like home. Unfortunately, her bosses consider her a glorified check-in girl at best, and the gym punching bag at worst.
When their son, Lizzie's best friend James, begs her to be his plus one at his perfect sister Cara's wedding, things go wrong immediately, culminating in Lizzie giving a drunken pep talk to a hot stranger in the women's bathroom—except that stranger is actually the bride-to-be, and Lizzie has accidentally convinced her to ditch her groom.
Now, newly directionless Cara is on a quest to find herself, and Lizzie—desperate to make sure her bosses never find out her role in this disaster—gets strong-armed by James into "entertaining" her. Cara doesn't have to know it's a setup; it'll just be a quick fling before she sobers up and goes back to her real life. After all, how could someone like Cara fall for someone like Lizzie, with no career and no future?
But the more Lizzie gets to know Cara, the more she likes her, and the more is on the line if any of her rapidly multiplying secrets get out. Because now it's not just Lizzie's job and entire future on the line, but also the girl of her dreams.
Buy it: Bookshop | Amazon | IndieBound
As it turns out, you can go home again. But sometimes, you really, really don't want to . . .
Home, for Noah York, is Oakland, New Hampshire, the sleepy little town where Noah's mother, Virginia, had a psychotic
breakdown and Noah got beaten to a pulp as a teenager. Then there were the good times—and Noah's not sure which ones are
more painful to recall.
Now thirty-seven and eking out a living as an artist in Providence, Rhode Island, Noah looks much the same—and swears just as
colorfully—as he did in high school. Virginia has become a wildly successful poet who made him the subject of her most famous
poem, "The Lost Soul," a label Noah will never live down. And J.D., the one who got away—because Noah stupidly drove him
away—is in a loving marriage with a successful, attractive man whom Noah despises wholeheartedly.
Is it any surprise that Noah wishes he could ignore his mother's summons to come visit?
But Virginia has shattering news to deliver, and a request he can't refuse. Soon, Noah will track down the sister and extended
family he never knew existed, try to keep his kleptomaniac cousin out of jail, feud with a belligerent neighbor, confront J.D.'s
jealous husband—and face J.D. himself, the ache from Noah's past that never fades. . . . All the while, contending with his
brilliant, unpredictable mother.
Buy it: Bookshop | Amazon | IndieBound
At an otherwise forgettable party in Los Angeles, a young Korean American painter spots a woman who instantly controls the room: gorgeous and distant and utterly white, the center of everyone's attention. Haunted into adulthood by her Korean father's abandonment of his family, as well as the specter of her beguiling, abusive white mother, the painter finds herself caught in a perfect trap. She wants Hanne, or wants to be her, or to sully her, or destroy her, or consume her, or some confusion of all the above. Since she's an artist, she will use art to get closer to Hanne, beginning a series of paintings with her new muse as model. As for Hanne, what does she want? Her whiteness seems sometimes as cruel as a new sheet of paper: is there any there there?
When the paintings of Hanne become a hit, resulting in the artist's first sold-out show, she resolves to bring her new muse with her to Berlin, to continue their work, and her seduction. But, just when the painter is on the verge of her long sought-after breakthrough, a petition started by a Black performance artist begins making the rounds in the art community, calling for the boycott of major museums and art galleries for their imperialist and racist practices.
Torn between her desire to support the petition, to be a success, and to "have" Hanne in her life, the painter begins acting more and more unstable and erratic, unwilling to cut loose any one of her warring ambitions, yet unable to accommodate all. Is it any wonder so many artists self-destruct so spectacularly? Is it perhaps just a bit exciting to think she could too?
Buy it: Bookshop | Amazon | IndieBound
Wild Things by Laura Kay (May 23rd)
El is in a rut. She's been hiding in the photocopier room at the same dead-end job for longer than she cares to remember, she's sharing a flat with a girl who leaves passive-aggressive smiley face notes on the fridge about milk consumption and, worst of all, she's been in unrequited love with her best friend, effortlessly cool lesbian Ray, for years. So when a plan is hatched for El, Ray, and their two other closest friends–newly heartbroken Will and karaoke-and-Twilight-superfan Jamie–to ditch the big city and move out to a ramshackle house on the edge of an English country village, it feels like just the escape she needs.
Despite being the DIY challenge of a lifetime, the newly named Lavender House has all the makings of becoming the queer commune of the friends' dreams. (Will has been given a pass as the gang's Token Straight.) But as they start plotting their bright new future and making preparations for a grand housewarming party to thank the surprisingly but wonderfully welcoming community, El is forced to confront her feelings for Ray–the feelings that she's been desperately trying to keep buried. Is it worth ruining a perfectly good friendship for a chance at love?
Buy it: Bookshop | Amazon | IndieBound
Turns out you're never too old for a summer camp romance. Or a change of heart. When a divorced woman attends a sleepaway camp for adults only, she reconnects with a man from her past—only to catch feelings for his sister instead.
Garland Moore used to believe in magic, the power of optimism, and signs from the universe. Then her husband surprised her with divorce papers over Valentine's Day dinner. Now Garland isn't sure what to believe anymore, except that she's clearly never meant to love again. When new friends invite her to spend a week at their reopened sleepaway camp, she and her sister decide it's an opportunity to enjoy the kind of summer getaway they never had as kids. If Garland still believed in signs, this would sure seem like one. Summer camp is a chance to let go of her past and start fresh.
Nestled into the picturesque Blue Ridge Mountains, Camp Carl Cove provides the exact escape Garland always dreamed of, until she runs into Mason—the man she had a premonition about after one brief meeting years ago. No matter how she tries to run, the universe appears determined to bring love back into Garland's life. She even ends up rooming with Mason's sister Stevie, a vibrant former park ranger who is as charming as she is competitive. The more time Garland spends with Stevie, the more the signs confuse her. The stars are aligning in a way Garland never could have predicted.
Amid camp tournaments and moonlit dances, Garland continues to be pulled toward the beautiful blonde outdoorswoman who makes her laugh and swoon. Summer camp doesn't last forever, but if Garland can learn to trust her heart, the love she finds there just might.
Buy it: Bookshop | Amazon | IndieBound
Two grooms. One mother of a problem.
Barnett Durang has a secret. No, not that secret. His widowed mother has known he was gay for years thanks to an unfortunate internet search history when Barnett was in high school.
The secret is Barnett is getting married. At his mother's farm. In their small Louisiana town. She just doesn't know it yet.
It'll be an intimate affair. Just two hundred or so of the most fabulous folks Barnett is shipping in from the "heathen coasts," as Mom likes to call it.
It's no secret that the wedding will be the biggest, gayest event in town's history, but what no one in town can predict is that after the whirlwind, glitter-filled week, nothing will ever be the same. Big Gay Wedding is an uplifting book about the power of family and the unconditional love of a mother for her son.
You're all invited to the biggest, gayest wedding of the year. RSVP as fabulous, thank you very much.
Buy it: Bookshop | Amazon | IndieBound
Chef's Choice by TJ Alexander (May 30th)
When Luna O'Shea is unceremoniously fired from her frustrating office job, she tries to count her blessings: she's a proud trans woman who has plenty of friends, a wonderful roommate, and a good life in New York City. But blessings don't pay the bills.
Enter Jean-Pierre, a laissez-faire trans man and the heir to a huge culinary empire—which he'll only inherit if he can jump through all the hoops his celebrity chef grandfather has placed in his path. First hoop: he needs a girlfriend, a role that Luna is happy to play…for the right price. She's got rent to pay, after all! Second hoop: they both need to learn how to cook a series of elaborate, world-renowned family recipes to prove that Jean-Pierre is a worthy heir. Admittedly, Luna doesn't even know how to crack an egg, but she's not going to let that—or any pesky feelings for Jean-Pierre—stop her.
Buy it: The Ripped Bodice | Amazon | IndieBound
Domenic Marino has become an expert at code-switching between the hypermasculine and ultrafeminine worlds of his two soon-to-be-wed best friends. But this summer—reeling from his own failed engagement and tasked with attending their bachelor and bachelorette parties—he's anxious over having to play both sides.
The pressure is on. The bride wants Dom to keep things clean. The groom wants Dom to "let loose" with the guys. And Dom just wants to get out of this whole mess with his friendships intact.
But once the rowdy groomsmen show up at the beach house—including a surprise visit from the groom's old frat brother, handsome and charming PGA star Bucky Graham—chaos (and unexpected romance) quickly ensues. By the time Dom returns for the bachelorette party, he's accumulated a laundry list of secrets that threaten to destroy everything—from the wedding, to Bucky's career, to the one thing Dom hasn't been paying nearly enough attention to lately: his own life.
Buy it: Bookshop | Amazon | IndieBound
Boys Weekend by Mattie Lunchansky (June 6th)
Newly out trans artist's assistant Sammie is invited to an old friend's bachelor weekend in El Campo, a hedonistic wonderland of a city floating in the Atlantic Ocean's international waters—think Las Vegas with even fewer rules. Though they have not identified as a man for over a year, Sammie's college buddies haven't quite gotten the message—as evidenced by their formerly closest friend Adam asking them to be his "best man."
Arriving at the swanky hotel, Sammie immediately questions their decision to come. Bad enough that they have to suffer through a torrent of passive-aggressive comments from the groom's pals—all met with zero pushpack from supposed "nice guy" Adam. But also, they seem to be the only one who's noticed the mysterious cult that's also staying at the hotel, and is ritually dismembering guests and demanding fealty to their bloodthirsty god.
Part satire, part horror, Boys Weekend explores what it's like to exist as a transfemme person in a man's world, the difficulty of maintaining friendships through transition, and the more cult-like effects of masculinity, "hustle" culture, and capitalism—all through the vibrant lens of a surreal, scary, and immensely imaginative romp.
Buy it: Bookshop | Amazon | IndieBound
Nick Russo has worked his way from a rough Brooklyn neighborhood to a reporting job at one of the city's biggest newspapers. But the late 1950s are a hostile time for gay men, and Nick knows that he can't let anyone into his life. He just never counted on meeting someone as impossible to say no to as Andy.
Andy Fleming's newspaper-tycoon father wants him to take over the family business. Andy, though, has no intention of running the paper. He's barely able to run his life–he's never paid a bill on time, routinely gets lost on the way to work, and would rather gouge out his own eyes than deal with office politics. Andy agrees to work for a year in the newsroom, knowing he'll make an ass of himself and hate every second of it.
Except, Nick Russo keeps rescuing Andy: showing him the ropes, tracking down his keys, freeing his tie when it gets stuck in the ancient filing cabinets. Their unlikely friendship soon sharpens into feelings they can't deny. But what feels possible in secret–this fragile, tender thing between them–seems doomed in the light of day. Now Nick and Andy have to decide if, for the first time, they're willing to fight.
Buy it: Bookshop | Amazon | IndieBound
Everything the Darkness Eats by Eric LaRocca (June 6th)
After a recent string of disappearances in a small Connecticut town, a grieving widower with a grim secret is drawn into a dangerous ritual of dark magic by a powerful and mysterious older gentleman named Heart Crowley. Meanwhile, a member of local law enforcement tasked with uncovering the culprit responsible for the bizarre disappearances soon begins to learn of a current of unbridled hatred simmering beneath the guise of the town's idyllic community—a hatred that will eventually burst and forever change the lives of those who once found peace in the quiet town of Henley's Edge.
Buy it: Bookshop | Amazon | IndieBound
Farrell Covington and the Limits of Style by Paul Rudnick (June 6th)
Devastatingly handsome and insanely rich, Farrell Covington is capable of anything and impossible to resist. He's a clear-eyed romantic, an aesthete but not a snob, self-indulgent yet wildly generous. As the son of one of the country's most powerful and deeply conservative families, the world could be his. But when he falls for Nate Reminger, an aspiring writer from a nice Jewish family in Piscataway, New Jersey, the results are passionate and catastrophic.
Together, the two embark on a uniquely managed romance that spans half a century. They are inseparable—except for the many years when they are apart. Moving from the ivy-covered bastion of Yale to New York City, Los Angeles, and eventually all over the world, Farrell and Nate experience the tremendous upheaval and social change of the last fifty years. From the freedom of gay life in 1970s Manhattan to the Hollywood closet, the AIDS epidemic, and the profound strides of the LGBTQ+ movement, this witty and moving novel shows how the world changes around us while we're busy doing other things. A story of chances lost and found (and sometimes just temporarily misplaced), with an epic reach, it reminds us that there is always the possibility of undiluted, unbridled, unstoppable happiness, if, as Farrell says, "You know where to look." Style has its limits, love does not.
Buy it: Bookshop | Amazon | IndieBound
Mortal Follies by Alexis Hall (June 6th)
It is the year 1814, and life for a young lady of good breeding has many difficulties. There are balls to attend, fashions to follow, marriages to consider, and, of course, the tiny complication of existing in a world swarming with fairy spirits, interfering deities, and actual straight-up sorcerers.
Miss Maelys Mitchelmore finds her entry into high society hindered by an irritating curse. It begins innocuously enough with her dress slowly unmaking itself over the course of an evening at a high-profile ball, a scandal she narrowly manages to escape.
However, as the curse progresses to more fatal proportions, Miss Mitchelmore must seek out aid, even if that means mixing with undesirable company. And there are few less desirable than Lady Georgiana Landrake—a brooding, alluring young woman sardonically nicknamed "the Duke of Annadale"—who may or may not have murdered her own father and brothers to inherit their fortune. If one is to believe the gossip, she might be some kind of malign enchantress. Then again, a malign enchantress might be exactly what Miss Mitchelmore needs.
With the Duke's help, Miss Mitchelmore delves into a world of angry gods and vindictive magic, keen to unmask the perpetrator of these otherworldly attacks. But Miss Mitchelmore's reputation is not the only thing at risk in spending time with her new ally. For the reputed witch has her own secrets that may prove dangerous to Miss Mitchelmore's heart—not to mention her life.
Buy it: Bookshop | Amazon | IndieBound
Killingly by Katharine Beutner (June 6th)
Bertha Mellish, "the most peculiar, quiet, reserved girl" at Mount Holyoke College, is missing. One cold November morning the junior is spotted walking through the Massachusetts woods; then, she vanishes.
As a search team dredges the pond where she might have drowned, Bertha's panicked father and sister arrive at the campus desperate to find some clue as to her fate or state of mind. Bertha's best friend, Agnes, a scholarly loner studying medicine, might know the truth, but she is being unhelpfully tightlipped, inciting the suspicions of Bertha's family, her classmates, and the private investigator hired by the Mellish family doctor. As secrets from Agnes and Bertha's lives come to light, so do the competing agendas driving each person who is searching for Bertha.
Where did Bertha go? Who would want to hurt her? And could she still be alive?
Buy it: Bookshop | Amazon | IndieBound
Translation State by Ann Leckie (June 6th)
Qven was created to be a Presger translator. The pride of their Clade, they always had a clear path before them: learn human ways, and eventually, make a match and serve as an intermediary between the dangerous alien Presger and the human worlds. The realization that they might want something else isn't "optimal behavior". I's the type of behavior that results in elimination.
But Qven rebels. And in doing so, their path collides with those of two others. Enae, a reluctant diplomat whose dead grandmaman has left hir an impossible task as an inheritance: hunting down a fugitive who has been missing for over 200 years. And Reet, an adopted mechanic who is increasingly desperate to learn about his genetic roots—or anything that might explain why he operates so differently from those around him.
As a Conclave of the various species approaches—and the long-standing treaty between the humans and the Presger is on the line—the decisions of all three will have ripple effects across the stars.
Buy it: Bookshop | Amazon | IndieBound
Open Throat by Henry Hoke (June 6th)
A queer and dangerously hungry mountain lion lives in the drought-devastated land under the Hollywood sign. Lonely and fascinated by humanity's foibles, the lion spends their days protecting the welfare of a nearby homeless encampment, observing obnoxious hikers complain about their trauma, and, in quiet moments, grappling with the complexities of their gender identity, memories of a vicious father, and the indignities of sentience. "I have so much language in my brain," our lion says, "and nowhere to put it."
When a man-made fire engulfs the encampment, the lion is forced from the hills down into the city the hikers call "ellay." As the lion confronts a carousel of temptations and threats, they take us on a tour that spans the cruel inequalities of Los Angeles and the toll of climate grief, while scrambling to avoid earthquakes, floods, and the noise of their own conflicted psyche. But even when salvation finally seems within reach, they are forced to face down the ultimate question: Do they want to eat a person, or become one?
Buy it: Bookshop | Amazon | IndieBound
All the Right Notes by Dominic Lim (June 6th)
Quito Cruz might be a genius piano player and composer in New York City now but it doesn't mean that he's any closer to his Broadway dream. Although Quito knows what the problem is. Or rather who. Because ever since that night in college—with pretty-boy jock Emmett Aoki—his inspiration has been completely MIA . .  .
Now Quito's dad wants him to put on a charity performance in his hometown. And there's one hella big string attached: convince Emmett—now one of Hollywood's hottest celebrities—to perform.
It's all shaping up to be the biggest musical fiasco of Quito's life. Especially when Emmett agrees to attend, and Quito realizes that undeniable vibe between them is stronger than ever. Because there's nothing simple about falling for a movie star . . . even when he's pitch-perfect.
Buy it: Bookshop | Amazon | IndieBound
What do you want most? What will you pay for it?
Venice, 1717. Before she meets Maddalena, fifteen-year-old Luisa has only wanted one thing: to be the best at violin. As a student at the Ospedale della Pietà, she hopes to join the highest ranks of its illustrious girls' orchestra and be no longer just an orphan but a star, protégé of the great Antonio Vivaldi. Luisa is good at violin, but she is not the best. She has peers, but she does not have friends. Until Maddalena.
Sent to the Pietà to be reformed until the rumors about her noble family have passed, Maddalena is unlike anyone Luisa has met. Clever, reckless, and passionate, Maddalena can promise the world to Luisa, and when she does, their fates intertwine. But Maddalena has made a wager with something deep in the waters of Venice, and there will be a price to pay.
Buy it: Bookshop | Amazon | IndieBound
Welcome to the Circus of the Fantasticals.
Ringmaster – Rin, to those who know her best – can jump to different moments in time as easily as her wife, Odette, soars from bar to bar on the trapeze. With the scars of World War I feeling more distant as the years pass, Rin is focusing on the brighter things in life. Like the circus she's built and the magical misfits and outcasts — known as Sparks – who've made it their home. Every night, Rin and the Fantasticals enchant a Big Top packed full with audiences who need to see the impossible.
But while the present is bright, threats come at Rin from the past and the future. The future holds an impending war that the Sparks can see barrelling toward their Big Top and everyone in it. And Rin's past creeps closer every day, a malevolent shadow Rin can't fully escape. It takes the form of another Spark circus, with tents as black as midnight and a ringmaster who rules over his troupe with a dangerous power. Rin's circus has something he wants, and he won't stop until it's his.
Buy it: Bookshop | Amazon | IndieBound
Ponyboy by Eliot Duncan (June 13th)
In the first of three acts, Ponyboy's titular narrator—a pill-popping, speed-snorting trans-masculine lightning bolt—unravels in his Paris apartment. Ponyboy is caught in a messy love triangle with Baby, a lesbian painter who can't see herself being with someone trans, and Toni, a childhood friend who can actually see Ponyboy for who he is. Strung out, Ponyboy follows Baby to Berlin in act two, where he sinks deeper into drugs and falls for Hart, a fellow writer, all the while pursued by a megalomaniacal photographer hungry for the next hot thing. As Ponyboy's relationships crumble, he overdoses and find himself alone in his childhood home in Nebraska. The novel's final act follows Ponyboy to rehab, exploring the ways in which trans identity, addiction, and recovery reforge the bond between mother and child. Eliot Duncan reveals, in precise atmospheric prose reminiscent of Anne Carson and Allen Ginsberg, the innate splendor, joy, and ache of becoming oneself.
Buy it: Amazon | IndieBound
Run Baby Run by Melissa Lenhardt (June 13th)
Darcy Evans doesn't have the time or the patience for a road trip with her estranged mother, Marja. She's running her website, getting married in a week and trying to figure out how she feels about a bombshell confession of love—and kiss—from her best friend, Chloe. The last thing Darcy has the energy for is to try to repair her relationship with a mother who cut off contact with her two years ago and doesn't seem interested in explaining herself. Darcy wants to rant and rave and cuss, which sets off Marja's three-legged evangelical dog, Helen, on a barking spree. Oh, and by the way, Chloe is her fiancé's little sister.
It's a lot.
Marja had a very good reason for not telling Darcy why she cut off contact, and an even better reason for keeping it from her now. But Darcy is persistent and both women's nerves are wearing thin. Two flat tires in the middle of the night in nowhere Oklahoma ends with FBI agents, a runaway dog, Darcy on the ground asking what the hell is going on and Marja standing over the tow truck driver with a smoking gun.
Buy it: Bookshop | Amazon | IndieBound
Vintage and Vogue by Kelly & Tana Fireside (June 13th)
Wealthy tech whiz Sena Abrigo has deep roots in the Arizona-Mexico borderlands. But when she marches into Owen Station on red-soled stilettos like she just walked off the cover of Vogue, she plans to pull this little town into the future. And she is used to getting exactly what she wants. First, she has to get past Hazel Butler.
The proud granddaughter of Irish immigrant miners, Hazel loves her job at the library, her spooky cat, her opinionated friends, vintage Mary Janes, and the little house she inherited. And she is determined to protect the historic legacy of her town.
In spite of their differences and because of them, sparks fly and love isn't far behind. But Sena's arrival doesn't just turn Hazel's life upside down in the most wonderful of ways. It sets off an explosive series of events exposing an ugly truth lying just beneath the town's surface, threatening their chance at love…and their lives.
Buy it: Bookshop | Amazon | IndieBound
The Gulf by Rachel Cochran (June 13th)
In Parson, Texas, a small town ravaged by a devastating hurricane and the Vietnam War, twenty-nine-year-old Lou is diligently renovating a decaying old mansion for Miss Kate, the elderly neighbor who has always been like a mother to her. Mourning her brother's death in Vietnam, Lou dreams of enjoying a more peaceful future in Parson. But those hopes are crushed when Miss Kate is murdered, and no one but Lou seems to care about finding the killer.
The situation becomes complicated when Joanna, Miss Kate's long-estranged daughter and Lou's first love, arrives in Parson—not to learn more about her mother's death but for the house. Her arrival unearths sinister secrets involving the history of the town and its residents . . . revelations that may be the key to helping Lou discover the truth about Miss Kate's death and her killer.
Buy it: Bookshop | Amazon | IndieBound
Old Enough by Haley Jakobson (June 20th)
Savannah "Sav" Henry is almost the person she wants to be, or at least she's getting closer. It's the second semester of her sophomore year. She's finally come out as bisexual, is making friends with the other queers in her dorm, and has just about recovered from her disastrous first queer "situationship." She is cautiously optimistic that her life is about to begin.
But when she learns that Izzie, her best friend from childhood, has gotten engaged, Sav faces a crisis of confidence. Things with Izzie haven't been the same since what happened between Sav and Izzie's older brother when they were sixteen. Now, with the wedding around the corner, Sav is forced to reckon with trauma she thought she could put behind her.
On top of it all, Sav can't stop thinking about Wes from her Gender Studies class—sweet, funny Wes, with their long eyelashes and green backpack. There's something different here—with Wes and with her new friends (who delight in teasing her about this face-burning crush); it feels, terrifyingly, like they might truly see her in a way no one has before.
Buy it: Amazon | IndieBound
Peaches Monroe and Jamie Hunt are core members of their Texas friend squad and have so much in common. They're successful at their careers in personal care. They take Austin's "Keep It Weird" vibe to heart, each leaning into their own unique talents and sense of style. And they're both ready to go on to even bigger things. Is pushing past the boundaries of friendship into something deeper one of them? The red-hot fantasy is there…but so is real life.
Jamie's college dreams will take her far from her hometown. She's already road-tripping to possibilities from San Antonio to Houston. And Peaches has obligations of her own. Not only is she planning to expand her business, but she's taking care of her family after her mother's passing, leaving her overwhelmed and under pressure.
No matter how perfect Jamie and Peaches are for each other, is this the right time for romance? Finding their true selves comes first. Only then can they hope to pursue a future of lasting love—together.
Buy it: Bookshop | Amazon | IndieBound
In the jianghu, you break the law to make it your own.
Lin Chong is an expert arms instructor, training the Emperor's soldiers in sword and truncheon, battle axe and spear, lance and crossbow. Unlike bolder friends who flirt with challenging the unequal hierarchies and values of Imperial society, she believes in keeping her head down and doing her job.
Until a powerful man with a vendetta rips that carefully-built life away.
Disgraced, tattooed as a criminal, and on the run from an Imperial Marshall who will stop at nothing to see her dead, Lin Chong is recruited by the Bandits of Liangshan. Mountain outlaws on the margins of society, the Liangshan Bandits proclaim a belief in justice—for women, for the downtrodden, for progressive thinkers a corrupt Empire would imprison or destroy. They're also murderers, thieves, smugglers, and cutthroats.
Apart, they love like demons and fight like tigers. Together, they could bring down an empire.
Buy it: Bookshop | Amazon | IndieBound
Lucky Red by Claudia Cravens (June 20th)
It's the spring of 1877 and sixteen-year-old Bridget is already disillusioned. She's exhausted from caring for her ne'er-do-well alcoholic father, but when he's killed by a snakebite as they cross the Kansas prairie, she knows she has only her wits to keep her alive. She arrives penniless in Dodge City, and, thanks to the allure of her bright red hair and country-girl beauty, is soon recruited to work at the Buffalo Queen, the only brothel in town run by women. Bridget takes to brothel life, appreciating the good food, good pay, and good friendships she forms with her fellow "sporting women."
Then Spartan Lee, the legendary female gunfighter in the region, rides into town, and Bridget falls in love. Hard. Before long, though, a series of shocking double-crosses shatter the Buffalo Queen's tenuous peace and safety. Desperate for vengeance and autonomy, Bridget resolves to claim her own destiny.
Buy it: Bookshop | Amazon | IndieBound
Romance Languages by A.J. Truman (June 30th)
Cover and description to come.
Buy it: Amazon