Tag Archives: Zara Hossain is Here
How it All Blew Up by Arvin Ahmadi
The Henna Wars and Hani and Ishu's Guide to Fake Dating by Adiba Jaigirdar
The Love and Lies of Rukhsana Ali and Zara Hossain is Here by Sabina Khan
Tell Me How You Really Feel by Aminah Mae Safi
If You Could Be Mine and Tell Me Again How a Crush Should Feel by Sara Farizan
The Outrage by William Hussey (1st)
Welcome to England, where the Protectorate enforces the Public Good. Here, there are rules for everything – what to eat, what to wear, what to do, what to say, what to read, what to think, who to obey, who to hate, who to love. Your safety is assured, so long as you follow the rules.
Gabriel is a natural born rule-breaker. And his biggest crime of all? Being gay.
Gabriel knows his sexuality must be kept secret from all but his closest friends, not only to protect himself, but to protect his boyfriend. Because Eric isn't just the boy who has stolen Gabriel's heart. He's the son of the chief inspector at Degenerate Investigations ­­­- the man who poses the single biggest threat to Gabriel's life.
And the Protectorate are experts at exposing secrets.
Buy it: Blackwells
"It's not every day you get to put the fear of Medusa into a god."
Emma Stone, medusa, is the groundskeeper for Olson College of Extensive Education, a place where everyone is welcome, from the mythical to the magical. When her selkie best friend loses her skin in Fresher's week, the race is on to find it before someone uses it against her.
The search brings Emma face to face with her oldest enemy – and forces her to confront the worst nightmares of her past.
Sky Baker may be openly gay, but in his small, insular town, making sure he was invisible has always been easier than being himself. Determined not to let anything ruin his senior year, Sky decides to make a splash at his high school's annual beach bum party by asking his crush, Ali, to prom—and he has thirty days to do it.
What better way to start living loud and proud than by pulling off the gayest promposal Rock Ledge, Michigan, has ever seen?
Then, Sky's plans are leaked by an anonymous hacker in a deeply homophobic e-blast that quickly goes viral. He's fully prepared to drop out and skip town altogether—until his classmates give him a reason to fight back by turning his thirty-day promposal countdown into a school-wide hunt to expose the e-blast perpetrator.
But what happens at the end of the thirty days? Will Sky get to keep his hard-won visibility? Or will his small-town blues stop him from being his true self?
Buy it: Bookshop | Amazon | IndieBound

Peaces by Helen Oyeyemi (6th)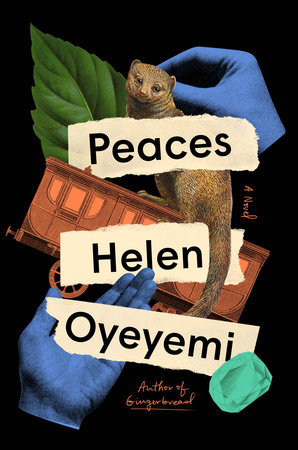 When Otto and Xavier Shin declare their love, an aunt gifts them a trip on a sleeper train to mark their new commitment—and to get them out of her house. Setting off with their pet mongoose, Otto and Xavier arrive at their sleepy local train station, but quickly deduce that The Lucky Day is no ordinary locomotive. Their trip on this former tea-smuggling train has been curated beyond their wildest imaginations, complete with mysterious and welcoming touches, like ingredients for their favorite breakfast. They seem to be the only people onboard, until Otto discovers a secretive woman who issues a surprising message. As further clues and questions pile up, and the trip upends everything they thought they knew, Otto and Xavier begin to see connections to their own pasts, connections that now bind them together.
Buy it: Bookshop | Amazon | IndieBound
Lark spent the first twenty-four years, nine months, and three days of his life training for a righteous quest: to rid the world of monsters. Alongside his partner Kane, he wore the cage and endured the scourge in order to develop his innate magic. He never thought that when Kane left, he'd next see him in the company of FBI agents and a SWAT team. He never dreamed that the leader of the Fellowship of the Anointed would be brought up on charges of abuse and assault.
He never expected the government would tell him that the monsters aren't real–that there is no magic, and all the pain was for nothing.
Lark isn't ready to give up. He is determined to fulfill his quest, to defeat the monsters he was promised. Along the way he will grapple with the past, confront love, and discover his long-buried truth.
Buy it: Bookshop | Amazon | B&N | IndieBound | Book Depository
JD Scott conjures up unruly personae that are propelled by queer fantasies, youthful regrets, incantations, and apocryphal parables. Mask for Mask is a kaleidoscopic poetry collection, one that is both formally innovative and an imaginative descent into LGBTQ+ undergrounds and underworlds.
Seventeen-year-old Pakistani immigrant Zara Hossain has been leading a fairly typical life in Corpus Christi, Texas, since her family moved there for her father to work as a pediatrician. While dealing with the Islamophobia that she faces at school, Zara has to lay low, trying not to stir up any trouble and jeopardize their family's dependent visa status while they await their green card approval, which has been in process for almost nine years.
But one day her tormentor, star football player Tyler Benson, takes things too far, leaving a threatening note in her locker, and gets suspended. As an act of revenge against her for speaking out, Tyler and his friends vandalize Zara's house with racist graffiti, leading to a violent crime that puts Zara's entire future at risk. Now she must pay the ultimate price and choose between fighting to stay in the only place she's ever called home or losing the life she loves and everyone in it.
Buy it: Bookshop | Amazon | B&N | IndieBound | Book Depository
Over the past ten years, we have witnessed the rise of queer and trans communities that have defied and challenged those who have historically opposed them. Through bold, symbolic imagery and surrealist, overlapping landscapes, queer illustrator and curator Syan Rose shines a light on the faces and voices of these diverse, amorphous, messy, real and imagined queer and trans communities.
In their own words, queer and trans organizers, artists, healers, comrades, and leaders speak honestly and authentically about their own experiences with power, love, pain, and magic to create a textured and nuanced portrait of queer and trans realities in America. The many themes include Black femme mental health, Pacific Islander authorship, fat queer performance art, disability and healthcare practice, sex worker activism, and much more. Accompanying the narratives are Rose's startling and sinuous images that brings these leaders' words to visual life.
Our Work Is Everywhere is a graphic nonfiction book that underscores the brilliance and passion of queer and trans resistance.
Includes a foreword by Lambda Literary Award-winning author and activist Leah Lakshmi Piepzna-Samarasinha, author of Care Work: Dreaming Disability Justice.
Buy it: Bookshop | Amazon | IndieBound
Thirteen-year-old Eli likes baggy clothes, baseball caps, and one girl in particular. Her seventeen-year-old sister Anna is more traditionally feminine; she loves boys and staying out late. They are sisters, and they are also the only family each can count on. Their dad has long been out of the picture, and their mom lives at the mercy of her next drink. When their mom lands herself in enforced rehab, Anna and Eli are left to fend for themselves. With no legal guardian to keep them out of foster care, they take matters into their own hands: Anna masquerades as Aunt Lisa, and together she and Eli hoard whatever money they can find. But their plans begin to unravel as quickly as they were made, and they are always way too close to getting caught.
Buy it: Bookshop | Amazon | IndieBound
"History" sounds really official. Like it's all fact. Like it's definitely what happened.
But that's not necessarily true. History was crafted by the people who recorded it. And sometimes, those historians were biased against, didn't see, or couldn't even imagine anyone different from themselves.
That means that history has often left out the stories of LGBTQIA+ people: men who loved men, women who loved women, people who loved without regard to gender, and people who lived outside gender boundaries. Historians have even censored the lives and loves of some of the world's most famous people, from William Shakespeare and Pharaoh Hatshepsut to Cary Grant and Eleanor Roosevelt.
Join author Lee Wind for this fascinating journey through primary sources―poetry, memoir, news clippings, and images of ancient artwork―to explore the hidden (and often surprising) Queer lives and loves of two dozen historical figures.
Buy it: Bookshop | Amazon | IndieBound
Naomi Grant has built her life around going against the grain. After the sex-positive start-up she cofounded becomes an international sensation, she wants to extend her educational platform to live lecturing. Unfortunately, despite her long list of qualifications, higher ed won't hire her.
Ethan Cohen has recently received two honors: LA Mag named him one of the city's hottest bachelors and he became rabbi of his own synagogue. Taking a gamble in an effort to attract more millennials to the faith, the executive board hired Ethan because of his nontraditional background. Unfortunately, his shul is low on both funds and congregants. The board gives him three months to turn things around or else they'll close the doors of his synagogue for good.
Naomi and Ethan join forces to host a buzzy seminar series on Modern Intimacy, the perfect solution to their problems–until they discover a new one–their growing attraction to each other. They've built the syllabus for love's latest experiment, but neither of them expected they'd be the ones putting it to the test.
Buy it: Bookshop | Amazon | IndieBound
Malice by Heather Walter (13th)
Once upon a time, there was a wicked fairy who, in an act of vengeance, cursed a line of princesses to die. A curse that could only be broken by true love's kiss.
You've heard this before, haven't you? The handsome prince. The happily-ever-after.
Utter nonsense.
Let me tell you, no one in Briar actually cares about what happens to its princesses. Not the way they care about their jewels and elaborate parties and charm-granting elixirs. I thought I didn't care, either.
Until I met her.
Princess Aurora. The last heir to Briar's throne. Kind. Gracious. The future queen her realm needs. One who isn't bothered that I am Alyce, the Dark Grace, abhorred and feared for the mysterious dark magic that runs in my veins. Humiliated and shamed by the same nobles who pay me to bottle hexes and then brand me a monster. Aurora says I should be proud of my gifts. That she . . . cares for me. Even though it was a power like mine that was responsible for her curse.
But with less than a year until that curse will kill her, any future I might see with Aurora is swiftly disintegrating—and she can't stand to kiss yet another insipid prince. I want to help her. If my power began her curse, perhaps it's what can lift it. Perhaps, together, we could forge a new world.
Nonsense again.
Because we all know how this story ends, don't we? Aurora is the beautiful princess. And I—
I am the villain.
Buy it: Bookshop | Amazon | B&N | IndieBound
Tina never worries about being "ordinary"—she doesn't have to, since she's known practically forever that she's not just Tina Mains, average teenager and beloved daughter. She's also the keeper of an interplanetary rescue beacon, and one day soon, it's going to activate, and then her dreams of saving all the worlds and adventuring among the stars will finally be possible. Tina's legacy, after all, is intergalactic—she is the hidden clone of a famed alien hero, left on Earth disguised as a human to give the universe another chance to defeat a terrible evil.
But when the beacon activates, it turns out that Tina's destiny isn't quite what she expected. Things are far more dangerous than she ever assumed–and everyone in the galaxy is expecting her to actually be the brilliant tactician and legendary savior Captain Thaoh Argentian, but Tina….is just Tina. And the Royal Fleet is losing the war, badly–the starship that found her is on the run and they barely manage to escape Earth with the planet still intact.
Luckily, Tina is surrounded by a crew she can trust, and her best friend Rachel, and she is still determined to save all the worlds. But first she'll have to save herself.
Buy it: Bookshop | Amazon | IndieBound
New York, 1949
After years of trying to break into New York City's literary scene, Madeline Slaughter is emotionally and physically exhausted. When a friend offers her a safe haven as the live-in companion to reclusive, bestselling novelist Victor Hallowell she jumps at the chance to escape the city.
Madeline expects to find rest and quiet in the forests of Upstate New York. Instead, she finds Victor, handsome and intensely passionate, and Audrey Coffin, Victor's mysterious and beautiful neighbor.
When Victor offers her a kiss and the promise of more Madeline allows herself to become entangled even as Audrey is also claiming her heart. The only problem is that Audrey and Victor are ex-lovers with plenty of baggage between them. As Madeline finds herself opening up and falling in love with both she starts to wonder, can there be a future for all three?
Buy it: Amazon
When twin heirs are born in Tourin, their fates are decided at a young age. While Izaveta remained at court to learn the skills she'd need as the future queen, Asya was taken away to train with her aunt, the mysterious Firebird, who ensured magic remained balanced in the realm.
But before Asya's training is completed, the ancient power blooms inside her, which can mean only one thing: the queen is dead, and a new ruler must be crowned.
As the princesses come to understand everything their roles entail, they'll discover who they can trust, who they can love—and who killed their mother.
Buy it: Bookshop | Amazon | IndieBound
Defekt by Nino Cipri (20th)
This is the sequel to Finna.
Derek is LitenVärld's most loyal employee. He lives and breathes the job, from the moment he wakes up in a converted shipping container at the edge of the parking lot to the second he clocks out of work 18 hours later. But after taking his first ever sick day, his manager calls that loyalty into question. An excellent employee like Derek, an employee made to work at LitenVärld, shouldn't need time off.
To test his commitment to the job, Derek is assigned to a special inventory shift, hunting through the store to find defective products. Toy chests with pincers and eye stalks, ambulatory sleeper sofas, killer mutant toilets, that kind of thing. Helping him is the inventory team—four strangers who look and sound almost exactly like him. Are five Dereks better than one?
Buy it: Bookshop | Amazon | B&N | IndieBound
Piper Kitts is spending the summer living with her grandmother, training at the barn of a former Olympic horseback rider, and trying to get over her ex-girlfriend. Much to Piper's dismay, her grandmother is making her face her fear of driving head-on by taking lessons from a girl in town.
Kat Pearson has always suspected that she likes girls but fears her North Carolina town is too small to color outside the lines. But when Piper's grandmother hires Kat to give her driving lessons, everything changes.
Piper's not sure if she's ready to let go of her ex. Kat's navigating uncharted territory with her new crush. With the summer running out, will they be able to unlock a future together?
Buy it: Bookshop | Amazon | IndieBound
It's the summer before middle school and eleven-year-old Bug's best friend Moira has decided the two of them need to use the next few months to prepare. For Moira, this means figuring out the right clothes to wear, learning how to put on makeup, and deciding which boys are cuter in their yearbook photos than in real life. But none of this is all that appealing to Bug, who doesn't particularly want to spend more time trying to understand how to be a girl. Besides, there's something more important to worry about: A ghost is haunting Bug's eerie old house in rural Vermont…and maybe haunting Bug in particular. As Bug begins to untangle the mystery of who this ghost is and what they're trying to say, an altogether different truth comes to light—Bug is transgender.
Buy it: Bookshop | Amazon | B&N | IndieBound
Prince Tal has long awaited his coming-of-age tour. After spending most of his life cloistered behind palace walls as he learns to keep his forbidden magic secret, he can finally see his family's kingdom for the first time. His first taste of adventure comes just two days into the journey, when their crew discovers a mysterious prisoner on a burning derelict vessel.
Tasked with watching over the prisoner, Tal is surprised to feel an intense connection with the roguish Athlen. So when Athlen leaps overboard and disappears, Tal feels responsible and heartbroken, knowing Athlen could not have survived in the open ocean.
That is, until Tal runs into Athlen days later on dry land, very much alive, and as charming—and secretive—as ever. But before they can pursue anything further, Tal is kidnapped by pirates and held ransom in a plot to reveal his rumored powers and instigate a war. Tal must escape if he hopes to save his family and the kingdom. And Athlen might just be his only hope…
Buy it: Bookshop | Amazon | IndieBound

This is the fourth book in the Wayfarers series
With no water, no air, and no native life, the planet Gora is unremarkable. The only thing it has going for it is a chance proximity to more popular worlds, making it a decent stopover for ships traveling between the wormholes that keep the Galactic Commons connected. If deep space is a highway, Gora is just your average truck stop.
At the Five-Hop One-Stop, long-haul spacers can stretch their legs (if they have legs, that is), and get fuel, transit permits, and assorted supplies. The Five-Hop is run by an enterprising alien and her sometimes helpful child, who work hard to provide a little piece of home to everyone passing through.
When a freak technological failure halts all traffic to and from Gora, three strangers—all different species with different aims—are thrown together at the Five-Hop. Grounded, with nothing to do but wait, the trio—an exiled artist with an appointment to keep, a cargo runner at a personal crossroads, and a mysterious individual doing her best to help those on the fringes—are compelled to confront where they've been, where they might go, and what they are, or could be, to each other.
Buy it: Bookshop | Amazon | IndieBound
After an embarrassing loss to her ex-girlfriend in their first basketball game of the season, seventeen-year-old Scottie Zajac gets into a fender bender with the worst possible person: her nemesis, Irene Abraham, head cheerleader for the Fighting Reindeer.
Irene is as mean as she is beautiful, so Scottie makes a point to keep her distance. When the accident sends Irene's car to the shop for weeks' worth of repairs and the girls are forced to carpool, their rocky start only gets bumpier.
But when an opportunity arises for Scottie to get back at her toxic ex—and climb her school's social ladder—she bribes Irene into an elaborate fake- dating scheme that threatens to reveal some very real feelings.
Buy it: Bookshop | Amazon | IndieBound

Parker by Jack Harbon (20th)
People come to me because I fix things.
Broken taillights, faulty dishwashers, you name it. There are very few things I can't make brand-new again. If it's broken, malfunctioning, or just in need of a hand, it lands in my lap. That's how Trey ended up in front of me, an unexpected stranger in my kitchen.
Only, he's not broken.
Far from it. He's gentle, creative, compassionate, and bright, all wrapped up in this timid, cagey package of blond curls and shy smiles. He's been dealt a bad hand, running from someone that hurt him more than just physically, and he needs my help. My protection.
But Trey is different from every other guy.
He makes me feel things I don't quite comprehend. Things I didn't know were buried inside. No matter how hard I try to keep them quiet, I can't ignore the way his attention quickens my heartbeat or how his soft eyes and even softer lips stir up desires I've never had before, and now that he's this close to me, I'm not letting anything or anyone take him away.
Buy it: Amazon
This is the final book in the Shadow Players trilogy
Jetta is in the center of a war. With her magical power, she could save everyone, save her country… or she could destroy it all.
Jetta's home is spiraling into civil war. Le Trépas—the deadly necromancer—has used his blood magic to wrest control of the country, and Jetta has been without treatment for her malheur for weeks. Meanwhile, Jetta's love interest, brother, and friend are intent on infiltrating the palace to stop the Boy King and find Le Trépas to put an end to the unleashed chaos.
The sweeping conclusion to Heidi Heilig's ambitious trilogy takes us to new continents, introduces us to new gods, flings us into the middle of palace riots and political intrigue, and asks searching questions about power and corruption. As in the first two books, the story is partly told in ephemera, including original songs, myths, play scripts, and various forms of communication.
Buy it: Bookshop | Amazon | IndieBound
Oscar is a grouch.
That's a well-established fact among his tight-knit friend group, and they love him anyway.
Jack is an ass.
Jack, who's always ready with a sly insult, who can't have a conversation without arguing, and who Oscar may or may not have hooked up with on a strict no-commitment, one-time-only basis. Even if it was extremely hot.
Together, they're a bickering, combative mess.
When Oscar is fired (answering phones is not for the anxiety-ridden), he somehow ends up working for Jack. Maybe while cleaning out Jack's grandmother's house they can stop fighting long enough to turn a one-night stand into a frenemies-with-benefits situation.
The house is an archaeological dig of love and dysfunction, and while Oscar thought he was prepared, he wasn't. It's impossible to delve so deeply into someone's past without coming to understand them at least a little, but Oscar has boundaries for a reason—even if sometimes Jack makes him want to break them all down.
After all, hating Jack is less of a risk than loving him…
Buy it: Bookshop | Amazon | IndieBound
Dean Foster knows he's a trans guy. He's watched enough YouTube videos and done enough questioning to be sure. But everyone at his high school thinks he's a lesbian—including his girlfriend Zoe, and his theater director, who just cast him as a "nontraditional" Romeo. He wonders if maybe it would be easier to wait until college to come out. But as he plays Romeo every day in rehearsals, Dean realizes he wants everyone to see him as he really is now––not just on the stage, but everywhere in his life. Dean knows what he needs to do. Can playing a role help Dean be his true self?
Buy it: Bookshop | Amazon | B&N | IndieBound
Los Angeles, 1986.
A group of right-wing Christians has put an initiative on the November ballot to allow health officials to force people with HIV into quarantine camps―and it looks like it's going to pass. Rios, now living in LA, agrees to be counsel for a group of young activists who call themselves QUEER [Queers United to End Erasure and Repression]. QUEER claims to be committed to peaceful civil disobedience. But when one of its members is implicated in the bombing of an evangelical church that kills its pastor, who publicly supported the quarantine initiative, Rios finds himself with a client suddenly facing the death penalty.
Buy it: Bookshop | Amazon | B&N | IndieBound
Green Glass Ghosts by Rae Spoon, ill. by Gem Hall (27th)
At age nineteen, the queer narrator of Green Glass Ghosts steps off a bus in downtown Vancouver, a city where the faceless condo towers of the wealthy loom over the streets to the east where folks are just trying to get by, against the deceptively beautiful backdrop of snow-capped mountains and sparkling ocean. It's the year 2000, and the world is still mostly analogue–pagers are the best way to get ahold of someone and resumes are printed out on paper and dropped off in person, and what's this new fad called webmail?
Our hopeful hero arrives on the West Coast on the cusp of adulthood, fleeing a traumatic childhood in an unsafe family plagued by religious extremism, mental health crises, and abuse in a conservative town not known for accepting difference. They're eager to build a new life among like-minded folks, and before they know it, they've got a job, an apartment, and a relationship, dancing, busking, and making out in bars, parks, art spaces, and apartments across the city. But their search for belonging and stability is buried in drinking, jealousy, and painful memories of the past, distracting the protagonist from their ultimate goal of playing live music and spurring them to an emotional crisis. If they can't learn to care for themselves, how will they ever find true connection and community?
With haunting illustrations by Gem Hall that conjure the moody, misty urban landscape, Green Glass Ghosts is an evocation of that delicate, aching moment between youth and adulthood when we are trying, and often failing, to become the person we dream ourselves to be.
Buy it: Bookshop | Amazon | IndieBound
The sequel to Anna K, set over the course of the next summer, as the characters come to terms with Vronsky's tragic death
How the mighty have fallen. Anna K, once the golden girl of Greenwich, CT, and New York City, has been brought low by a scandalous sex tape and the tragic death of her first love, Alexia Vronsky. At the beginning of the summer, her father takes her to the other side of the world, to connect with his family in South Korea and hide her away. Is Anna in exile? Or could this be her chance to figure out who she really is?
Back in the U.S., Lolly has forgiven Steven for cheating on her, and their relationship feels stronger than ever. But when Lolly meets a boy at her beloved theater camp, she has to ask herself how well Steven will ever really know her. Meanwhile, in Manhattan, everything between Kimmie and her new boyfriend, Dustin, is easy—except when it comes to finally having sex. And Bea escapes to LA, running away from her grief at her beloved cousin's death, until a beautiful stranger steals her heart. Is Bea ready to finally forgive Anna, and let herself truly fall in love for the very first time?
Set over the course of one unforgettable summer, Jenny Lee's Anna K Away is full of the risk, joy, heartbreak, and adventure that mark the three months between the end of one school year and the beginning of the next.
Buy it: Bookshop | Amazon | IndieBound
Seventeen-year-old Lily Hu can't remember exactly when the question took root, but the answer was in full bloom the moment she and Kathleen Miller walked under the flashing neon sign of a lesbian bar called the Telegraph Club.
America in 1954 is not a safe place for two girls to fall in love, especially not in Chinatown. Red-Scare paranoia threatens everyone, including Chinese Americans like Lily. With deportation looming over her father—despite his hard-won citizenship—Lily and Kath risk everything to let their love see the light of day.
Buy it: Bookshop | B&N | Amazon | IndieBound
It's a hot summer, and life's going all right for Jackson and his family on the Mish. It's almost Christmas, school's out, and he's hanging with his mates, teasing the visiting tourists, avoiding the racist boys in town. Just like every year, Jackson's Aunty and annoying little cousins visit from the city – but this time a mysterious boy with a troubled past comes with them… As their friendship evolves, Jackson must confront the changing shapes of his relationships with his friends, family and community. And he must face his darkest secret – a secret he thought he'd locked away for good.
Buy it: Booktopia | Dymocks | Book Depository
Andre Cobb hopes his luck is finally turning around. After being sick for as long as he can remember, he's finally gotten the liver transplant he desperately needed. Now his life can finally begin. But weeks after the operation, he feels shaky and ill, passes out, and wakes up somewhere totally unexpected…the past.
Somehow, he's slipped through time to the 1960s version of his neighborhood in Boston. While there he meets Michael, who he is instantly connected to. Michael is everything Andre is not. He's free-spirited, artistic, and open to all of life's possibilities.
But just as suddenly as he arrived, Andre slips back to present-day Boston. As he tries to figure out what happened, the family of his donor reaches out to let him know his new liver may have side effects… of the time travel variety. They task their youngest son, Blake, with the job of helping Andre figure out the ins and outs of his new ability.
As Andre trains with Blake, he can't help but feel attracted to him. Blake understands Andre in a way no one else ever has. But every time Andre journeys to the past, he's drawn back into to Michael's world.
Torn between two boys, one in the past and one in the present, Andre has to figure out where he belongs and more importantly who he wants to be before the consequences of jumping in time catch up to him and changes his fate for good.
Buy it: Bookshop | Amazon | B&N | IndieBound
This is the sequel to Infinity Son
Emil and Brighton Rey defied the odds. They beat the Blood Casters and escaped with their lives–or so they thought. When Brighton drank the Reaper's Blood, he believed it would make him invincible, but instead the potion is killing him.
In Emil's race to find an antidote that will not only save his brother but also rid him of his own unwanted phoenix powers, he will have to dig deep into the very past lives he's trying to outrun. Though he needs the help of the Spell Walkers now more than ever, their ranks are fracturing, with Maribelle's thirst for revenge sending her down a dangerous path.
Meanwhile, Ness is being abused by Senator Iron for political gain, his rare shifting ability making him a dangerous weapon. As much as Ness longs to send Emil a signal, he knows the best way to keep Emil safe from his corrupt father is to keep him at a distance.
The battle for peace is playing out like an intricate game of chess, and as the pieces on the board move into place, Emil starts to realize that he may have been competing against the wrong enemy all along.
Buy it: Bookshop | B&N | Amazon | IndieBound
This is the sequel to Scavenge the Stars.
For seven long years, while she was imprisoned on a debtor's ship, Amaya Chandra had one plan: to survive. But now, survival is not enough. She has people counting on her; counting on her for protection, for leadership, for vengeance. And after escaping Moray by the skin of her teeth, she's determined to track down the man who betrayed her and her friends.
Cayo Mercado has lost everything: his money, his father, his reputation. Everything except his beloved sister. But he's well on his way to losing her, too, with no way to afford the treatment for her deadly illness. In a foreign empire also being consumed by ash fever, Cayo has no choice but to join Amaya in uncovering the mystery of the counterfeit currency, the fever, and how his father was involved in their creation. But Cayo still hasn't forgiven Amaya for her earlier deception, and their complicated feelings for each other are getting harder and harder to ignore.
Through glittering galas, dazzling trickery, and thrilling heists, Cayo and Amaya will learn that the corruption in Moray goes far deeper than they know, and in the end the only people they can trust are each other.
Buy it: Amazon | B&N | IndieBound
The Mirror Season by Anna-Marie McLemore (March 16th)
When two teens discover that they were both sexually assaulted at the same party, they develop a cautious friendship through her family's possibly-magical pastelería, his secret forest of otherworldly trees, and the swallows returning to their hometown, in Anna-Marie McLemore's The Mirror Season…
Graciela Cristales' whole world changes after she and a boy she barely knows are assaulted at the same party. She loses her gift for making enchanted pan dulce. Neighborhood trees vanish overnight, while mirrored glass appears, bringing reckless magic with it. And Ciela is haunted by what happened to her, and what happened to the boy whose name she never learned.
But when the boy, Lock, shows up at Ciela's school, he has no memory of that night, and no clue that a single piece of mirrored glass is taking his life apart. Ciela decides to help him, which means hiding the truth about that night. Because Ciela knows who assaulted her, and him. And she knows that her survival, and his, depend on no one finding out what really happened.
Buy it: Bookshop | Amazon | B&N | IndieBound
Bruised by Tanya Boteju (March 23rd)
To Daya Wijesinghe, a bruise is a mixture of comfort and control. Since her parents died in an accident she survived, bruises have become a way to keep her pain on the surface of her skin so she doesn't need to deal with the ache deep in her heart.
So when chance and circumstances bring her to a roller derby bout, Daya is hooked. Yes, the rules are confusing and the sport seems to require the kind of teamwork and human interaction Daya generally avoids. But the opportunities to bruise are countless, and Daya realizes that if she's going to keep her emotional pain at bay, she'll need all the opportunities she can get.
The deeper Daya immerses herself into the world of roller derby, though, the more she realizes it's not the simple physical pain-fest she was hoping for. Her rough-and-tumble teammates and their fans push her limits in ways she never imagined, bringing Daya to big truths about love, loss, strength, and healing.
Buy it: Bookshop | Amazon | B&N | IndieBound
Seventeen-year-old Pakistani immigrant Zara Hossain has been leading a fairly typical life in Corpus Christi, Texas, since her family moved there for her father to work as a pediatrician. While dealing with the Islamophobia that she faces at school, Zara has to lay low, trying not to stir up any trouble and jeopardize their family's dependent visa status while they await their green card approval, which has been in process for almost nine years.
But one day her tormentor, star football player Tyler Benson, takes things too far, leaving a threatening note in her locker, and gets suspended. As an act of revenge against her for speaking out, Tyler and his friends vandalize Zara's house with racist graffiti, leading to a violent crime that puts Zara's entire future at risk. Now she must pay the ultimate price and choose between fighting to stay in the only place she's ever called home or losing the life she loves and everyone in it.
Buy it: Bookshop | Amazon | B&N | IndieBound | Book Depository
Noah Ramirez thinks he's an expert on romance. He has to be for his popular blog, the Meet Cute Diary, a collection of trans happily ever afters. There's just one problem—all the stories are fake. What started as the fantasies of a trans boy afraid to step out of the closet has grown into a beacon of hope for trans readers across the globe.
When a troll exposes the blog as fiction, Noah's world unravels. The only way to save the Diary is to convince everyone that the stories are true, but he doesn't have any proof. Then Drew walks into Noah's life, and the pieces fall into place: Drew is willing to fake-date Noah to save the Diary. But when Noah's feelings grow beyond their staged romance, he realizes that dating in real life isn't quite the same as finding love on the page.
Buy it: Bookshop | Amazon | B&N | IndieBound
When Humaira "Hani" Khan comes out to her friends as bisexual, they immediately doubt her. Apparently, she can't be bi if she's only dated guys. Cornered into proving her sexuality, she tells them she's dating someone—Ishita "Ishu" Dey, the straight A student who seems more concerned with studying than relationships.
When Hani approaches her about fake dating, she agrees on one condition–that Hani help her become more popular so she can win the school's head girl election. It's the perfect plan to help them achieve their goals, until Hani's friends become jealous that she's spending more time with Ishu. They'll do everything they can to drive a wedge between them and ruin Ishu's chances of becoming head girl.
Now, Hani has a decision to make: does she break off her relationship with Ishu for the sake of her friends? Or does she tell Ishu how she really feels and turn their "fake" relationship into something real?
Buy it: Bookshop | Amazon | B&N | IndieBound
Fifteen-year-old Spencer Harris is a proud nerd, an awesome big brother, and a David Beckham in training. He's also transgender. After transitioning at his old school leads to a year of isolation and bullying, Spencer gets a fresh start at Oakley, the most liberal private school in Ohio.
At Oakley, Spencer seems to have it all: more accepting classmates, a decent shot at a starting position on the boys' soccer team, great new friends, and maybe even something more than friendship with one of his teammates. The problem is, no one at Oakley knows Spencer is trans–he's passing. So when a discriminatory law forces Spencer's coach to bench him after he discovers the "F" on Spencer's birth certificate, Spencer has to make a choice: cheer his team on from the sidelines or publicly fight for his right to play, even though it would mean coming out to everyone– including the guy he's falling for.
Buy it: Bookshop | Amazon | B&N | IndieBound | Book Depository
Ace of Spades by Faridah Àbíké-Íyímídé (June 1st/10th)
When two Niveus Private Academy students, Devon Richards and Chiamaka Adebayo, are selected to be part of the elite school's senior class prefects, it looks like their year is off to an amazing start. After all, not only does it look great on college applications, but it officially puts each of them in the running for valedictorian, too.
Shortly after the announcement is made, though, someone who goes by Aces begins using anonymous text messages to reveal secrets about the two of them that turn their lives upside down and threaten every aspect of their carefully planned futures.
As Aces shows no sign of stopping, what seemed like a sick prank quickly turns into a dangerous game, with all the cards stacked against them. Can Devon and Chiamaka stop Aces before things become incredibly deadly?
Buy it: Bookshop | Amazon | B&N | IndieBound | Book Depository
When Nozomi Nagai pictured the ideal summer romance, a fake one wasn't what she had in mind.
That was before she met the perfect girl. Willow is gorgeous, glamorous, and…heartbroken? And when she enlists Nozomi to pose as her new girlfriend to make her ex jealous, Nozomi is a willing volunteer.
Because Nozomi has a master plan of her own: one to show Willow she's better than a stand-in, and turn their fauxmance into something real. But as the lies pile up, it's not long before Nozomi's schemes take a turn toward disaster…and maybe a chance at love she didn't plan for.
Buy it: Bookshop | Amazon | B&N | IndieBound | Book Depository
In a home where social conservatism, machismo, and masculine identity run deep, Corpus Christi, Texas high school senior Julián Luna is forced to keep his gay identity a secret. Jules' only focus is laying low the next ten months and enjoying every moment he has left with his friends before college takes them on separate paths.
Completely doable.
Until Jules wakes up hungover and discovers he came out on Twitter in between tequila shots. In an instant, his entire life is thrown—literally—out the closet.
Helping him navigate the life that is openly gay Jules is Mat, a Twitter mutual from Los Angeles who slides into Jules' DMs. He's friendly, supportive, funny, and so attractive. He's the first person Jules says the words "I'm gay" to. And, if he weren't three states away, could definitely be Jules' first boyfriend.
But a cute boy living halfway across the country can't fix all Jules' problems. There's one thing he'll have to face on his own: coming out to his homophobic father.
Buy it: Bookshop | Amazon | B&N | IndieBound
Dani and Eden Rivera were both born to kill dragons, but the sisters couldn't be more different. For Dani, dragon slaying takes a back seat to normal high school life, while Eden prioritizes training above everything else. Yet they both agree on one thing: it's kill or be killed where dragons are concerned.
Until Dani comes face-to-face with one and forges a rare and magical bond with him. As she gets to know Nox, she realizes that everything she thought she knew about dragons is wrong. With Dani lost to the dragons, Eden turns to the mysterious and alluring sorcerers to help save her sister. Now on opposite sides of the conflict, the sisters will do whatever it takes to save the other. But the two are playing with magic that is more dangerous than they know, and there is another, more powerful enemy waiting for them both in the shadows.
Buy it:Bookshop | Amazon | B&N | IndieBound
Gearbreakers by Zoe Hana Mikuta (June 29th)
The shadow of Godolia's tyrannical rule is spreading, aided by their giant mechanized weapons known as Windups. War and oppression are everyday constants for the people of the Badlands, who live under the thumb of their cruel Godolia overlords.
Eris Shindanai is a Gearbreaker, a brash young rebel who specializes in taking down Windups from the inside. When one of her missions goes awry and she finds herself in a Godolia prison, Eris meets Sona Steelcrest, a cybernetically enhanced Windup pilot. At first Eris sees Sona as her mortal enemy, but Sona has a secret: She has intentionally infiltrated the Windup program to destroy Godolia from within.
As the clock ticks down to their deadliest mission yet, a direct attack to end Godolia's reign once and for all, Eris and Sona grow closer―as comrades, friends, and perhaps something more…
Buy it: Bookshop | Amazon | B&N | IndieBound | Book Depository
Three days. Two girls. One life-changing music festival.
Toni is grieving the loss of her roadie father and needing to figure out where her life will go from here — and she's desperate to get back to loving music. Olivia is a hopeless romantic whose heart has just taken a beating (again) and is beginning to feel like she'll always be a square peg in a round hole — but the Farmland Music and Arts Festival is a chance to find a place where she fits.
The two collide and it feels like something like kismet when a bond begins to form. But when something goes wrong and the festival is sent into a panic, Olivia and Toni will find that they need each other (and music) more than they ever imagined.
Buy it: Bookshop | Amazon | B&N | IndieBound | Book Depository