Young Adult
Seventeen-year-old Yamilet Flores prefers drawing attention for her killer eyeliner, not for being the new kid at a mostly white, very rich, Catholic school. But at least here no one knows she's gay, and Yami intends to keep it that way. After being outed by her crush and ex-best friend, she could use the fresh start.
At Slayton Catholic, Yami has new priorities: make her mom proud, keep her brother out of trouble, and most importantly, don't fall in love. Granted, she's never been great at any of those things, but that's a problem for Future Yami.
The thing is, it's hard to fake being straight when Bo, the only openly queer girl at school, is so annoyingly perfect. And talented. And confident. And cute. So cute. Yami isn't sure if she likes Bo or if she's just jealous of her unapologetic nature. Either way, she isn't ready to make the same mistake again. If word got to her mom, she could face a lot worse than rejection.
Buy it: Amazon | IndieBound
Fallon and Chloe used to be best friends. But last summer, the girls hooked up right before Chloe left for college, and after a series of misunderstandings, they aren't even speaking to one another. Now, a year later, Chloe's back home from school, and Fallon is doing everything in her power to avoid her. Which is especially difficult because their moms own a business together—a gourmet ice cream truck where both girls work.
But when their moms have the opportunity to make a presentation to some venture capitalists in Texas—something that could seriously expand their business and solve all their money problems to boot—it's up to Fallon to work a series of food truck festivals across the country. But she can't do it alone, and Chloe is the only one available to help. As tensions heat up again between the two girls, will Fallon be able to keep her cool?
Buy it: Bookshop | Amazon | IndieBound
Galaxy: The Prettiest Star by Jadzia Axelrod (text) and Jess Taylor (illustration)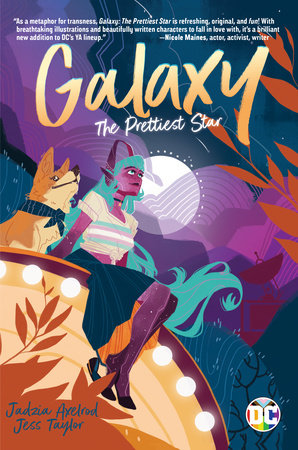 Taylor Barzelay has the perfect life. Good looks, good grades, a starting position on the basketball team, a loving family, even an adorable corgi. Every day in Taylor's life is perfect. And every day is torture.
Taylor is actually the Galaxy Crowned, an alien princess from the planet Cyandii, and one of the few survivors of an intergalactic war. For six long, painful years, Taylor has accepted her duty to remain in hiding as a boy on Earth.
That all changes when Taylor meets Metropolis girl Katherine "call me Kat" Silverberg, whose confidence is electrifying. Suddenly, Taylor no longer wants to hide, even if exposing her true identity could attract her greatest enemies.
Buy it: Amazon | IndieBound
This title was originally published in the Netherlands in 1999. This release is its English translation.
Tycho Zeling is drifting through his life. Everything in it – school, friends, girls, plans for the future – just kind of . happens. Like a movie he presses play on, but doesn't direct.
So Tycho decides to break away from everything. He flies to America to spend his summer as a counselor at a summer camp, for international kids. It is there that Oliver walks in, another counselor, from Norway.
And it is there that Tycho feels his life stop, and begin again, finally, as his.
Buy it: Bookshop | Amazon | IndieBound
Adult
Uncommon Charm by Emily Bergslien and Kat Weaver
In the 1920s gothic comedy Uncommon Charm, bright young socialite Julia and shy Jewish magician Simon decide they aren't beholden to their families' unhappy history. Together they confront such horrors as murdered ghosts, alive children, magic philosophy, a milieu that slides far too easily into surrealist metaphor, and, worst of all, serious adult conversation.
Buy it: Amazon
This is the third book in The Tarot Sequence
As Rune Saint John grapples with the challenges of assuming the Sun Throne, a powerful barrier appears around New Atlantis's famed rejuvenation center. But who could have created such formidable magic . . . what do they want from the immortality clinic . . . and what remains of the dozens trapped inside?
Though Rune and his lifelong bodyguard Brand are tasked with investigating the mysterious barrier, Rune is also busy settling into his new life at court. Claiming his father's throne has irrevocably thrown him into the precarious world of political deception, and he must secure relationships with newfound allies in time to keep his growing found family safe. His relationship with his lover, Addam Saint Nicholas, raises additional political complications they must navigate. But he and Brand soon discover that the power behind the barrier holds a much more insidious, far-reaching threat to his family, to his people, and to the world.
Now, the rulers of New Atlantis must confront an enemy both new and ancient as the flow of time itself is drawn into the conflict. And as Rune finds himself inexorably drawn back to the fall of his father's court and his own torture at the hands of masked conspirators, the secrets that he has long guarded will be dragged into the light—changing the Sun Throne, and New Atlantis, forever.
Buy it: Bookshop | Amazon | IndieBound
Let the Mountains Be My Grave unfolds at breakneck pace in 1944 Italy, where partisan Veleno thinks of nothing but killing as many Nazis as he can before leaving this world. Beloved by the ancient Italic goddess Angitia, Veleno is the perfect person to recover a strange weapon the Nazis are planning to use against the Allies in the battle of Montecassino, but doing so may force him to confront his death differently than he expects.
Part of the 2022 Neon Hemlock Novella Series.
Buy it: Amazon
Panpocalypse by Carley Moore (19th)
This is the pub date for the UK version; it published in the US on April 5th. 
In COVID pandemic-era New York City, Orpheus manages to buy a bicycle just before they sell out across the city. She takes to the streets looking for Eurydice, the first woman she fell in love with, who also broke her heart. The city is largely closed and on lockdown, devoid of touch, connection, and community. But Orpheus hears of a mysterious underground bar Le Monocle, fashioned after the lesbian club of the same name in 1930s Paris.
Will Orpheus be able to find it? Will she ever be allowed to love again? Panpocalypse—first published as an online serial in spring of 2020—follows a lonely, disabled, poly hero in this novel about disease, decay, love, and revolution.
Non-Fiction
Tom Daley captured the hearts of the nation with his unforgettable medal-winning performance in the London 2012 Olympics. At this year's Games in Tokyo, he triumphed to win gold and became the most decorated British diver of all time.
In this deeply personal book, Tom explores the experiences that have shaped him and the qualities to which he owes his contentment and success; from the resilience he developed competing at world-class level, to the courage he discovered while reclaiming the narrative around his sexuality, and the perspective that family life has brought him.
When Putsata Reang was eleven months old, her family fled war-torn Cambodia, spending twenty-three days on an overcrowded navy vessel before finding sanctuary at an American naval base in the Philippines. Holding what appeared to be a lifeless baby in her arms, Ma resisted the captain's orders to throw her bundle overboard. Instead, on landing, Ma rushed her baby into the arms of American military nurses and doctors, who saved the child's life. "I had hope, just a little, you were still alive," Ma would tell Put in an oft-repeated story that became family legend.
Over the years, Put lived to please Ma and make her proud, hustling to repay her life debt by becoming the consummate good Cambodian daughter, working steadfastly by Ma's side in the berry fields each summer and eventually building a successful career as an award-winning journalist. But Put's adoration and efforts are no match for Ma's expectations. When she comes out to Ma in her twenties, it's just a phase. When she fails to bring home a Khmer boyfriend, it's because she's not trying hard enough. When, at the age of forty, Put tells Ma she is finally getting married—to a woman—it breaks their bond in two.
In her startling memoir, Reang explores the long legacy of inherited trauma and the crushing weight of cultural and filial duty. With rare clarity and lyric wisdom, Ma and Me is a stunning, deeply moving memoir about love, debt, and duty.
Buy it: Bookshop | Amazon | IndieBound
In 1931, a sexologist arrived in colonial Shanghai to give a public lecture about homosexuality. In the audience was a medical student, and after the lecture concluded, he introduced himself. The sexologist, Magnus Hirschfeld, fell in love with the medical student, Li Shiu Tong. Li became Hirschfeld's assistant on a lecture tour around the world – the first time in history that a renowned expert defended homosexuality to so many people in so many countries.
Racism and the Making of Gay Rights shows how Hirschfeld laid the groundwork for modern gay rights, and how he did so by borrowing from a disturbing set of racist, imperial, and eugenic ideas. Yet on his journey with Li, Hirschfeld also had inspiring moments – including when he formulated gay rights as a broad, anti-colonial struggle and as a movement that could be linked to Jewish emancipation.
Following Hirschfeld and Li in their travels through the American, Dutch, and British empires, from Manila to Tel Aviv to having tea with Langston Hughes in New York City, and then into exile in Hitler's Europe, Laurie Marhoefer provides a vivid portrait of queer lives in the 1930s and of the turbulent, often-forgotten first chapter of gay rights.
Buy it: Bookshop | Amazon | IndieBound