Lethal Lit follows Tig Torres, a Cuban American teen detective, in her hometown of Hollow Falls. In season one of the hit podcast, Tig used her smarts and fearlessness to track down the infamous "Lit Killer," a serial killer who staged his murders after death scenes from famous books. But there's no rest for courageous, mystery-solving teens in a place like Hollow Falls, and though the Lit Killer is now behind bars, his protégé, Tig's classmate and crush Oly, has disappeared!
And that's not the only game afoot. Tig has caught the attention of the town's local armchair detective group, the Murder of Crows. They're obsessed with Hollow Falls' dark past and fixated on a dangerous search for the missing body of the town's founder. There are rumors about what's buried with the body that could be life-changing for whoever finds it, and with a mission like that underway, it's not long before a member of the Murder of Crows turns up dead.
Tig, along with her friends Max and Wyn, steps in to help, but the stakes are getting higher and the hunt more deadly. Someone's willing to kill to keep the town's secrets buried, and if Tig's not careful, she'll be the Murder of Crows' next victim.
This original Lethal Lit story takes place between Seasons 1 and 2 of the podcast, and features a brand-new, never-before-told story starring Tig Torres and her sleuthing friends!
Buy it: Bookshop | Amazon | IndieBound
All Luis Gonzalez wants is to go to prom with his boyfriend, something his "progressive" school still doesn't allow. Not after what happened with Chaz Wilson. But that was ages ago, when Luis's parents were in high school; it would never happen today, right? He's determined to find a way to give his LGBTQ friends the respect they deserve (while also not risking his chance to be prom king, just saying…).
When a hit on the head knocks him back in time to 1985 and he meets the doomed young Chaz himself, Luis concocts a new plan-he's going to give this guy his first real kiss. Though it turns out a conservative school in the '80s isn't the safest place to be a gay kid. Especially with homophobes running the campus, including Gordo (aka Luis's estranged father). Luis is in over his head, trying not to make things worse-and hoping he makes it back to present day at all.
Buy it: Bookshop | Amazon | IndieBound
The Kindred by Alechia Dow (January 4th)
To save a galactic kingdom from revolution, Kindred mind-pairings were created to ensure each and every person would be seen and heard, no matter how rich or poor…
Joy Abara knows her place. A commoner from the lowly planet Hali, she lives a simple life—apart from the notoriety that being Kindred to the nobility's most infamous playboy brings.
Duke Felix Hamdi has a plan. He will exasperate his noble family to the point that they agree to let him choose his own future and finally meet his Kindred face-to-face.
Then the royal family is assassinated, putting Felix next in line for the throne…and accused of the murders. Someone will stop at nothing until he's dead, which means they'll target Joy, too. Meeting in person for the first time as they steal a spacecraft and flee amid chaos might not be ideal…and neither is crash-landing on the strange backward planet called Earth. But hiding might just be the perfect way to discover the true strength of the Kindred bond and expose a scandal—and a love—that may decide the future of a galaxy.
Buy it: Bookshop | Amazon | IndieBound
Love Somebody by Rachel Roasek (January 11th)
Sam Dickson is a charismatic actress, ambitious and popular with big plans for her future. Ros Shew is one of the smartest people in school–but she's a loner, and prefers to keep it that way. Then there's Christian Powell, the darling of the high school soccer team. He's not the best with communication, which is why he and Sam broke up after dating for six months; but he makes up for it by being genuine, effusive, and kind, which is why they're still best friends.
When Christian falls for Ros on first sight, their first interaction is a disaster, so he enlists Sam's help to get through to her. Sam, with motives of her own, agrees to coach Christian from the sidelines on how to soften Ros's notorious walls. But as Ros starts to suspect Christian is acting differently, and Sam starts to realize the complexity of her own feelings, their fragile relationships threaten to fall apart.
Buy it: Bookshop | Amazon | IndieBound
Sleeping Beauty meets Indiana Jones in this thrilling fairytale retelling for fans of Sorcery of Thorns and All the Stars and Teeth.
Fi is a bookish treasure hunter with a knack for ruins and riddles, who definitely doesn't believe in true love.
Shane is a tough-as-dirt girl warrior from the north who likes cracking skulls, pretty girls, and doing things her own way.
Briar Rose is a prince under a sleeping curse, who's been waiting a hundred years for the kiss that will wake him.
Cursed princes are nothing but ancient history to Fi–until she pricks her finger on a bone spindle while exploring a long-lost ruin. Now she's stuck with the spirit of Briar Rose until she and Shane can break the century-old curse on his kingdom.
Dark magic, Witch Hunters, and bad exes all stand in her way–not to mention a mysterious witch who might wind up stealing Shane's heart, along with whatever else she's after. But nothing scares Fi more than the possibility of falling in love with Briar Rose.
Buy it: Bookshop | Amazon | IndieBound
Icebreaker by A.L. Graziadei (January 18th)
Seventeen-year-old Mickey James III is a college freshman, a brother to five sisters, and a hockey legacy. With a father and a grandfather who have gone down in NHL history, Mickey is almost guaranteed the league's top draft spot.
The only person standing in his way is Jaysen Caulfield, a contender for the #1 spot and Mickey's infuriating (and infuriatingly attractive) teammate. When rivalry turns to something more, Mickey will have to decide what he really wants, and what he's willing to risk for it.
This is a story about falling in love, finding your team (on and off the ice), and choosing your own path.
Buy it: Bookshop | Amazon | IndieBound
Coming Back by Jessi Zabarsky (January 18th)
Preet is magic.
Valissa is not.
Everyone in their village has magic in their bones, and Preet is the strongest of them all. Without any power of her own, how can Valissa ever be worthy of Preet's love? When their home is attacked, Valissa has a chance to prove herself, but that means leaving Preet behind. On her own for the first time Preet breaks the village's most sacred laws, and is rejected from the only home she's ever known and sent into a new world.
Divided by different paths, insecurities, and distance, will Valissa and Preet be able to find their way back to each other?
Buy it: Bookshop | Amazon | IndieBound
The Hope Juvenile Treatment Center is ironically named. No one has hope for the delinquent teenagers who have been exiled there; the world barely acknowledges that they exist.
Then the guards at Hope start acting strange. And one day…they don't show up. But when the teens band together to make a break from the facility, they encounter soldiers outside the gates. There's a rapidly spreading infectious disease outside, and no one can leave their houses or travel without a permit. Which means that they're stuck at Hope. And this time, no one is watching out for them at all.
As supplies quickly dwindle and a deadly plague tears through their ranks, the group has to decide whom among them they can trust and figure out how they can survive in a world that has never wanted them in the first place.
Buy it: Bookshop | Amazon | IndieBound
Emanuela has finally gotten what she's always wanted. Since escaping her catacomb prison, she's become the supreme ruler of everything under the veils. Finally, she has the power to throw aside senseless, old traditions and run things exactly the way they should be.
But when cracks in her magic start to show, Emanuela begrudgingly allies herself with her enemies, including her frustratingly alluring archnemesis, Verene. Together, they discover deeper truths about the mysterious blood magic Emanuela and Verene both wield. There is a higher, otherworldly authority outside the veils, and in order to save Occhia and the other realms, Emanuela may just have to rip another crown off someone's head.
Buy it: Bookshop | Amazon | IndieBound | Book Depository
Sixteen-year-old Dylan Highmark thought his winter was going to be full of boring shifts at the Dairy Queen, until he finds himself in love with a boy who's literally too hot to handle.
Dylan has always wanted a boyfriend, but the suburbs surrounding Philadelphia do not have a lot in the way of options. Then, in walks Jordan, a completely normal (and undeniably cute) boy who also happens to run at a cool 110 degrees Fahrenheit. When the boys start spending time together, Dylan begins feeling all kinds of ways, and when he spikes a fever for two weeks and is suddenly coughing flames, he thinks he might be suffering from something more than just a crush. Jordan forces Dylan to keep his symptoms a secret. But as the pressure mounts and Dylan becomes distant with his closest friends and family, he pushes Jordan for answers. Jordan's revelations of why he's like this, where he came from, and who's after him leaves Dylan realizing how much first love is truly out of this world. And if Earth supports life that breathes oxygen, then love can only keep Jordan and Dylan together for so long.
Buy it: Bookshop | Amazon | IndieBound
Seventeen-year-old Brynn Riley is perfect. She's on a hundred committees, has earned teacher's pet in practically every class she's ever taken, and is on track to make valedictorian—salutatorian if she REALLY slacks off, which, please.
But one night, Brynn makes a mistake.
A big one.
Why wouldn't the cops show up on the one night she's ever cut loose in her life? Why wouldn't she be assigned community service for one tiny mistake (something she would DIE over if word ever got out)? And why, of all things, wouldn't a boy from school happen to work at the pitbull rescue she chooses to do her community service hours at?
Oliver West's dad owns the rescue. And Oliver works there as his second in command. And Brynn and Oliver both know that she absolutely screwed him out of a major opportunity at school not twenty-four hours before she shows up for her community service.
If Brynn doesn't want her secret spilled and her sterling reputation ruined, she'd better start taking Oliver seriously. He'll keep quiet if she helps him land this project (since she ruined it, after all), which requires Brynn to give up her own spot in the running.
As the two get closer, the stakes begin to shift. Brynn starts to want Oliver for more than the community service checkmark, and Oliver, as it turns out, takes Brynn Riley very, very seriously. But, well…you know what they say.
Nothing brings people together like blackmail, pit bulls, and court-ordered community service.
Buy it: Bookshop | Amazon | IndieBound
Flare is power.
With only a drop of flare, one can light the night sky with fireworks . . . or burn a building to the ground — and seventeen-year-old Ingrid Ellis wants her fair share.
Ingrid doesn't have a family fortune, monetary or magical, but at least she has a plan: Rise to the top on the arm of Linden Holt, heir to a hefty political legacy and the largest fortune of flare in all of Candesce. Her only obstacle is Linden's father who refuses to acknowledge her.
So when Senator Holt announces his run for president, Ingrid uses the situation to her advantage. She strikes a deal to spy on the senator's opposition in exchange for his approval and the status she so desperately craves. But the longer Ingrid wears two masks, the more she questions where her true allegiances lie.
Will she stand with the Holts, or will she forge her own path?
Buy it: Bookshop | Amazon | IndieBound
Twenty one-year-old Max Monroe has it all: beauty, friends, and a glittering life filled with adventure. With tons of followers on Instagram, her picture-perfect existence seems eminently enviable.
Except it's all fake.
Max is actually 16-year-old Kat Sanchez, a quiet and sarcastic teenager living in drab Bakersfield, California. Nothing glamorous in her existence–just sprawl, bad house parties, a crap school year, and the awkwardness of dealing with her best friend Hari's unrequited love. But while Kat's life is far from perfect, she thrives as Max: doling out advice, sharing beautiful photos, networking with famous influencers, even making a real friend in a follower named Elena. The closer Elena and "Max" get–texting, Snapping, and even calling–the more Kat feels she has to keep up the façade.
But when one of Max's posts goes ultra-viral and gets back to the very person she's been stealing photos from, her entire world – real and fake — comes crashing down around her. She has to figure out a way to get herself out of the huge web of lies she's created without hurting the people she loves.
But it might already be too late.
Buy it: Bookshop | Amazon | IndieBound

Loveless by Alice Oseman (February 1st)
This is the US edition. The UK edition was published in 2020.
This is the funny, honest, messy, completely relatable story of Georgia, who doesn't understand why she can't crush and kiss and make out like her friends do. She's surrounded by the narrative that dating + sex = love. It's not until she gets to college that she discovers the A range of the LGBTQIA+ spectrum — coming to understand herself as asexual/aromantic. Disrupting the narrative that she's been told since birth isn't easy — there are many mistakes along the way to inviting people into a newly found articulation of an always-known part of your identity. But Georgia's determined to get her life right, with the help of (and despite the major drama of) her friends.
Buy it: Bookshop | Amazon | IndieBound
Hannah's whole life has been spent in motion. Her mother has kept her and her brother, Gabe, on the road for as long as she can remember, leaving a trail of rental homes and faded relationships behind them. No roots, no family but one another, and no explanations.
All of that changes on Hannah's seventeenth birthday when she wakes up transformed, a pair of golden eyes with knife-slit pupils blinking back at her from the mirror—the first of many such impossible mutations. Promising that she knows someone who can help, her mother leaves Hannah and Gabe behind to find a cure. But as the days turn to weeks and their mother doesn't return, they realize it's up to them to find the truth.
What they discover is a family they never knew, and a history more tragic and fantastical than Hannah could have dreamed—one that stretches back to her grandmother's childhood in Prague under the Nazi occupation, and beyond, into the realm of Jewish mysticism and legend.  As the past comes crashing into the present, Hannah must hurry to unearth their family's secrets—and confront her own hidden legacy in order to break the curse and save the people she loves most, as well as herself.
Rebecca Podos, award-winning author of Like Water, returns with a contemporary fantasy of enduring love, unfathomable loss, and the power of stories to hold us together when it seems that nothing else can.
Buy it: Bookshop | Amazon | B&N | B-A-M | IndieBound
Golden Boys by Phil Stamper (February 8th)
It's the summer before senior year. Gabriel, Reese, Sal, and Heath are best friends, bonded in their small, rural town by their queerness, their good grades, and their big dreams. But they have plans for the summer, each about to embark on a new adventure.
Gabriel is interning at an environmental nonprofit in Boston.
Reese is attending design school in Paris.
Sal is volunteering on Capitol Hill for a senator.
Heath is heading to Florida, to help out at his aunt's boardwalk arcade.
What will this season of world-expanding travel and life-changing experiences mean for each of them–and for their friendship?
Buy it: Bookshop | Amazon | IndieBound
When they were kids, Fassen's fighter spaceship crash-landed on a planet that Lu's survey force was exploring. It was a forbidden meeting between a kid from a war-focused resistance movement and a kid whose community and planet are dedicated to peace and secrecy.
Lu and Fassen are from different worlds and separate solar systems. But their friendship keeps them in each other's orbit as they grow up. They stay in contact in secret as their communities are increasingly threatened by the omnipresent, ever-expanding empire.
As the empire begins a new attack against Fassen's people–and discovers Lu's in the process–the two of them have the chance to reunite at last. They finally are able to be together…but at what cost?
This beautifully illustrated graphic novel is an epic science fiction romance between two non-binary characters as they find one another through time, distance, and war.
Buy it: Bookshop | Amazon | IndieBound
Ophelia Rojas knows what she likes: her best friends, Cuban food, rose-gardening, and boys – way too many boys. Her friends and parents make fun of her endless stream of crushes, but Ophelia is a romantic at heart. She couldn't change, even if she wanted to.
So when she finds herself thinking more about cute, quiet Talia Sanchez than the loss of a perfect prom with her ex-boyfriend, seeds of doubt take root in Ophelia's firm image of herself. Add to that the impending end of high school and the fracturing of her once-solid friend group, and things are spiraling a little out of control. But the course of love―and sexuality―never did run smooth. As her secrets begin to unravel, Ophelia must make a choice between clinging to the fantasy version of herself she's always imagined or upending everyone's expectations to rediscover who she really is, after all.
Buy it: Bookshop | Amazon | IndieBound
Cold by Mariko Tamaki (February 8th)
A boy, a murder, a girl, a secret. From award-winning author Mariko Tamaki comes Cold, a haunting YA novel about a shocking crime in a quiet town and four students who knew too much and said too little.
This is the story of a boy who died―and a girl who wants to know why.
Todd Mayer is dead. Now he's some sort of ghost, hovering over his body, which has just been found in the town park, naked and frozen in the snow. As detectives investigate Todd's homicide,Todd replays the events that lead him to his end in the park.
Georgia didn't know Todd. But she can't stop thinking about him. Maybe because they're both outcasts at their school, or because they're both queer. It might also be because Georgia has a feeling she's seen Todd somewhere before, somewhere he wasn't supposed to be.
Told through the voices of Todd in his afterlife and Georgia as she uncovers the truth behind his death, Cold is an immersive, emotional, and provocative read.
Buy it: Bookshop | Amazon | IndieBound
Beth Kramer is a "townie" who returns to her sophomore year after having endured a year of judgment from her roommate, Sarah.
But Sarah Brunson knows there's more to that story.
Amanda Priya "Spence" Spencer is the privileged daughter of NYC elites, who is reeling from the realization that her family name shielded her from the same fate as Sarah.
Ramin Golafshar arrives at Chandler as a transfer student to escape the dangers of being gay in Iran, only to suffer brutal hazing under the guise of tradition in the boys' dorms.
And Freddy Bello is the senior who's no longer sure of his future but has fallen hard for Spence and knows he has to stand up to his friends after what happened to Ramin.
At Chandler, the elite boarding school, these five teens are brought together in the Circle, a coveted writing group where life-changing friendships are born—and secrets are revealed. Their professor tells them to write their truths. But is the truth enough to change the long-standing culture of abuse at Chandler? And can their friendship survive the fallout?
Buy it: Bookshop | Amazon | IndieBound
Extasia by Claire Legrand (February 22nd)
Her name is unimportant.
All you must know is that today she will become one of the four saints of Haven. The elders will mark her and place the red hood on her head. With her sisters, she will stand against the evil power that lives beneath the black mountain–an evil which has already killed nine of her village's men.
She will tell no one of the white-eyed beasts that follow her. Or the faceless gray women tall as houses. Or the girls she saw kissing in the elm grove.
Today she will be a saint of Haven. She will rid her family of her mother's shame at last and save her people from destruction. She is not afraid. Are you?
This searing and lyrically written novel by the critically acclaimed author of Sawkill Girls beckons readers to follow its fierce heroine into a world filled with secrets and blood–where the truth is buried in lies and a devastating power waits, seething, for someone brave enough to use it.
Buy it: Bookshop | Amazon | IndieBound
One small fandom convention. One teen beauty pageant.
One meet cute waiting to happen.
Up and coming fanfic author Kaylee Beaumont is internally screaming at the chance to finally meet her fandom friends in real life and spend a weekend at GreatCon. She also has a side quest for the weekend:
Try out they/them pronouns to see how it feels
Wear more masculine-presenting cosplay
Kiss a girl for the first time
It's… a lot, and Kay mostly wants to lie face down on the hotel floor. Especially when her hometown bully, Miss North Carolina, shows up in the very same hotel. But there's this con-sponsored publishing contest, and the chance to meet her fandom idols… and then, there's Teagan.
Pageant queen Teagan Miller (Miss Virginia) has her eye on the much-needed prize: the $25,000 scholarship awarded to the winner of the Miss Cosmic Teen USA pageant. She also has secrets:
She loves the dresses but hates the tiaras
She's a giant nerd for everything GreatCon
She's gay af
If Teagan can just keep herself wrapped up tight for one more weekend, she can claim the scholarship and go off to college out and proud. If she's caught, she could lose everything she's worked for. If her rival, Miss North Carolina, has anything to do with it, that's exactly how it'll go down.
When Teagan and Kay bump into one another the first night, sparks fly. Their connection is intense—as is their shared enemy. If they're spotted, the safe space of the con will be shattered, and all their secrets will follow them home. The risks are great… but could the reward of embracing their true selves be worth it?
Buy it: Bookshop | Amazon | B&N | IndieBound
After Philly teenager Alexis Duncan is injured in a gang shooting, her dreams of a college scholarship and pro basketball career vanish in an instant. To avoid becoming another Black teen trapped in her poverty-stricken neighborhood, she shifts her focus to the school's STEM team, a group of nerds seeking their own college scholarships. Academics have never been her thing, but Alexis is freshly motivated by Aamani Chakrabarti, the new Indian student who becomes her mentor (and crush?). Alexis begins to see herself as so much more than an athlete. But just as her future starts to reform, Alexis's own doubts and old loyalties pull her back into harm's way.
Buy it: Bookshop | Amazon | IndieBound
This was previously published in Australia as The Boy From the Mish.
A remarkable YA love story between two Aboriginal boys — one who doesn't want to accept he's gay, and the boy who comes to live in his house who makes him realize who he is.
It's a hot summer, and life's going all right for Jackson and his family on the Mish. It's almost Christmas, school's out, and he's hanging with his mates, teasing the visiting tourists, avoiding the racist boys in town. Just like every year, Jackson's Aunty and annoying little cousins visit from the city — but this time a mysterious boy with a troubled past comes with them. As their friendship evolves, Jackson must confront the changing shapes of his relationships with his friends, family and community. And he must face his darkest secret — a secret he thought he'd locked away for good.
Buy it: Bookshop | Amazon | IndieBound
Lakelore by Anna-Marie McLemore (March 8th)
In this young adult novel by award-winning author Anna-Marie McLemore, two non-binary teens are pulled into a magical world under a lake – but can they keep their worlds above water intact?
Everyone who lives near the lake knows the stories about the world underneath it, an ethereal landscape rumored to be half-air, half-water. But Bastián Silvano and Lore Garcia are the only ones who've been there. Bastián grew up both above the lake and in the otherworldly space beneath it. Lore's only seen the world under the lake once, but that one encounter changed their life and their fate.
Then the lines between air and water begin to blur. The world under the lake drifts above the surface. If Bastián and Lore don't want it bringing their secrets to the surface with it, they have to stop it, and to do that, they have to work together. There's just one problem: Bastián and Lore haven't spoken in seven years, and working together means trusting each other with the very things they're trying to hide.
Buy it: Bookshop | Amazon | IndieBound
When Andrew stumbles upon Jamie's house, he's injured, starved, and has nothing left to lose. A deadly pathogen has killed off most of the world's population, including everyone both boys have ever loved. And if this new world has taught them anything, it's to be scared of what other desperate people will do . . . so why does it seem so easy for them to trust each other?
After danger breaches their shelter, they flee south in search of civilization. But something isn't adding up about Andrew's story, and it could cost them everything. And Jamie has a secret, too. He's starting to feel something more than friendship for Andrew, adding another layer of fear and confusion to an already tumultuous journey.
The road ahead of them is long, and to survive, they'll have to shed their secrets, face the consequences of their actions, and find the courage to fight for the future they desire, together. Only one thing feels certain: all that's left in their world is the undeniable pull they have toward each other.
Buy it: Bookshop | Amazon | B&N | IndieBound | Book Depository

Great or Nothing by Joy McCullough, Caroling Tung Richmond, Jessica Spotswood, and Tess Sharpe (March 8th)
A reimagining of Little Women set in the spring of 1942, when the United States is suddenly embroiled in the second World War, this story, told from each March sister's point of view, is one of grief, love, and self-discovery.
In the spring of 1942, the United States is reeling from the attack on Pearl Harbor. While the US starts sending troops to the front, the March family of Concord, Massachusetts grieves their own enormous loss: the death of their daughter, Beth.
Under the strain of their grief, Beth's remaining sisters fracture, each going their own way with Jo nursing her wounds and building planes in Boston, Meg holding down the home front with Marmee, and Amy living a secret life as a Red Cross volunteer in London–the same city where one Mr. Theodore Laurence is stationed as an army pilot.
Each March sister's point of view is written by a separate author, three in prose and Beth's in verse, still holding the family together from beyond the grave. Woven together, these threads tell a story of finding one's way in a world undergoing catastrophic change.
Buy it: Bookshop | Amazon | IndieBound
And They Lived… by Steven Salvatore (March 8th)
Chase Arthur is a budding animator and hopeless romantic obsessed with Disney films and finding his true love, but he's plagued with the belief that he's not enough for anyone: he's recovering from an eating disorder and suffers from body dysmorphia fueled by his father, and can't quite figure out his gender identity. When Chase starts his freshman year of college, he has to navigate being away from home and missing his sister, finding his squad, and contending with his ex-best friend Leila who is gunning for the same exclusive mentorship. If only he can pull together a short for the freshman animation showcase at the end of the semester.
Then Chase meets Jack Reid, a pragmatic poet who worships words and longs to experience life outside of his sheltered world. But Chase throws everything into question for Jack, who is still discovering his sexual identity, having grown up in close-knit conservative family. Jack internalized a lot of homophobia from his parents and childhood best friend, who unexpectedly visit campus, which threatens to destroy their relationship. Chase will have to learn to love–and be enough for–himself, while discovering what it means to truly live.
Buy it: Bookshop | Amazon | IndieBound
Forward March by Skye Quinlan (March 8th)
All Harper McKinley wants is for her dad's presidential campaign to not interfere with her senior marching band season.
But Harper's world gets upended when the drumline's punk-rock section leader, Margot Blanchard, tries to reject her one day after practice. Someone pretending to be Harper on Tinder catfished Margot for a month and now she's determined to get to know the real Harper.
But the real Harper has a homophobic mother who's the dean and a father who is running for president on the Republican ticket. With the election at stake, neither of them are happy about Harper's new friendship with out-and-proud Margot.
As the election draws closer, Harper is forced to figure out if she even likes girls, if she might be asexual, and if it's worth coming out at all.
Buy it: Bookshop | Amazon | B&N | IndieBound
School's out, senior year is over, and Isaac Martin is ready to kick off summer. His last before heading off to college in the fall where he won't have his best friend, Diego. Where—despite his social anxiety—he'll be left to make friends on his own. Knowing his time with Diego is limited, Isaac enacts a foolproof plan: snatch up a pair of badges for the epic comic convention, Legends Con, and attend his first ever Teen Pride. Just him and Diego. The way it should be. But when an unexpected run-in with Davi—Isaac's old crush—distracts him the day tickets go on sale, suddenly he's two badges short of a perfect summer. Even worse, now he's left making it up to Diego by hanging with him and his gamer buddies. Decidedly NOT part of the original plan. It's not all bad, though. Some of Diego's friends turn out to be pretty cool, and when things with Davi start heating up, Isaac is almost able to forget about his Legends Con blunder. Almost. Because then Diego finds out what really happened that day with Davi, and their friendship lands on thin ice. Isaac assumes he's upset about missing the convention, but could Diego have other reasons for avoiding Isaac?
Buy it: Bookshop | Amazon | IndieBound
Take Her Down by Lauren Emily Whalen (March 15th)
In this queer YA retelling of Shakespeare's Julius Caesar, stakes at Augustus Magnet School are cutthroat, scheming is creative, and loyalty is ever-changing.
Overnight, Bronwyn St. James goes from junior class queen to daughter of an imprisoned felon, and she lands in the care of her aunt and younger cousin Cass, a competitive cheerleader who Bronwyn barely knows. Life gets worse when her ex-best friend, the always-cool Jude Cuthbert, ostracizes Bronwyn from the queer social elite for dating a boy, Porter Kendrick.
Bronwyn and Jude are both running for student body president, and that means war. But after Bronwyn, Porter, and Cass share a video of Jude in a compromising position, Jude suddenly goes missing. No one has seen her for weeks and it might be all Bronwyn's fault.
Will Jude ever be found? Or will Bronwyn finally have to reckon with what she's won―and what she's lost?
Buy it: Bookshop |Amazon | Bold Strokes Books | IndieBound
After a decade of dedicated ballet practice, one missed step on a flight of stairs lands Luca in the hospital with a titanium plate screwed into his foot. Without ballet, he loses his friends, his school, and his perfect future.
As Luca settles into his new life, he strikes up an unlikely friendship with the least popular (and nicest) girl in his new school, Amina, and the gorgeous, popular, and (allegedly) straight, Jordan Tanaka-Jones.
With his dancing dreams dead on their feet, Luca has to figure out who he is without ballet. And to do that he'll have to unlearn his prejudices about the school on the "bad" side of town, make friends who aren't always competing against him, and figure out if love is worth being a skeleton in someone else's closet.
Buy it: Bookshop | Amazon | IndieBound
For as long as they can remember, Aaron and Oliver have only ever had each other. In a small town with few queer teenagers, let alone young trans men, they've shared milestones like coming out as trans, buying the right binders—and falling for each other.
But just as their relationship has started to blossom, Aaron moves away. Feeling adrift, separated from the one person who understands them, they seek solace in digging deep into the annals of America's past. When they discover the story of two Revolutionary War soldiers who they believe to have been trans man in love, they're inspired to pay tribute to these soldiers by adopting their names—Aaron and Oliver. As they learn, they delve further into unwritten queer stories, and they discover the transformative power of reclaiming one's place in history.
Buy it: Bookshop | Amazon | IndieBound
Kiss & Tell by Adib Khorram (March 22nd)
Hunter never expected to be a boy band star, but, well, here he is. He and his band Kiss & Tell are on their first major tour of North America, playing arenas all over the United States and Canada (and getting covered by the gossipy press all over North America as well). Hunter is the only gay member of the band, and he just had a very painful breakup with his first boyfriend–leaked sexts, public heartbreak, and all–and now everyone expects him to play the perfect queer role model for teens.
But Hunter isn't really sure what being the perfect queer kid even means. Does it mean dressing up in whatever The Label tells him to wear for photo shoots and pretending never to have sex? (Unfortunately, yes.) Does it mean finding community among the queer kids at the meet-and-greets after K&T's shows? (Fortunately, yes.) Does it include a new relationship with Kaivan, the star of the band opening for K&T on tour? (He hopes so.) But when The Label finds out about Hunter and Kaivan, it spells trouble—for their relationship, for the perfect gay boy Hunter plays for the cameras, and, most importantly, for Hunter himself.
Buy it: Bookshop | Amazon | IndieBound
After her eighteenth birthday, Hilde, an orphan in 1930s Berlin, goes out into the world hoping to find her place. She comes up short, at least until she stumbles into Café Lila, a vibrant cabaret full of love and music, and meets Rosa, the club's waitress and performer, whom she can't take her eyes off of. There, Hilde starts to find her voice and embrace her blossoming feelings for Rosa.
But Berlin is in turmoil. Between elections, protests in the streets, and the growing unrest in Café Lila itself, Hilde will have to decide what's best for her future . . . and what it means to love a place that will soon be changed forever.
Buy it: Bookshop | Amazon | B&N | IndieBound

Jamal Lawson just wanted to be a part of something. As an aspiring journalist, he packs up his camera and heads to Baltimore to document a rally protesting police brutality after another Black man is murdered.
But before it even really begins, the city implements a new safety protocol…the Dome. The Dome surrounds the city, forcing those within to subscribe to a total militarized shutdown. No one can get in, and no one can get out.
Alone in a strange place, Jamal doesn't know where to turn…until he meets hacker Marco, who knows more than he lets on, and Catherine, an AWOL basic-training-graduate, whose parents helped build the initial plans for the Dome.
As unrest inside of Baltimore grows throughout the days-long lockdown, Marco, Catherine, and Jamal take the fight directly to the chief of police. But the city is corrupt from the inside out, and it's going to take everything they have to survive.
Buy it: Bookshop | Amazon | IndieBound
A
rek hadn't thought much about what would happen after he completed the prophecy that said he was destined to save the Kingdom of Ere from its evil ruler. So now that he's finally managed to (somewhat clumsily) behead the evil king (turns out magical swords yanked from bogs don't come pre-sharpened), he and his rag-tag group of quest companions are at a bit of a loss for what to do next.
As a temporary safeguard, Arek's best friend and mage, Matt, convinces him to assume the throne until the true heir can be rescued from her tower. Except that she's dead. Now Arek is stuck as king, a role that comes with a magical catch: choose a spouse by your eighteenth birthday, or wither away into nothing.
With his eighteenth birthday only three months away, and only Matt in on the secret, Arek embarks on a desperate bid to find a spouse to save his life—starting with his quest companions. But his attempts at wooing his friends go painfully and hilariously wrong…until he discovers that love might have been in front of him all along.
Buy it: Bookshop | Amazon | IndieBound
Dig Two Graves by Gretchen McNeil (March 29th)
I did my part, BFF. Now it's your turn.
Seventeen-year-old film noir fan Neve Lanier is a girl who just wants to be seen, but doesn't really fit in anywhere. When Neve is betrayed by her best friend, Yasmin, at the end of the school year, she heads off to a girl's empowerment camp feeling like no one will ever love her again. So when she grabs the attention of the beautiful, charismatic Diane, she falls right under her spell, and may accidentally promise to murder Diane's predatory step-brother, Javier, in exchange for Diane murdering Yasmin. But that was just a joke…right?
Wrong. When Yasmin turns up dead, Diane comes calling, attempting to blackmail Neve into murdering Javier. Stalling for time, Neve pretends to go along with Diane's plan until she can find a way out that doesn't involve homicide. But as she gets to know Javier – and falls for him – she realizes that everything Diane told her is a lie. Even worse, she discovers that Yasmin probably wasn't Diane's first victim. And unless Neve can stop her, she won't be the last
Buy it: Amazon | IndieBound
The Fountains of Silence meets Spinning Silver in this rollicking tale set amid the 1956 Hungarian revolution in post-WWII Communist Budapest from Sydney Taylor Honor winner Katherine Locke.
In the middle of Budapest, there is a river. Csilla knows the river is magic. During WWII, the river kept her family safe when they needed it most–safe from the Holocaust. But that was before the Communists seized power. Before her parents were murdered by the Soviet police. Before Csilla knew things about her father's legacy that she wishes she could forget.
Now Csilla keeps her head down, planning her escape from this country that has never loved her the way she loves it. But her carefully laid plans fall to pieces when her parents are unexpectedly, publicly exonerated. As the protests in other countries spur talk of a larger revolution in Hungary, Csilla must decide if she believes in the promise and magic of her deeply flawed country enough to risk her life to help save it, or if she should let it burn to the ground.
Buy it: Bookshop | Amazon | IndieBound
Finch Chamberlin is the newest transfer student to the ultra-competitive Ulalume Academy… but she's also not what she seems. Months before school started, Finch and her parents got into an accident that should have left her dead at the bottom of a river. But something monstrous, and ancient, and terrifying, wouldn't let her drown. Finch doesn't know why she woke up after her heart stopped, but since dying she's felt a constant pull from the school and the surrounding town of Rainwater, like something on the island is calling to her.
Selena St. Clair sees right through Finch, and she knows something is seriously wrong with her. But despite Selena's suspicion, she feels drawn to Finch and has a sinking feeling that from now on the two will be inexplicably linked to one another.
One night Finch, Selena, and her friends accidentally summon a carnivorous creature of immense power in the depths of the school. It promises to grant every desire the girls have kept locked away in their insecure hearts―beauty, power,adoration―in exchange for a price: human body parts. But as the cost of their wanting becomes more deadly, Finch and Selena must learn to work together to stop the horror they unleashed, before it consumes the entire island.
Buy it: Bookshop | Amazon | IndieBound
Two girls.
One wild and reckless day.
Years of a tumultuous history unspooling
like thin, fraying string in the hours after they set a fire.
They were best friends. Until they became more.
Their affections grew. Until the blurry lines became dangerous.
Over the course of a single day, the depth of their past, the confusion of their present, and the unpredictability of their future is revealed.
And the girls will learn that hearts, like flames, aren't so easily tamed.
It starts with a fire.
How will it end?
Buy it: Bookshop | Amazon | IndieBound
Reputation by Lex Croucher (April 5th)
Abandoned by her parents, bookish and sheltered Georgiana Ellers is spending the summer with her stodgy aunt and uncle at their home in the English countryside. At a particularly dull party, she meets the enigmatic Frances Campbell, a wealthy member of the in-crowd who delights Georgiana with her disregard for so-called "polite society."
Lonely and vulnerable, Georgiana quickly falls in with Frances and her wealthy, wild, and deeply improper friends, who introduce her to the upper echelons of Regency aristocracy, and a world of drunken debauchery, frivolous spending, and mysterious young men. One, in particular, stands out from the rest: Thomas Hawksley, who has a tendency to cross paths with Georgiana in her most embarrassing moments. Sparks fly, but Thomas seems unimpressed with the company she is keeping. And soon, Georgiana begins to wonder whether she'll ever feel like she fits in––or if the price of entry into Frances's gilded world will ultimately be higher than she is willing to pay.
Buy it: Bookshop | Amazon | IndieBound
She Gets the Girl by Rachael Lippincott and Alyson Derrick (April 5th)
Alex Blackwood is a little bit headstrong, with a dash of chaos and a whole lot of flirt. She knows how to get the girl. Keeping her on the other hand…not so much. Molly Parker has everything in her life totally in control, except for her complete awkwardness with just about anyone besides her mom. She knows she's in love with the impossibly cool Cora Myers. She just…hasn't actually talked to her yet.
Alex and Molly don't belong on the same planet, let alone the same college campus. But when Alex, fresh off a bad (but hopefully not permanent) breakup, discovers Molly's hidden crush as their paths cross the night before classes start, they realize they might have a common interest after all. Because maybe if Alex volunteers to help Molly learn how to get her dream girl to fall for her, she can prove to her ex that she's not a selfish flirt. That she's ready for an actual commitment. And while Alex is the last person Molly would ever think she could trust, she can't deny Alex knows what she's doing with girls, unlike her.
As the two embark on their five-step plans to get their girls to fall for them, though, they both begin to wonder if maybe they're the ones falling…for each other.
Buy it: Bookshop | Amazon | IndieBound
Sequel to Victories Greater Than Death, this is the second book in the Unstoppable series
They'll do anything to be the people they were meant to be — even journey into the heart of evil.

Rachael Townsend is the first artist ever to leave Earth and journey out into the galaxy — but after an encounter with an alien artifact, she can't make art at all. Elza Monteiro is determined to be the first human to venture inside the Palace of Scented Tears and compete for the chance to become a princess — except that inside the palace, she finds the last person she ever wanted to see again. Tina Mains is studying at the Royal Space Academy with her friends, but she's not the badass space hero everyone was expecting. Soon Rachael is journeying into a dark void, Elza is on a deadly spy mission, and Tina is facing an impossible choice that could change all her friends lives forever.
Buy it: Bookshop | Amazon | IndieBound
High school junior Blaine Bowers has it all—the perfect boyfriend, a pretty sweet gig as a muralist for local Windy City businesses, a loving family, and awesome, talented friends. And he is absolutely, 100% positive that aforementioned perfect boyfriend—​senior student council president and Mr. Popular of Wicker West High School, Joey—is going to invite Blaine to spend spring break with his family in beautiful, sunny Cabo San Lucas.
Except Joey breaks up with him instead. In public. On their one-year anniversary.
Because, according to Joey, Blaine is too goofy, too flighty, too…unserious. And if Joey wants to go far in life, he needs to start dating more serious guys. Guys like Zach Chesterton.
Determined to prove that Blaine can be what Joey wants, Blaine decides to enter the running to become his successor (and beat out Joey's new boyfriend, Zach) as senior student council president.
But is he willing to sacrifice everything he loves about himself to do it?
Buy it: Bookshop | Amazon | IndieBound
Music runs in Sofi's blood.
Her father is a Musik, one of only five musicians in the country licensed to compose and perform original songs. In the kingdom of Aell, where winter is endless and magic is accessible to all, there are strict anti-magic laws ensuring music remains the last untouched art.
Sofi has spent her entire life training to inherit her father's title. But on the day of the auditions, she is presented with unexpected competition in the form of Lara, a girl who has never before played the lute. Yet somehow, to Sofi's horror, Lara puts on a performance that thoroughly enchants the judges.
Almost like magic.
The same day Lara wins the title of Musik, Sofi's father dies, and a grieving Sofi sets out to prove Lara is using illegal magic in her performances. But the more time she spends with Lara, the more Sofi begins to doubt everything she knows about her family, her music, and the girl she thought was her enemy.
As Sofi works to reclaim her rightful place as a Musik, she is forced to face the dark secrets of her past and the magic she was trained to avoid—all while trying not to fall for the girl who stole her future.
Buy it: Bookshop | Amazon | IndieBound
In this daring tale of female agency and revenge from a New York Times bestselling author, a girl becomes a teenage vigilante who roams Victorian England using her privilege and power to punish her friends' abusive suitors and keep other young women safe.
Adele grew up in the shadows—of her broken family, of the gloomy manor halls of her lonely childhood. So when she's finally sent away to boarding school, she's happy to enter the brightly lit world of society girls and their wealthy suitors.
Yet there are shadows there, too. Many of the men that try to charm Adele's new friends do so with dark intentions. After a violent assault, she turns to a roguish young con woman for help. Together, they become vigilantes meting out justice. But can Adele save herself from the same fate as those she protects?
Buy it: Bookshop | Amazon | IndieBound
Pie is the ghost in your house.
She is not dead, she is invisible.
The way she looks changes depending on what is behind her. A girl of glass. A girl who is a window. If she stands in front of floral wallpaper she is full of roses.
For Pie's entire life it's been Pie and her mother. Just the two of them, traveling across America. They have slept in trains, in mattress stores, and on the bare ground. They have probably slept in your house.
But Pie is lonely. And now, at seventeen, her mother's given her a gift. The choice of the next city they will go to. And Pie knows exactly where she wants to go. Pittsburgh—where she fell in love with a girl who she plans to find once again. And this time she will reveal herself.
Only how can anyone love an invisible girl?
Buy it: Bookshop | Amazon | IndieBound
Six years ago, three Long Island teenagers were murdered—their drowned bodies discovered with sand dollars placed over their eyes. The mystery of the drowning summer was never solved, but as far as the town's concerned, Evelyn Mackenzie's father did it. His charges were dropped only because Evelyn summoned a ghost to clear his name. She swore never to call a spirit again. She lied.
For generations, the family of Mina Zanetti, a former friend of Evelyn, has worked as mediums, using the ocean's power to guide the dead to their final resting place. But as sea levels rise, the ghosts grow more dangerous and Mina has been shut out of the family business. When Evelyn performs another summoning that goes horribly wrong, the two girls must navigate their growing attraction to each other while solving the mystery of who was really behind the drowning summer…before the line between life and death dissolves for good.
Buy it: Bookshop | Amazon | IndieBound
Enrique "Quique" Luna has one goal this summer—get over his crush on Saleem Kanazi by pursuing his other romantic prospects. Never mind that he's only out to his best friend, Fabiola. Never mind that he has absolutely zero game. And definitely forget the fact that good and kind and, not to mention, beautiful Saleem is leaving LA for the summer to meet a girl his parents are trying to set him up with.
Luckily, Quique's prospects are each intriguing in their own ways. There's stoner-jock Tyler Montana, who might be just as interested in Fabiola as he is in Quique; straitlaced senior class president, Ziggy Jackson; and Manny Zuniga, who keeps looking at Quique like he's carne asada fresh off the grill. With all these choices, Quique is sure to forget about Saleem in no time.
But as the summer heats up and his deep-seated fears and anxieties boil over, Quique soon realizes that getting over one guy by getting under a bunch of others may not have been the best laid plan and living his truth can come at a high cost.
Buy it: Amazon | IndieBound
Arden Grey by Ray Stoeve (April 26th)
Sixteen-year-old Arden Grey is struggling. Her mother has left their family, her father and her younger brother won't talk about it, and a classmate, Tanner, keeps harassing her about her sexuality—which isn't even public. (She knows she likes girls romantically, but she thinks she might be asexual.) At least she's got her love of film photography and her best and only friend, Jamie, to help her cope. Then Jamie, who is trans, starts dating Caroline, and suddenly he isn't so reliable. Arden's insecurity about their friendship grows. She starts to wonder if she's jealous or if Jamie's relationship with Caroline is somehow unhealthy—and it makes her reconsider how much of her relationship with her absent mom wasn't okay, too.
Buy it: Bookshop | Amazon | IndieBound
Skylar Gray is adopted, nonverbal, and he feels most comfortable wearing skirts. Life has never been easy, but with a fresh start at a brand-new school, with new parents and in a new state, he just might finally make some friends. Maybe. Honestly it′s hard to focus on anything when gorgeous rocker boy Jacob is around. But it′s hard for Skylar to trust anyone when people have always been quick to ditch him at the first inconvenience; they always seem more than ready to judge him as defective. And the bullies love to confirm it. Skylar has only ever had himself, so why would anything be different this time? Especially for an anxious boy with literally no voice.
Jacob doesn′t give a damn, especially not since he came out over the summer. He expected the hate he got from his father, who mostly acts as if it never happened, but he refuses to let it hold him back. It doesn′t matter, Jacob′s over it. He's going to paint his nails, dye his hair, and strike a heavy rift on his guitar if he wants to, even if it means being grounded most of senior year. But when the cute nonverbal transfer student, Skylar, wears a skirt to school, prompting a sexist new dress code proposal, Jacob decides it′s time to take a stand, no matter the risk to himself.
Buy it: Bookshop | Amazon | IndieBound
When Harleen Quinzel scores an internship in a psych lab at Gotham University, she's more than ecstatic; she's desperate to make a Big Scientific Discovery that will land her a full-ride college scholarship and get her away from her abusive father. But when Harleen witnesses the way women are treated across STEM departments–and experiences harassment herself–she decides that revenge and justice are more important than her own dreams.
Harleen finds her place in an intoxicating vigilante girl gang called the Reckoning, who creates chaos to inspire change. And when Harleen falls for another girl in the gang, it finally seems like she's found her true passions. But what starts off as pranks and mischief quickly turns deadly as one of the gang members is found murdered–and a terrifying conspiracy is uncovered that puts the life Harleen has worked so hard for at stake. Will she choose her future–or will she choose revenge?
Buy it: Bookshop | Amazon | IndieBound
Chloe Green is so close to winning. After her moms moved her from SoCal to Alabama for high school, she's spent the past four years dodging gossipy classmates and a puritanical administration at Willowgrove Christian Academy. The thing that's kept her going: winning valedictorian. Her only rival: prom queen Shara Wheeler, the principal's perfect progeny.
But a month before graduation, Shara kisses Chloe and vanishes.
On a furious hunt for answers, Chloe discovers she's not the only one Shara kissed. There's also Smith, Shara's longtime quarterback sweetheart, and Rory, Shara's bad boy neighbor with a crush. The three have nothing in common except Shara and the annoyingly cryptic notes she left behind, but together they must untangle Shara's trail of clues and find her. It'll be worth it, if Chloe can drag Shara back before graduation to beat her fair-and-square.
Thrown into an unlikely alliance, chasing a ghost through parties, break-ins, puzzles, and secrets revealed on monogrammed stationery, Chloe starts to suspect there might be more to this small town than she thought. And maybe—probably not, but maybe—more to Shara, too.
Buy it: Bookshop | Amazon | B&N | IndieBound
For over a year, the Bronx has been plagued by sudden disappearances that no one can explain. Sixteen-year-old Raquel does her best to ignore it. After all, the police only look for the white kids. But when her crush Charlize's cousin goes missing, Raquel starts to pay attention—especially when her own mom comes down with a mysterious illness that seems linked to the disappearances.
Raquel and Charlize team up to investigate, but they soon discover that everything is tied to a terrifying urban legend called the Echo Game. The game is rumored to trap people in a sinister world underneath the city, and the rules are based on a particularly dark chapter in New York's past. And if the friends want to save their home and everyone they love, they will have to play the game and destroy the evil at its heart—or die trying.
Buy it: Amazon | IndieBound
Harry wants nothing more than to write Hollywood screenplays. He knows the first step toward achieving that goal is winning a screenwriting competition that will seal his admission into the college of his dreams, so he's determined to spend his summer free of distractions—also known as boys—and finish his script. After last year, Harry is certain love only exists in the movies anyway.
But then the cause of his first heartbreak, Grant, returns with a secret that could change everything. To complicate things further, new-in-town Logan is charming and sweet, making Harry question everything he knows about romance. As Harry tries to manage his feelings for Grant and Logan, he realizes life doesn't always follow a script.
Buy it: Amazon | IndieBound
Seventeen-year-old Eleanor is the least likely person in Salem to believe in witchcraft—or think that her life could be transformed by mysterious forces. Ostracized by her classmates after losing her best friend and first love, Chloe, Eleanor has spent the past year in a haze, vowing to stay away from anything resembling romance.
But when a handwritten guide to tarot arrives in the mail at the witchy souvenir store where Eleanor works, it seems to bring with it the message that magic is about to enter her life. Cynical Eleanor is quick to dismiss this promise, until real-life witch Pix shows up with an unusual invitation. Inspired by the magic and mystery of the tarot, Eleanor decides to open herself up to making friends with Pix and her coven of witches, and even to the possibility of a new romance.
But Eleanor's complicated history in Salem continues to haunt her, and she is desperate to keep Pix from finding out the truth. Eleanor will have to reckon with the old ghosts that threaten to destroy everything, even her chance at new love.
Buy it: Bookshop | Amazon | IndieBound
For as long as Sigrid could remember, she's wanted to become a mighty, fearless valkyrie. But without a winged mare, she's a mere stable hand, left wondering who her parents were and why she's so different. So when the Eye shows her a vision where she's leading a valkyrie charge on the legendary eight-legged horse Sleipnir, she grabs the possibility of this greater destiny with both hands, refusing to let go.
Too bad that the only one who can help her get there is Mariam, an enemy valkyrie who begrudgingly agrees to lead her to Helheim but who certainly can't be trusted―even if she does make Sigrid more than a little flustered. As they cross the nine worlds, battling night elves, riding sea serpents, and hurtling into fire to learn the truth about Sigrid's birthright, an unexpected but powerful bond forms.
As her feelings for Mariam deepen into something fiery and undeniable, Fate has other plans for Sigrid. What happens when the one thing you think you were meant to do might end the nine worlds?
Buy it: Bookshop | Amazon | IndieBound
Still reeling from a recent trauma, sixteen-year-old Dell is relieved when her mom suggests a stay at the family cabin. But the much-needed escape quickly turns into a disaster. The lake and woods are awash in trash left by a previous tenant. And worse, Dell's mom has invited her boyfriend's daughter to stay with them. Confident, irreverent Ivy presses all of Dell's buttons–somehow making Dell's shame and self-consciousness feel even more acute. Yet Dell is drawn to Ivy in a way she doesn't fully understand. As Dell uncovers secrets in the wreckage of her family's past–secrets hinted at through troubling dreams and strange apparitions–Ivy leads her toward thrilling, if confusing, revelations about her sexuality and identity.
Set during a humid summer in the mid-2000s, The Queen of Junk Island simmers with the intensity of a teenage girl navigating the suffocating expectations of everyone around her.
Buy it: Amazon | IndieBound
In the spirit of the author's massively popular Twitter thread, Tucker Shaw's When You Call My Name is a heartrending novel about two gay teens coming of age in New York City in 1990 at the height of the HIV/AIDS epidemic, perfect for fans of Adam Silvera and Mary H. K. Choi.
Film fanatic Adam is seventeen and being asked out on his first date―and the guy is cute. Heart racing, Adam accepts, quickly falling in love with Callum like the movies always promised.
Fashion-obsessed Ben is eighteen and has just left his home upstate after his mother discovers his hidden stash of gay magazines. When he comes to New York City, Ben's sexuality begins to feel less like a secret and more like a badge of honor.
Then Callum disappears, leaving Adam heartbroken, and Ben finds out his new world is more closed-minded than he thought. When Adam finally tracks Callum down, he learns the guy he loves is very ill. And in a chance meeting near the hospital where Callum is being treated, Ben and Adam meet, forever changing each other's lives. As both begin to open their eyes to the possibilities of queer love and life, they realize sometimes the only people who can help you are the people who can really see you―in all your messy glory.
Buy it: Bookshop | Amazon | IndieBound
Salem's Lot meets The Darkest Part of the Forest in this horror-fantasy retelling of Christina Rossetti's "Goblin Market."
Lou never believed in superstitions or magic–until her teenage aunt Neela is kidnapped to the goblin market.
The market is a place Lou has only read about–twisted streets, offerings of sweet fruits and incredible jewels. Everything–from the food and wares, to the goblins themselves–is a haunting temptation for any human who manages to find their way in.
Determined to save Neela, Lou learns songs and spells and tricks that will help her navigate this dangerous world and slip past a goblin's defenses–but she only has three days to find Neela before the market disappears and her aunt becomes one of them forever.
If she isn't careful, the market might just end up claiming her too.
Buy it: Bookshop | Amazon | IndieBound
In this queer contemporary YA mystery, a nonbinary teen with autism realizes they must not only solve a 30-year-old mystery but also face the demons lurking in their past in order to live a satisfying life.
Sam Sylvester's not overly optimistic about their recent move to the small town of Astoria, Oregon after a traumatic experience in their last home in the rural Midwest.
Yet Sam's life seems to be on the upswing after meeting several new friends and a potential love interest in Shep, the pretty neighbor. However, Sam can't seem to let go of what might have been, and is drawn to investigate the death of a teenage boy in 1980s Astoria. Sam's convinced he was murdered–especially since Sam's investigation seems to resurrect some ghosts in the town.
Threatening notes and figures hidden in shadows begin to disrupt Sam's life. Yet Sam continues to search for the truth. When Sam discovers that they may be closer to a killer than previously known, Sam has a difficult decision to make. Would they risk their new life for a half-lived one?
Buy it: Bookshop | Amazon | IndieBound
Sometimes bitter rivalries can brew something sweet
Theo Mori wants to escape. Leaving Vermont for college means getting away from working at his parents' Asian American café and dealing with their archrivals' hopeless son Gabi who's lost the soccer team more games than Theo can count.
Gabi Moreno is miserably stuck in the closet. Forced to play soccer to hide his love for dance and iced out by Theo, the only openly gay guy at school, Gabi's only reprieve is his parents' Puerto Rican bakery and his plans to take over after graduation.
But the town's new fusion café changes everything. Between the Mori's struggling shop and the Moreno's plan to sell their bakery in the face of the competition, both boys find their dreams in jeopardy. Then Theo has an idea—sell photo-worthy food covertly at school to offset their losses. When he sprains his wrist and Gabi gets roped in to help, they realize they need to work together to save their parents' shops but will the new feelings rising between them be enough to send their future plans up in smoke?
Buy it: Amazon | B&N | IndieBound
In one week, Maude will be dead. At least, that's what she wants everyone to think. After years of research, Maude has decided to fake her own death. She's figured out the how, the when, the where, and who will help her unsuspectingly. The why is complex: revenge, partly. Her terrible parents deserve this. But there's also l'appel du vide, the call of the void, that beckons her toward a new life where she will be tied to no one, free and adrift. Then Frankie, a step-cousin she barely knows, figures out what she's plotting, and the plan seems like it's ruined. Except Frankie doesn't want to rat her out. Frankie wants in.
The girls vault into the unknown, risking everything for a new and limitless life. But there are some things you can never run away from. What if the poison is not in the soil, but in the roots? This pulse-pounding thriller offers a nuanced exploration of identity, freedom, and falling in love while your world falls apart.
Buy it: Bookshop | Amazon | IndieBound
Nate Plus One by Kevin van Whye (May 10th)
Two boys. Two bands. Two worlds colliding.
Nate Hargraves – stage-shy singer-songwriter – is totally stoked for his cousin's wedding in South Africa, an all-expenses-paid trip of a lifetime. Until he finds out his sleazeball ex-boyfriend is also on the guest list.
Jai Patel – hot-as-hell high school rock-god – has troubles too. His band's lead singer has quit, just weeks before the gig that was meant to be their big break.
When Nate saves the day by agreeing to sing with Jai's band, Jai volunteers to be Nate's plus-one to the wedding, and the stage is set for a summer of music, self-discovery, and simmering romantic tension. What could possibly go wrong . . . ?
Buy it: Amazon | IndieBound
Lou has enough confusion in front of her this summer. She'll be working in her family's ice cream shack with her newly ex-boyfriend—whose kisses never made her feel desire, only discomfort—and her former best friend, King, who is back in their Canadian prairie town after disappearing three years ago without a word.
But when she gets a letter from her biological father—a man she hoped would stay behind bars for the rest of his life—Lou immediately knows that she cannot meet him, no matter how much he insists.
While King's friendship makes Lou feel safer and warmer than she would have thought possible, when her family's business comes under threat, she soon realizes that she can't ignore her father forever.
Buy it: Bookshop | Amazon | IndieBound
Melt With You by Jennifer Dugan (May 17th)
Fallon and Chloe used to be best friends. But last summer, the girls hooked up right before Chloe left for college, and after a series of misunderstandings, they aren't even speaking to one another. Now, a year later, Chloe's back home from school, and Fallon is doing everything in her power to avoid her. Which is especially difficult because their moms own a business together—a gourmet ice cream truck where both girls work.
But when their moms have the opportunity to make a presentation to some venture capitalists in Texas—something that could seriously expand their business and solve all their money problems to boot—it's up to Fallon to work a series of food truck festivals across the country. But she can't do it alone, and Chloe is the only one available to help. As tensions heat up again between the two girls, will Fallon be able to keep her cool?
Buy it: Amazon | IndieBound
Seventeen-year-old Yamilet Flores prefers drawing attention for her killer eyeliner, not for being the new kid at a mostly white, very rich, Catholic school. But at least here no one knows she's gay, and Yami intends to keep it that way. After being outed by her crush and ex-best friend, she could use the fresh start.
At Slayton Catholic, Yami has new priorities: make her mom proud, keep her brother out of trouble, and most importantly, don't fall in love. Granted, she's never been great at any of those things, but that's a problem for Future Yami.
The thing is, it's hard to fake being straight when Bo, the only openly queer girl at school, is so annoyingly perfect. And talented. And confident. And cute. So cute. Yami isn't sure if she likes Bo or if she's just jealous of her unapologetic nature. Either way, she isn't ready to make the same mistake again. If word got to her mom, she could face a lot worse than rejection.
Buy it: Amazon | IndieBound
Galaxy: The Prettiest Star by Jadzia Axelrod (text) and Jess Taylor (illustration) (May 17th)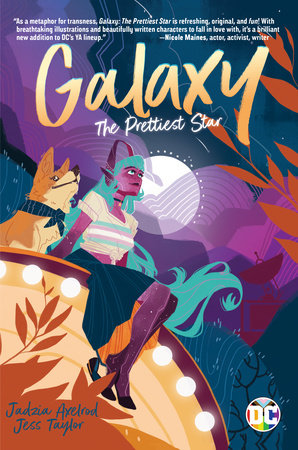 Taylor Barzelay has the perfect life. Good looks, good grades, a starting position on the basketball team, a loving family, even an adorable corgi. Every day in Taylor's life is perfect. And every day is torture.
Taylor is actually the Galaxy Crowned, an alien princess from the planet Cyandii, and one of the few survivors of an intergalactic war. For six long, painful years, Taylor has accepted her duty to remain in hiding as a boy on Earth.
That all changes when Taylor meets Metropolis girl Katherine "call me Kat" Silverberg, whose confidence is electrifying. Suddenly, Taylor no longer wants to hide, even if exposing her true identity could attract her greatest enemies.
Buy it: Amazon | IndieBound
Growing up in Texas's Rio Grande Valley, Maggie Gonzalez has always been a little messy, but she's okay with that. After all, she has a great family, a goofy group of friends, a rocky romantic history, and dreams of being a music photographer. Tasked with picking an escort for her little sister's quinceañera, Maggie has to face the truth: that her feelings about her friends—and her future—aren't as simple as she'd once believed.
As Maggie's search for the perfect escort continues, she's forced to confront new (and old) feelings for three of her friends: Amanda, her best friend and first-ever crush; Matthew, her ex-boyfriend twice-over who refuses to stop flirting with her, and Dani, the new girl who has romantic baggage of her own. On top of this romantic disaster, she can't stop thinking about the uncertainty of her own plans for the future and what that means for the people she loves.
As the weeks wind down and the boundaries between friendship and love become hazy, Maggie finds herself more and more confused with each photo. When her tried-and-true medium causes more chaos than calm, Maggie needs to figure out how to avoid certain disaster—or be brave enough to dive right into it.
Buy it: Amazon | B&N | IndieBound
Primal Animals by Julia Lynn Rubin (May 24th)
Arlee Gold is anxious about spending the summer at the college prep Camp Rockaway—the same camp her mother attended years ago, which her mother insists will help give Arlee a "fresh start" and will "change her life." Little does Arlee know that, once she steps foot on the manicured grounds, this will prove to be true in horrifying ways.
Even though the girls in her cabin are awesome—and she's developing a major crush on the girl who sleeps in the bunk above her—the other campers seem to be wary of Arlee, unwilling to talk to her or be near her, which only ramps up her paranoia. When she's tapped to join a strange secret society, Arlee thinks this will be her shot at fitting in…until her new "sisters" ask her to do the unthinkable, putting her life, and the life of her new crush, in perilous danger.
Buy it:  Amazon | IndieBound
Fifteen-year-old Mack is a hopeless romantic – he blames the films he's grown up watching. He has liked Karim for as long as he can remember, and is ecstatic when Karim becomes his boyfriend – it feels like love.
But when Mack's dad gets a job on a film in Scotland, Mack has to move, and soon hediscovers how painful love can be. It's horrible being so far away from Karim, but the worst part is that Karim doesn't make the effort to visit. Love shouldn't be only on the weekends.
Then, when Mack meets actor Finlay on a film set, he experiences something powerful, a feeling like love at first sight. How long until he tells Karim – and when will his old life and new life collide?
Buy it: Amazon | IndieBound
Gaige's curiosity gets the better of him when he discovers a bookstore on an abandoned street where no bookstore should be. He steps inside and is immediately enthralled by its antiquarian sights and smells. But one book in particular calls to him. It isn't long before he gets a bad feeling about it, but it's already too late. The store's aged bookseller gives him no alternative: once he touches the book, it's his—whether he wants it or not.
The book leads Gaige on a horrific descent into the unknown. As he falls into the depths of its pages, he loses blocks of time, and his friends become trapped inside ancient cellars with seemingly no means of escape.
Gaige soon learns that the ancient bookseller is a notorious serial killer from previous century, and fears that he has fallen into a predicament from which he may not escape. When all seems lost, he finds the one person he can turn to for help—Mael, a sweet boy also trapped inside the book who didn't fall for the bookseller's tricks. Together, they race against time to protect Gaige from joining a long string of boys who vanished without a trace inside the Book of Dreams.
Buy it: Amazon | Interlude | B&N | Kobo | IndieBound
Milo Connolly has managed to survive the first three years of high school without any major disasters, so by his calculations, he's well past due for some sort of Epic Teenage Catastrophe. Even so, all he wants his senior year is to keep his head down and fly under the radar like the quiet, well-behaved, churchgoing boy that everyone thinks he is.
Everything is going exactly as planned until the dreamy and charismatic Marcos Price saunters back into his life after a three-year absence and turns his world upside-down. Suddenly Milo is forced to confront the long-buried feelings that he's kept hidden not only from himself but also from his deeply religious parents and community.
To make matters worse, strange things have been happening around his sleepy Florida town ever since Marcos's return—sinkholes, blackouts, hailstorms. Mother Nature seems out of control, and the closer Milo and Marcos get, the more disasters seem to befall them.
In fact, as more and more bizarre occurrences pile up, Milo and Marcos find themselves faced with the unthinkable: Is there a larger, unseen force at play, trying to keep them apart? And if so, is their love worth risking the end of the world?
Buy it: Bookshop | Amazon | IndieBound
This is the sequel to A Dark and Hollow Star.
After thwarting the man behind the gruesome ironborn murders—and breaking several fae laws to do so—all Arlo wants is a quiet summer. As the deity of luck's Hollow Star, capable of bringing about endless possibilities, this shouldn't be too much to ask, right?
But someone is still trying to summon the mythical Seven Deadly Sins. All signs point to immortal meddling, and if this is the gods' attempt at returning to the Mortal Realm, it's Arlo they're going to use to do it.
When Queen Riadne offers to host Arlo at the Seelie Summer palace, she jumps at the chance. She'll get to see more of Vehan and Aurelian and perhaps even work out her complicated feelings for the gorgeous ex-Fury, Nausicaä. But no one trusts the infamous Queen of Light, even as Arlo wonders if she's just been greatly misunderstood.
With the Summer Solstice quickly approaching, everyone expects Riadne to finally challenge the High King for his crown. And as Arlo struggles to get control of her powers and take charge of her destiny, she'll soon be faced with a choice that won't only change the fate of the Mortal Realm forever but could condemn it to a cruelty the likes of which the Courts have never known.
Buy it: Bookshop | Amazon | IndieBound
I Know What You Did Last Summer meets The Haunting of Hill House in this atmospheric, eerie teen thriller following an estranged group of friends being haunted by their friend who died last summer. 
Emily Joiner was once part of an inseparable group—she was a sister, a best friend, a lover, and a rival. Summers without Emily were unthinkable. Until the fire burned the lake house to ashes with her inside.
A year later, it's in Emily's honor that Chelsea and her four friends decide to return. The house awaits them, meticulously rebuilt. Only, Chelsea is haunted by ghostly visions. Loner Ryan stirs up old hurts and forces golden boy Chase to play peacemaker. Which has perfect hostess Kennedy on edge as eerie events culminate in a stunning accusation: Emily's death wasn't an accident. And all the clues needed to find the person responsible are right here.

As old betrayals rise to the surface, Chelsea and her friends have one night to unravel a mystery spanning three summers before a killer among them exacts their revenge. 
Buy it: Bookshop | Amazon | IndieBound
With junior year starting in the fall, Harrison feels like he's on the precipice of, well, everything. Standardized testing, college, and the terrifying unknowns and looming pressures of adulthood after that—it's like the future wants to eat him alive. Which is why Harrison is grateful that he and his best friend, Linus, will face these things together. But at the end of a shift at their summer job, Linus invites Harrison to their special spot overlooking the city to deliver devastating news: He's moving out of state at the end of the week.
To keep from completely losing it—and partially inspired by a cheesy movie-night pick by his Dad—Harrison plans a send-off à la Ferris Bueller's Day Off that's worthy of his favorite person. If they won't be having all the life-expanding experiences they thought they would, Harrison will squeeze them all into their last day together. They end up on a mini road trip, their first Pride, and a rooftop dance party, all while keeping their respective parents, who track them on a family location app, off their trail. Harrison and Linus make a pact to do all the things—big and small—they've been too scared to do. But nothing feels scarier than saying goodbye to someone you love.
Buy it: Bookshop | Amazon | IndieBound
Man O'War by Cory McCarthy (May 31st)
The jellyfish commonly known as a Portuguese man o' war is neither Portuguese, nor a jellyfish, nor a man, nor even a singular organism. If you can cope with those facts, you can begin to understand River McIntyre, an elite high school swimmer who's bad at counting laps.
River McIntyre has lived all their life in the shadow of Sea Planet, a now infamous ocean theme park slowly going out of business in the middle of Ohio. As Sea Planet drifts toward its final end, so does River's high school career and, worse, their time as a competitive swimmer. Or maybe not. When River makes an impulsive dive into Ocean Planet's shark tank, they unintentionally set off on a wrenching journey of self-discovery, from internalized homophobia and self-loathing through layers of coming out, gender confirmation surgery, and true love. And at the end of this race? Who knows. After all, counting laps has never been River's strong suit.
Buy it: Bookshop | Amazon | IndieBound
As an avid watcher of K-dramas, Hana knows all the tropes to avoid when she finally lands a starring role in a buzzy new drama. And she can totally handle her fake co-star boyfriend who might be falling in love with her. After all, she promised the producers a contract romance, and that's all they're going to get from her.
But when showrunners bring on a new girl to challenge Hana's role as main love interest—and worse, it's someone Hana knows all too well—can  Hana fight for her position on the show while falling for her on-screen rival in real life?
Buy it: Bookshop | Amazon |  IndieBound
Crest is not excited to be on their Journey: the monthlong sojourn on land all teen merfolk must undergo. The rules are simple: Help a human within one moon cycle and return to Pacifica to become an Elder–or fail and remain stuck on land forever. Crest is eager to get their Journey over and done with: after all, humans are disgusting. They've pollluted the planet so much that there's a floating island of trash that's literally the size of a country.
In Los Angeles with a human body and a new name, Crest meets Sean, a human lifeguard whose boyfriend has recently dumped him. Crest agrees to help Sean make his ex jealous and win him back. But as the two spend more time together and Crest's pespective on humans begins to change, they'll soon be torn between two worlds. And fake dating just might lead to real feelings…
Buy it: Bookshop | Amazon | IndieBound
This is the sequel to The Witch King
Two weeks after the door to Faery closed once more, Asalin is still in turmoil. Emyr and Wyatt are hunting Derek and Clarke themselves after having abolished the corrupt Guard, and are trying to convince the other kingdoms to follow their lead. But when they uncover the hidden truth about the witches' real place in fae society, it becomes clear the problems run much deeper than anyone knew. And this may be more than the two of them can fix.
As Wyatt struggles to learn control of his magic and balance his own needs with the needs of a kingdom, he must finally decide on the future he wants—before he loses the future he and Emyr are building…
Buy it: Bookshop | Amazon | B&N | IndieBound
Emmett Maguire has big dreams. He wants to be country music's biggest gay superstar—a far reach when you're 17 and living in suburban Illinois. Thankfully, his parents are letting him do the next best thing for the summer: stay with his aunt in Jackson Hollow, Tennessee, and perform at Wanda World—the amusement park owned by his idol, country music legend Wanda Jean Stubbs.
Luke Barnes, a 17-year-old Jackson Hollow resident, has no interest in country music. As the grandson of Verna Rose, the disgraced country singer who had a famous falling out with Wanda Jean, the world of country music has only brought his family pain. But as medical bills pile up at home, he's forced to accept a job in the last place he'd ever want to work: a restaurant at Wanda World.
With Emmett focused on his career, and Luke blossoming in the kitchen, neither boy is expecting to find romance. But sparks fly when they meet and soon the two are inseparable. However, when a long-lost secret about Luke's grandma and superstar Wanda Jean comes to light, it threatens to unravel everything. Unless the boys can uncover the truth of what really happened, their dreams could be over before they start, leaving their new relationship to go down in history as just another Sad Country Love Song.
Buy it: Bookshop | Amazon | IndieBound
All Signs Point to Yes ed. by g. haron-davis, Cam Montgomery, and Adrianne White (May 31st)
A literal star-studded anthology that delivers a love story for every star sign straight from the hearts of thirteen multicultural YA authors.
A haunted Aquarius finds love behind the veil. An ambitious Aries will do anything to stay in the spotlight. A foodie Taurus discovers the best eats in town (with a side of romance). A witchy Cancer stumbles into a curious meet-cute.
Whether it's romantic, platonic, familial, or something else you can't quite define, love is the thing that connects us. All Signs Point to Yes will take you on a journey from your own backyard to the world beyond the living as it settles us among the stars for thirteen stories of love and life.
These stories will touch your heart, speak to your soul, and have you reaching for your horoscope forevermore.
Buy it: Bookshop | Amazon | IndieBound
Amber McCloud's dream is to become cheer captain at the end of the year, but it's an extra-tall order to be joyful and spirited when the quarterback of your team has been killed in a car accident. For both the team and the squad, watching Robbie get replaced by newcomer Jack Walsh is brutal. And when it turns out Jack is actually short for Jaclyn, all hell breaks loose.
The players refuse to be led by a girl, the cheerleaders are mad about the changes to their traditions, and the fact that Robbie's been not only replaced but outshined by a QB who wears a sports bra has more than a few Atherton Alligators in a rage. Amber tries for some semblance of unity, but it quickly becomes clear that she's only got a future on the squad and with her friends if she helps them take Jack down.
Just one problem: Amber and Jack are falling for each other, and if Amber can't stand up for Jack and figure out how to get everyone to fall in line, her dream may come at the cost of her heart.
Buy itAmazon | B&N | IndieBound | Book Depository

To conclude the trio of anthologies that started with critically acclaimed All Out and Out Now, Out There features seventeen original short stories set in the future from fantastic queer YA authors.
Explore new and familiar worlds where the human consciousness can be uploaded into a body on Mars…an alien helps a girl decide if she should tell her best friend how she feels…two teens get stuck in a time loop at a space station…people are forced to travel to the past or the future to escape the dying planet…only a nonbinary person can translate the binary code of a machine that predicts the future…everyone in the world vanishes except for two teen girls who are in love.
This essential and beautifully written collection immerses and surprises with each turn of the page.
Buy it: Bookshop | Amazon | IndieBound
Syyed is pining for his ex, who left home to—save the world? He doesn't know much more, except to wish he'd gone along when Farouk asked. But Sy is shy and timid, from a controlling Indian Muslim family, and wants most to make a life and home with people he loves. Then he meets Reggie, an heiress—is she magical or just rich?—who, in exchange for his kindness, offers to grant Sy three wishes, the first of which is a million dollars, naturally!
But soon reality bites hard: His father realizes Sy is gay and kicks him out. Homeless and alone, he's off with Reggie and his last two wishes, chasing Farouk to lands he never dreamed to visit to find his missing love for one last, desperate chance at rebuilding his life. And he'll find out, maybe, that there is a loophole to everything, including wishes.
Buy it: Bookshop | Amazon | IndieBound
In River City, where magic used to thrive and is now fading, the witches who once ruled the city along with their powerful King have become all but obsolete. The city's crumbling government is now controlled primarily by the new university and teaching hospital, which has grown to take over half of the city.
Moving between the decaying Old City and the ruthless New, four young queer people struggle with the daily hazards of life―work, school, dodging ruthless cops and unscrupulous scientists―not realizing that they have been selected to play in an age-old drama that revives the flow of magic through their world. When a mysterious death rocks their fragile peace, the four are brought into each other's orbits as they uncover a deeper magical conspiracy.
Buy it: Amazon | IndieBound
Fans of the twists and turns of Karen McManus and the emotional coming-of-age of Kathleen Glasgow will love this thriller set around a mysterious plane crash.
Buy it: Bookshop | Amazon | IndieBound
Sixteen-year-old trans boy Benji is on the run from the cult that raised him—the fundamentalist sect that unleashed Armageddon and decimated the world's population. Desperately, he searches for a place where the cult can't get their hands on him, or more importantly, on the bioweapon they infected him with.
But when cornered by monsters born from the destruction, Benji is rescued by a group of teens from the local Acheson LGBTQ+ Center, affectionately known as the ALC. The ALC's leader, Nick, is gorgeous, autistic, and a deadly shot, and he knows Benji's darkest secret: the cult's bioweapon is mutating him into a monster deadly enough to wipe humanity from the earth once and for all.
Still, Nick offers Benji shelter among his ragtag group of queer teens, as long as Benji can control the monster and use its power to defend the ALC. Eager to belong, Benji accepts Nick's terms…until he discovers the ALC's mysterious leader has a hidden agenda, and more than a few secrets of his own.
Buy it: Amazon | IndieBound
Slip by Marika McCoola (Text) and Aatmaja Pandya (Illustrations) (June 7th)
Right before Jade is about to leave for a summer art intensive, her best friend, Phoebe, attempts suicide. How is Jade supposed to focus on herself right now?
But at the Art Farm, Jade has artistic opportunities she's been waiting for her whole life. And as she gets to know her classmates, she begins to fall for whimsical, upbeat, comfortable-in-her-own-skin Mary. Jade pours herself into making ceramic monsters that vent her stress and insecurities, but when she puts her creatures in the kiln, something unreal happens: they come to life. And they're taking a stand: if Jade won't confront her problems, her problems are going to confront her, including the scariest of them all—if Jade grows, prospers, and even falls in love this summer, is she leaving Phoebe behind?
Buy it: Bookshop | Amazon | IndieBound
Two teen vigilantes set off on an action-packed investigation to expose corruption and deliver justice in Valiant Ladies, Melissa Grey's YA historical fiction novel inspired by real seventeenth century Latinx teenagers known as the Valiant Ladies of Potosí.
By day Eustaquia "Kiki" de Sonza and Ana Lezama de Urinza are proper young seventeeth century ladies. But when night falls, they trade in their silks and lace for swords and muskets, venturing out into the vibrant, bustling, crime-ridden streets of Potosí, in the Spanish Empire's Viceroyalty of Peru. They pass their time fighting, gambling, and falling desperately in love with one another.
Then, on the night Kiki's engagement to the Viceroy's son is announced, her older brother―heir to her family's fortune―is murdered. The girls immediately embark on a whirlwind investigation that takes them from the lowliest brothels of Potosí to the highest echelons of the Spanish aristocracy.
Buy it: Bookshop | Amazon | IndieBound
Taylor Parker isn't out yet, but she's keeping an even bigger secret: she entered a sketch contest where the grand prize is an internship at SNL.
When Taylor applied to this opportunity for marginalized writers, she checked the "LGBTQ" box on the application without really thinking about it. But now that she's a finalist, she realizes she'll need to be out to win. Whether she's ready or not.
In the month leading up to the competition results, Taylor befriends Charlotte Grey, whom Taylor's had a crush on for years. As they spend more time together, they realize they're genuinely falling for each other–and while Charlotte is willing to take it slow, Taylor doesn't want to ask her to keep their relationship secret forever. Taylor just hopes she can muster the courage to come out before all her secrets do.
Buy it:  Amazon | IndieBound
Jane Grady's claim to fame is that she was one first viral internet sensations, dubbed #bagbaby—discovered as a one-year-old in an oversized Gucci bag by her adopted father in a Poughkeepsie train station. Now in her senior year of high school, Jane is questioning whether she wants to look for her bio family due to a loving, but deeply misguided push from her best friend Algie, while also navigating an all-consuming crush on his cousin, the beautiful, way-out-of-her-league Gwen Fairfax.
And while Janey's never thought of herself as the earnest type, she needs to be honest with her parents, Algie, Gwen, but mostly herself if she wants to make her life truly epic. With a wink toward Oscar Wilde's beloved play, Epically Earnest explores the complexity of identity, the many forms family can take, and the importance of being . . . yourself.
Buy it: Amazon | IndieBound
This is the sequel to This Poison Heart.
Briseis has one chance to save her mother, but she'll need to do the impossible: find the last fragment of the deadly Absyrtus Heart. If she is to locate the missing piece, she must turn to the blood relatives she's never known, learn about their secret powers, and take her place in their ancient lineage. Briseis is not the only one who wants the Heart, and her enemies will stop at nothing to fulfill their own ruthless plans. The fates tell of a truly dangerous journey, one that could end in more heartache, more death. Bolstered by the sisterhood of ancient magic, can Briseis harness her power to save the people she loves most?
Buy it: Bookshop | Amazon | IndieBound
Ever since she was a girl, Raliel Dark-Smile's best friend has been the great demon that lives in the palace. As the daughter of the Emperor, Raliel appears cold and distant to those around her, but what no one understands is that she and the great demon, Moon, have a close and unbreakable bond and are together at all times. Moon is bound to the Emperor and his two consorts, Raliel's parents, and when Raliel comes of age, she will be bound to Moon as well, constrained to live in the Palace for the rest of her days.
Raliel is desperate to see the Empire Between Five Mountains, and she feels a deep kinship with Moon, who longs to break free of its bonds. When the time finally arrives for Raliel's coming of age journey, she discovers a dangerous way to take Moon with her, even as she hides this truth from her travel companion, the beautiful, demon-kissed bodyguard Osian Redpop. But Osian is hiding secrets of his own, and when a plot surfaces that threatens the Empire, Raliel will have to decide who she can trust and what she'll sacrifice for the power to protect all that she loves.
Buy it: Bookshop | Amazon | IndieBound
Luca Laine Thomas lives on a cursed island. To the outside world, Parris is an exclusive, idyllic escape accessible only to the one percent. There's nothing idyllic about its history, though, scattered with the unsolved deaths of young women—deaths Parris society happily ignores to maintain its polished veneer. But Luca can't ignore them. Not when the curse that took them killed her best friend, Polly, three years ago. Not when she feels the curse lingering nearby, ready to take her next.
When Luca comes home to police cars outside her house, she knows the curse has visited once again. Except this time, it came for Whitney, her sister. Luca decides to take the investigation of Whitney's death into her own hands. But as a shocking betrayal rocks Luca's world, the identity Whitney's killer isn't the only truth Luca seeks. And by the time she finds what she's looking for, Luca will come face to face with the curse she's been running from her whole life.
Buy it: Amazon | IndieBound
Godslayers by Zoe Hana Mikuta (June 28th)
This is the sequel to Gearbreakers
The only way to kill a god is from the inside…
The Gearbreakers struck a devastating blow against Godolia on Heavensday, but the cost of victory has been steep. Months later, the few rebels who've managed to escape the tyrannical empire's bloody retribution have fled to the mountains, hunted by the last Zenith–Godolia's only surviving leader.
Eris has been held prisoner since the attack on the capital city, which almost killed her. And she begins to wish it had when she discovers Sona–the girl she loves, the girl she would tear down cities for–also survived, only to be captured and Corrupted by the Zenith. The cybernetic brainwashing that Sona has forcibly undergone now has her believing herself a loyal soldier for Godolia, and Eris' mortal enemy.
With the rebellion shattered and Godolia moving forward with an insidious plan to begin inducting Badlands children into a new Windup Pilot program, the odds have never been more stacked against the Gearbreakers. Their last hope for victory will depend on whether Eris and Sona can somehow find their way back to eac
h other from opposite sides of a war…
Buy it: Bookshop | Amazon | IndieBound