We're switching things up this year from Asexual Awareness Week to International Asexuality Day, because why not and also because who wants to wait a whole year to get a great list of ace books?? That said, a bunch of books from the last list are newly available or will be soon, so make sure you take a look there too! (Books from 2022 have been reposted here.)

Available Now(ish)
The Hope Juvenile Treatment Center is ironically named. No one has hope for the delinquent teenagers who have been exiled there; the world barely acknowledges that they exist.
Then the guards at Hope start acting strange. And one day…they don't show up. But when the teens band together to make a break from the facility, they encounter soldiers outside the gates. There's a rapidly spreading infectious disease outside, and no one can leave their houses or travel without a permit. Which means that they're stuck at Hope. And this time, no one is watching out for them at all.
As supplies quickly dwindle and a deadly plague tears through their ranks, the group has to decide whom among them they can trust and figure out how they can survive in a world that has never wanted them in the first place.
Buy it: Bookshop | Amazon | IndieBound
All Harper McKinley wants is for her dad's presidential campaign to not interfere with her senior marching band season.
But Harper's world gets upended when the drumline's punk-rock section leader, Margot Blanchard, tries to reject her one day after practice. Someone pretending to be Harper on Tinder catfished Margot for a month and now she's determined to get to know the real Harper.
But the real Harper has a homophobic mother who's the dean and a father who is running for president on the Republican ticket. With the election at stake, neither of them are happy about Harper's new friendship with out-and-proud Margot.
As the election draws closer, Harper is forced to figure out if she even likes girls, if she might be asexual, and if it's worth coming out at all.
Buy it: Bookshop | Amazon | B&N | IndieBound
Hunted by those who want to study his gravity powers, Jes makes his way to the best place for a mixed-species fugitive to blend in: the pleasure moon where everyone just wants to be lost in the party. It doesn't take long for him to catch the attention of the crime boss who owns the resort-casino where he lands a circus job, and when the boss gets wind of the bounty on Jes' head, he makes an offer: do anything and everything asked of him or face vivisection.
With no other options, Jes fulfills the requests: espionage, torture, demolition. But when the boss sets the circus up to take the fall for his about-to-get-busted narcotics operation, Jes and his friends decide to bring the mobster down. And if Jes can also avoid going back to being the prize subject of a scientist who can't wait to dissect him? Even better.
Buy it: Amazon US | Amazon UK | B&N | Target | Angry Robot
Thirty, flirty, and asexual Joy is secretly in love with her best friend Malcolm, but she's never been brave enough to say so. When he unexpectedly announces that he's met the love of his life—and no, it's not Joy—she's heartbroken. Malcolm invites her on a weekend getaway, and Joy decides it's her last chance to show him exactly what he's overlooking. But maybe Joy is the one missing something…or someone…and his name is Fox.
Fox sees a kindred spirit in Joy—and decides to help her. He proposes they pretend to fall for each other on the weekend trip to make Malcolm jealous. But spending time with Fox shows Joy what it's like to not be the third wheel, and there's no mistaking the way he makes her feel. Could Fox be the romantic partner she's always deserved?
Buy it: Amazon | B&N | IndieBound | The Ripped Bodice
Sixteen-year-old Arden Grey is struggling. Her mother has left their family, her father and her younger brother won't talk about it, and a classmate, Tanner, keeps harassing her about her sexuality—which isn't even public. (She knows she likes girls romantically, but she thinks she might be asexual.) At least she's got her love of film photography and her best and only friend, Jamie, to help her cope. Then Jamie, who is trans, starts dating Caroline, and suddenly he isn't so reliable. Arden's insecurity about their friendship grows. She starts to wonder if she's jealous or if Jamie's relationship with Caroline is somehow unhealthy—and it makes her reconsider how much of her relationship with her absent mom wasn't okay, too.
Buy it: Amazon | IndieBound
To Preorder
(Wren is demisexual.)
Dear (never-been-quite-over-you) Crush,
It's been a few years since we were together,
but I can't stop thinking about the time we almost…
Wren Roland has never been kissed, but he wants that movie-perfect ending more than anything. Feeling nostalgic on the eve of his birthday, he sends emails to all the boys he (ahem) loved before he came out. Morning brings the inevitable Oh God What Did I Do?, but he brushes that panic aside. Why stress about it? None of his could-have-beens are actually going to read the emails, much less respond. Right?
Enter Derick Haverford, Wren's #1 pre-coming-out-crush and his drive-in theater's new social media intern. Everyone claims he's coasting on cinematic good looks and his father's connections, but Wren has always known there's much more to Derick than meets the eye. Too bad he doesn't feel the same way about the infamous almost-kiss that once rocked Wren's world.
Whatever. Wren's no longer a closeted teenager; he can survive this. But as their hazy summer becomes consumed with a special project that may just save the struggling drive-in for good, Wren and Derick are drawn ever-closer…and maybe, finally, Wren's dream of a perfect-kiss-before-the-credits is within reach.
Buy it: Bookshop | Amazon | IndieBound
(Lou is demisexual.)
Lou has enough confusion in front of her this summer. She'll be working in her family's ice cream shack with her newly ex-boyfriend—whose kisses never made her feel desire, only discomfort—and her former best friend, King, who is back in their Canadian prairie town after disappearing three years ago without a word.
But when she gets a letter from her biological father—a man she hoped would stay behind bars for the rest of his life—Lou immediately knows that she cannot meet him, no matter how much he insists.
While King's friendship makes Lou feel safer and warmer than she would have thought possible, when her family's business comes under threat, she soon realizes that she can't ignore her father forever.
Buy it: Amazon | IndieBound
I Want to Be a Wall by Honami Shirono (May 10, 2022)
Yuriko, an asexual woman, agrees to take a husband to satisfy her parents-which is how she finds herself tying the knot with Gakurouta, a gay man in love with his childhood friend with his own family circumstances. And so begins the tale of their marriage of convenience.
Buy it: Yen Press
(Yasmín is questioning.)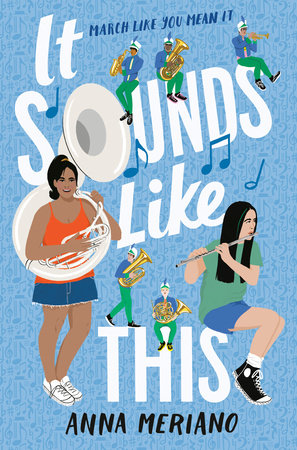 Yasmín Treviño didn't have much of a freshman year thanks to Hurricane Humphrey, but she's ready to take sophomore year by storm. That means mastering the marching side of marching band—fast!—so she can outshine her BFF Sofia as top of the flute section, earn first chair, and impress both her future college admission boards and her comfortably unattainable drum major crush Gilberto Reyes.
But Yasmín steps off on the wrong foot when she reports an anonymous gossip Instagram account harassing new band members and accidentally gets the entire low brass section suspended from extracurriculars. With no low brass section, the band is doomed, so Yasmín decides to take things into her own hands, learn to play the tuba, and lead a gaggle of rowdy freshman boys who are just as green to marching and playing as she is. She'll happily wrestle an ancient school tuba if it means fixing the mess she might have caused.
But when the secret gossip Instagram escalates their campaign of harassment and Yasmín's friendship with Sofia deteriorates, things at school might be too hard to bear. Luckily, the support of Yasmín's new section—especially introverted section leader Bloom, a sweet ace and aro-spectrum boy—might just turn things around.
Buy it: Amazon | IndieBound
(Firuz is aroace.)
Firuz-e Jafari is one of the fortunate ones who have emigrated to the Democratic Free State of Qilwa. Firuz has escaped the slaughter of other traditional Sassanid blood-magic practitioners. They have a good job at a free healing clinic in Qilwa; a kindly new employer, Kofi; and a gifted new student, Afsoneh, a troubled orphan refugee.
But Firuz and Kofi have discovered a terrible new disease which leaves mysterious bruises on its victims. The illness is spreading quickly through Qilwa, and there are dangerous accusations of ineptly-performed blood magic.
In order to survive, Firuz must break a deadly cycle of prejudice while finding a fresh start for their both their blood and found family.
Buy it: Amazon | IndieBound
Evelyn strives for excellence. Allie couldn't care less. Together,
these polar opposites must work together if they have any hope
of saving their school's robotics program.
Eighth-graders Evelyn and Allie are in trouble. Evelyn's constant
need for perfection has blown some fuses among her robotics
teammates, and she's worried nobody's taking the upcoming
competition seriously. Allie is new to school, and she's had a history
of short-circuiting on teachers and other kids.
So when Allie is assigned to the robotics team as a last resort, all
Evelyn can see is just another wrench in the works! But as Allie
confronts a past stricken with grief and learns to open up, the gears
click into place as she discovers that Evelyn's teammates have a lot
to offer—if only Evelyn allowed them to participate in a role that plays to their strengths.
Can Evelyn learn to let go and listen to what Allie has to say? Or will
their spot in the competition go up in smoke along with their school's robotics program and Allie's only chance at redemption?
Buy it: Bookshop | Amazon | IndieBound
Aces Wild: A Heist by Amanda DeWitt (September 6, 2022)
Six of Crows goes to Las Vegas in debut author Amanda DeWitt's suspenseful casino heist, starring an entire crew of asexual teens.
Some people join chess club, some people play football. Jack Shannon runs a secret blackjack ring in his private school's basement. What else is the son of a Las Vegas casino mogul supposed to do?
Everything starts falling apart when Jack's mom is arrested for their family's ties to organized crime. His sister Beth thinks this is the Shannon family's chance to finally go straight, but Jack knows that something's not right. His mom was sold out, and he knows by who. Peter Carlevaro: rival casino owner and jilted lover. Gross.
Jack hatches a plan to find out what Carlevaro's holding over his mom's head, but he can't do it alone. He recruits his closest friends—the asexual support group he met through fandom forums. Now all he has to do is infiltrate a high-stakes gambling club and dodge dark family secrets, while hopelessly navigating what it means to be in love while asexual. Easy, right?
Buy it: Bookshop | Amazon | IndieBound
Funeral Girl by Emma K. Ohland (September 6, 2022)
(Georgia is aroace.)
Sixteen-year-old Georgia Richter feels conflicted about the funeral home her parents run―especially because she has the ability to summon ghosts.
With one touch of any body that passes through Richter Funeral Home, she can awaken the spirit of the departed. With one more touch, she makes the spirit disappear, to a fate that remains mysterious to Georgia. To cope with her deep anxiety about death, she does her best to fulfill the final wishes of the deceased whose ghosts she briefly revives.
Then her classmate Milo's body arrives at Richter―and his spirit wants help with unfinished business, forcing Georgia to reckon with her relationship to grief and mortality.
Buy it: Amazon | IndieBound
Silver in the Mist by Emily Victoria (November 1, 2022)
(Devlin is aroace.)
Eight years ago, everything changed for Devlin: Her country was attacked. Her father was killed. And her mother became the Royal Spymistress, retreating into her position away from everyone… even her daughter.
Joining the spy ranks herself, Dev sees her mother only when receiving assignments. She wants more, but she understands the peril their country, Aris, is in. The malevolent magic force of The Mists is swallowing Aris's edges, their country is vulnerable to another attack from their wealthier neighbor, and the magic casters who protect them from both are burning out.
Dev has known strength and survival her whole life, but with a dangerous new assignment of infiltrating the royal court of their neighbor country Cerena to steal the magic they need, she learns that not all that glitters is weak. And not all stories are true.
Buy it: Bookshop | Amazon | B&N | IndieBound
Add to Your TBR